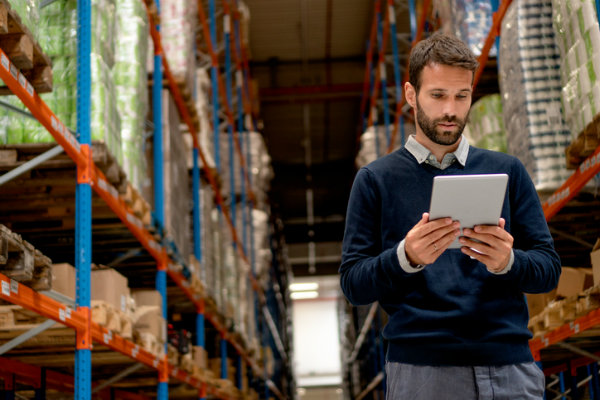 August 21, 2019 | Purdue University Global
The people who plan, manage, and run the supply chain are critical to a company's success.
"Supply chain management is a good fit for those interested in a career path that will place them in a key position in a company with a clear career path to high level management," says Cuneyt Altinoz, PhD, a graduate faculty member in the School of Business and Information Technology at Purdue University Global.*
"We should be amazed that Amazon and companies like them can deliver anything you want to your doorstep in 2 days," Altinoz says. "That's supply chain management at work."
Altinoz points out that supply chain and logistics skills are transferable from industry to industry, including (but not limited to):
Pharmaceuticals
Electronics
Lumber
Auto manufacturing
Big-box retail
Food and beverage
Consumer goods
Power and utility companies
Government agencies
Transportation and freight companies
This article explores careers in supply chain management, as well as careers that benefit from supply chain education and training.
What Is Supply Chain Management?
Supply chain and logistics are often used together, because they refer to the entire production of goods from the time they are raw materials until they are delivered to the consumer.
Logistics refers to efficiently moving goods so they arrive at the right place at the right time. It can include packaging, multiple modes of transportation, distribution, warehousing, and delivery.
Supply chain is a more general term that includes sourcing materials, procurement, and coordination of materials and goods in process. It can also include outsourcing parts of the manufacturing, sales, or supply processes. For example, an automaker might outsource the manufacturing of transmissions, a computer company might buy core processors from a supplier, and many companies will outsource their marketing and advertising, all of which are part of the supply chain.
Supply chain management and logistics keep companies competitive and make sure they can deliver the right goods at the right price, on time.
Harvard Business Review (HBR) describes the supply chain economy as consisting of businesses that sell products (and, sometimes, services) to other businesses, industries, and the government. In total, the U.S.'s supply chain economy encompasses 37% of all jobs and employs 44 million people, HBR.org estimates.
How is it that 37% of all jobs are within the supply chain, especially given that only 10% of U.S. employment is in manufacturing while 90% is in services? A common misconception is that supply chain refers to only the manufacturing process, but in actuality, the supply chain encompasses the flow of goods and services from raw materials to work-in-process to finished goods and, ultimately, to end users.
Career Opportunities in Supply Chain Management
With a bachelor's degree in business administration specializing in supply chain management, you may find a career as a logistics analyst, transportation manager, purchasing manager, supply chain manager, logistics manager, or as a logistician.
The following job titles benefit from knowledge and expertise in supply chain management and logistics.
Logistician
As the name suggests, logisticians are professionals who work in logistics. They may have titles such as logistics director, operations manager, production manager or planner, program manager, supply management specialist, supply chain manager—or even logistician.
Logisticians may be employed in:
Defense and military
Information technologies and software development
Engineering
Transportation and delivery
Infrastructure design and engineering
A logistician is a practitioner of logistics—someone who collects and analyzes data to coordinate the logistics of a company—and they may even be responsible for the entire lifecycle of a product.
According to ONET OnLine, a division of the U.S. Department of Labor, logistician roles will grow between 5% to 9% from 2016 to 2026, about as fast as the average for all occupations.
Transportation Manager
Transportation managers plan and oversee transportation operations. They may work for a massive corporation like Amazon or for a transportation company like Ryder. They also work for logistics and trucking companies. Any company or organization that uses vehicles to move goods or deliver products likely employs transportation managers.
Transportation management can also be handled by people in roles similar to transportation managers, such as operations management, fleet management, freight management, or traffic management.
Transportation managers may be employed in:
Departments of transportation
Farming
Grocery and food services
Health and wellness products
Manufacturing
Retail
Travel
ONET projects a 5% to 9% growth rate for transportation managers through 2026, which is about the average for all occupations.
Purchasing Managers
Purchasing managers, sometimes called procurement managers, oversee the activities of an organization's purchasing of materials, products, and services. They are adept at developing relationships with suppliers and negotiating contracts.
They might also work as materials directors or managers.
Purchasing managers may be employed in:
Food and beverage companies
Government agencies and contractors
Health care facilities, hospitals, and medical supply and pharmaceutical companies
Homebuilding
Hospitality, including hotels, travel organizations, and casinos
Manufacturing
Retail
ONET projects that employment of purchasing managers will grow between 5% and 9%, which is about average.†
Supply Chain Manager
Supply chain managers typically do what purchasing and procurement managers do: working with external suppliers to buy parts and raw materials. It's not unusual to see a supply chain job description or title paired with a related title such as project manager, operations manager, logistics manager, or purchasing manager.
In addition to purchasing and procurement, supply chain managers analyze processes and data to improve quality and efficiencies throughout the entire supply chain—from procurement of raw materials to shipment of finished goods.
Supply chain managers typically work for larger organizations and may be employed in:
Automotive companies
Computer and electronics manufacturing
Consumer goods
Food and beverage companies
Government, military, and government contractors
Materials suppliers (chemicals, adhesives, plastics, glass, metals, etc.)
Pharmaceuticals and health products
Utility companies, such as for energy and solar
Projected growth in jobs for supply chain managers is on par with average job growth across all professions, between 5% and 9% through year 2026, according to ONET.
Logistics Manager
Logistics is concerned with the storage and movement of goods and all the people, vehicles, processes, and schedules that govern it. In small to medium-size organizations, logistics managers might also be responsible for supply chain and operations management. In larger organizations, they would likely oversee only logistics and would work alongside dedicated supply chain and operations managers.
Logistics managers can also work for logistics companies that coordinate warehousing and transportation. These companies don't make anything or provide raw materials, and they don't actually own or operate vehicles. Manufacturers contract with them to coordinate and schedule warehousing and transportation with companies that offer those services.
You'll also find logistics managers working for:
Food and beverage companies
Home builders
Manufacturers
Retailers
Transportation companies
ONET projects job growth for logistics managers to be on par with average job growth across all industries through year 2016, about 5% to 9%.
Logistics Analysts
Logistics analysts analyze data from warehousing, product delivery, and supply chain processes and use that data to make decisions to improve logistics processes.
Logistics analysts work for larger organizations such as manufacturers of consumer goods. You might also see them working for logistics companies or specializing in areas such as customer logistics analysis for membership-based retailers, as well as companies that specialize in:
Automotive and automotive supplies
Computer and electronics engineering, design and manufacturing
Food and beverage
Hospitality and travel
Manufacturing
Package delivery and shipping
Software and technology development
ONET projects average job growth (5% to 9%) for logistics analysts through 2026.
Who Is a Good Fit for Supply Chain Management Careers?
Because supply chain managers deal with internal and external suppliers and customers, they must be adept at developing and maintaining relationships. Supply chain managers care most about cost, quality, and reliability, because all of those affect the success of a company.
"When you make bad decisions as a supply chain management professional, everyone will notice," says Altinoz. "And when you do well, you can be a star."
If you're thinking about a future in supply chain management, ONET suggests several soft and hard skills that will benefit you.
Soft skills for supply chain managers:
Analytics
Critical thinking
Listening
Negotiation and persuasion
Reading comprehension
Time management
Hard skills for supply chain managers:
Mathematics
Data analysis
Team management and supervision
Computers and computer systems
Process development and analysis
Software, such as database, planning, scientific, and analytic tools
Accounting and finance
Inventory management
Altinoz says the ideal candidate for a career in supply chain management is oriented toward analytics, optimization, troubleshooting, and data-driven decision-making. If you are more technically inclined, you can focus on the IT, data, and analytical aspects of supply chain management. If you are more relationship and management inclined, you might focus on procurement and developing relationships with suppliers and production partners.
Ready to Start a Career in Supply Chain Management?
You can launch a career in supply chain management starting with the classroom, Altinoz says Purdue Global offers an online Bachelor of Science in Business Administration with a concentration in supply chain management. As you further your education and find a starting position, you can gain experience, earn certifications, and grow in your career.‡ Request more information about this online degree program today.
Your Path to Success Begins Here
---
Learn more about online programs at Purdue Global and download our program guide.
Request Information
Your Path to Success Begins Here
---
Learn more about online programs at Purdue Global and download our program guide.
Request Information