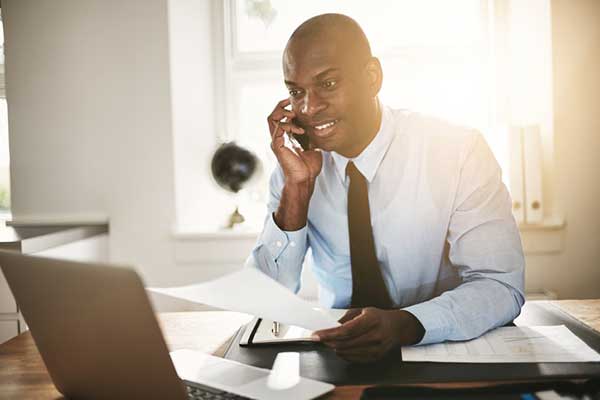 July 24, 2018 | Purdue University Global
July 24, 2018 | Purdue University Global
If you're thinking about a career in corporate finance, a bachelor's degree in business administration with a concentration in financial analysis may help you get there. This article examines which finance careers you may qualify for when you earn this degree and what you can expect from the program.
Financial Analysis Career Options and Outlooks
With a bachelor's degree in business administration and a concentration in financial analysis, you may qualify for several high-demand finance professions*:
1. Financial Analyst
Financial analysts assess the performance of stocks, bonds, and other types of securities and advise individuals or businesses on smart investment decisions. Some work independently, while others work for major corporations. According to the U.S. Bureau of Labor Statistics, demand for financial analysts is expected to increase 11% from 2016 to 2026, which is faster than the average for all occupations.
2. Financial Manager
Financial managers prepare financial reports, analyze data to help the company remain profitable, and manage a company's investments. The BLS predicts that employment of financial managers will grow 19% between 2016 and 2026, much faster than average.
3. Budget Analyst
A budget analyst helps public and private companies produce the reports needed to track spending and keep their company operating in the black. The BLS projects that employment of budget analysts will grow 7% from 2016 to 2026, as fast as average.
What Will You Learn in This Degree Program?
A business administration bachelor's degree program gives students a solid foundation of hard and soft skills that are needed across a variety of business careers. This versatile degree program introduces students to:
Important business functions such as finance, accounting, and general business operations
Communication, team-building, and decision-making skills
Strategic planning and business ethics
When you add a focus on financial analysis, you get a more tailored education that lays the necessary academic foundation for a career in finance.
Here are four topics you will learn about with a Bachelor of Science in Business Administration (BSBA) with a concentration in financial analysis:
1. How to Manage Corporate Funding and Investments
Major corporations today know that the key to their long-term success is diversification. At Purdue Global, as a business administration student with a concentration in financial analysis, you will learn how to effectively manage your company's portfolio of investments and funding projects.
2. How to Measure Financial Performance Using Finance Statements
Finance statements are reports of financial health. Understanding how to both create and use these reports to better assess the fiscal health of a company is vital to becoming a key force in any corporation.
3. How to Project Fiscal Performance Using Financial Statements
Financial statements such as the cash flow, retained earnings, and the balance sheet can be used to predict performance and gauge how well a company is positioned in the market. Such statements can also identify areas of trouble lurking unseen and help the company take advantage of opportunities as they arise.
4. How to Use Foreign Exchange Markets in Corporate Finance Decisions
Foreign exchange markets play a role in the financial choices of every major corporation. Knowing how to read and use these markets may give you the edge needed to compete in this demanding field.
Get on the Path to a Career in Finance With Purdue Global Today
Are you ready to earn a Bachelor of Science in Business Administration with a concentration in financial analysis? Purdue Global's program is accredited by the Accreditation Council for Business Schools and Programs (ACBSP), and our online format offers the flexibility that busy schedules demand. Learn more about our online bachelor's degree in business administration or request information today.
Your Path to Success Begins Here
---
Learn More About Online Programs At Purdue Global and Download Our Program Guide
Request Information
Most Popular Posts
Your Path to Success Begins Here
---
Learn More About Online Programs At Purdue Global and Download Our Program Guide
Request Information