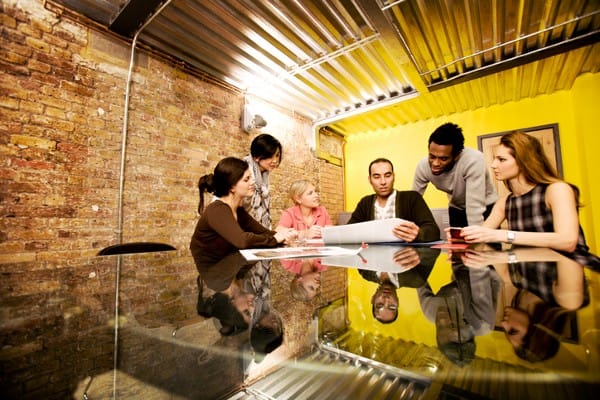 May 20, 2022 | Purdue Global
A typical project at work involves many moving parts and one or more people. While possessing good management skills can help your project outcomes, good project management involves an expanded set of skills beyond the scope of just managing people.
"Successful project managers are some of the most relatable leaders," says Simon Cleveland, PhD, PMP, CSM, CSPO, ITIL, SSBB, and a Purdue Global faculty member.
What makes project managers relatable, Cleveland explains, are the skills they have for completing complex projects that are:
On time
Within budget
On scope
Aligned with expectations and quality requirements
Project managers must be adept at working with diverse teams that are often assembled from siloed functional areas, Cleveland adds.
Cleveland and his colleague, Maryam Mirhadi Fard, PhD, PMP, PSP, a Purdue Global adjunct faculty member, discuss the traits, skills, and ways to become a successful project manager.
Good Project Management Skills Are Important for Everyone
"To stay competitive in the market, organizations must define and implement new projects and enhance the capabilities of their business," Mirhadi says. Reasons for project creation, she adds, often include:
Introducing a new product or service
Establishing a new business unit
Implementing a new application or tool
Enhancing the quality of products or services
Increasing production rate
Project management helps ensure that everyone assigned to a project knows their individual contribution expectations within the project.
Having project members who possess different skills contributed to successful project completion, says Mirhadi. "The most important soft skills for all team members, which are crucial for the project's success, would be communication and teamwork."
Communication
Team members should know how and when to provide and obtain information that's needed from other team members and relevant project participants. "They should build the best channel of communication for themselves based on the nature of their responsibilities," says Mirhadi. "Effective communication also helps team members to have a proper understanding of the project scope and requirements."
Teamwork
Teamwork plays an important role in successful project implementation. "In an effective team environment, members feel comfortable sharing their insights, opinions, and disagreements," Mirhadi says.
Technology in Project Management
Technology plays a pivotal role in the project manager's daily routine today, says Cleveland. "Project management software helps the project managers by minimizing the time needed for data collection while maximizing the value of their critical project decision-making."
Project management software, Cleveland notes, helps managers assess the project status tracking, data aggregation, and data visualization for effective stakeholder communication.
Good Project Management Skills List
Successful project management requires a combination of hard and soft skills.
Project Management Hard Skills
"Organizations that rely on projects to achieve their strategic objectives seek project managers with a broad set of hard skills," Cleveland says. Necessary hard skills for project managers, he says, include:
Reading comprehension—the ability to examine reports and accurately determine the value of their contents
Clear, concise writing—the ability to precisely express ideas through the use of logical arguments that are supported by data
Risk management—the ability to proactively identify what events may impact a project negatively and to plan actions that minimize the impact of such events
Cost management—the ability to accurately estimate the costs to deliver a project and to effectively develop and manage project budgets
Planning and forecasting—the ability to make critical decisions about the future course of action, based on the data analysis of past and current project performance
Project Management Soft Skills
Cleveland and Mirhadi agree that soft skills that contribute to successful project management include:
Relatability
Leadership
Communication
Time management
Patience
Adaptability
Critical thinking
Certificates in Project Management
Certificate programs are an option when you're looking to gain project management skills. You might also consider a certificate program if you've already earned a bachelor's degree and want to build on your current skills.
There is a difference between certifications and certificate programs. Certifications such as the Certified Associate in Project Management (CAPM)® and the Project Management Professional (PMP)® are industry standards offered by the Project Management Institute (independent third-party organization), Cleveland explains. These enable individuals to work in a particular industry and include exam requirements and renewals on an annual basis. In contrast, certificate programs prepare students to work in a specific field.
Graduate Certificate in Project Management
Pursuing Purdue Global's Graduate Certificate in Project Management allows you to advance your skills and abilities in the project management field through a structured approach, which can lead to an educational credential.
"Students benefit from the program by learning how to initiate, plan, execute, monitor, and control complex initiatives in organizations," says Cleveland. "Ultimately, the certificate program enhances students' project management knowledge, professional development, and advancement in their careers to help them remain competitive in their fields."
The graduate certificate in project management features flexible start dates to align with your work schedule and lifestyle. The program features a curriculum that's designed to enhance existing knowledge and to help your project management skills get noticed by employers.
Topics that are explored typically include:
Project management from a strategic perspective
Project plan preparation and setting project goals
Project cost and scheduling
Strategies for effective resource acquisition
Ethical dimensions of projects and project management
The coursework may also help you to prepare for the Project Management Professional PMP certification exam.* The course consists of six 6-week sessions, and the average completion time is 7 months. The certificate can also lay the foundation for your next degree. Qualified credits may apply toward certain Purdue Global master's degree programs.†
Google Certificate in Project Management
The Google Certificate in Project Management covers the basics of project fundamentals as determined by Google, including methods to:
Initiate projects
Plan projects
Execute and close project
Apply agile and scrum methodologies
These skills, combined with the knowledge gained from the chosen micro-credential, will allow you to apply your project management skills to a specific industry.
If you're looking to start a career in project management, and you have at least a high school diploma, this program may be right for you.
Qualified credits earned in fulfillment of this certificate program may be transferable to certain Purdue Global degree programs.†
In the Google Project Management certificate program, you'll learn:
Project fundamentals—explore project management methodologies
Project methodologies—analyze the most effective methodology to ensure project success
Project planning—examine the project planning phase and building blocks
Project execution—discuss and Infer processes to assess and control changes during project execution
Agile and Scrum—explore Agile principles and the Scrum framework
In addition, you'll learn how to apply these project management skills to one of more than 20 professional focus pathways which cover a variety of industries.
>>> Learn more about the Purdue Global and Google Project Manager Certificate
Take the Next Steps Toward Your Career in Project Management
Project management involves an expanded set of skills beyond the usual scope of managing people. Purdue Global offers programs to help you get started in a new career or advance in your current profession.‡ Learn more about Purdue Global and Google Project Manager Certificate, Purdue Global's Graduate Certificate in Project Management, or request more information.
---
Your Path to Success Begins Here
Learn more about online programs at Purdue Global and download our program guide.
Request Information