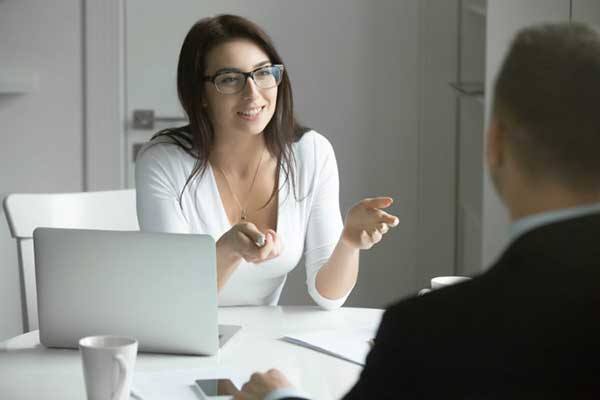 May 24, 2018 | Purdue Global
|
Updated December 23, 2020
The role of a human resource (HR) professional goes far beyond recruiting and hiring the right employees. Today, HR roles may help bridge generations in the workplace, improve company culture by keeping employees engaged, help ensure employees have the skills needed to succeed, and more. HR professionals are also tasked with overseeing compliance and company benefits.
According to the U.S. Bureau of Labor Statistics (BLS), employment of human resource specialists is projected to grow 7% and employment of human resource managers is expected to grow 6% from 2019 to 2029.
What Can You Do With a Business Degree With a Focus in HR?
When you earn a bachelor's degree in business administration with a concentration in human resources, you can be prepared for numerous business and HR roles.* As a student at Purdue Global, you can also choose to personalize your education with the human resources career focus area. Here are just a few possibilities to explore when considering a career in HR.
Training and Development Specialists
Recruitment Specialists
Compensation and Benefits Specialists
Training and Development Specialists
The training and development specialist job title has a faster-than-average growth outlook (9%), according to the BLS. Why is that?
Consider how quickly technology has evolved over the past decade. Technology changes how businesses operate and how teams work together. A training and development specialist can help ease corporations into new technology by identifying, securing, or providing education on new software and systems. Education is crucial for change management when organizations roll out new, enterprise-wide systems.
Technology also changes the way employees are trained. Training and development specialists need to be tech-savvy, so they can identify and implement the right training options. Not all training initiatives require in-person sessions. An HR specialist in this field may need to select online, self-paced, and other training options based on company needs and budget.
Of course, technological change isn't the only reason why businesses need training and development specialists. Businesses may have a skills shortage than can be addressed through a training program. HR professionals, in this case, can help identify the skills needed and then organize relevant training for current employees. In addition, some professions require continuing education or certification and an HR professional may help ensure these employees have the required credentials or licensure.
Recruitment Specialists
With the unemployment rate hovering at a low 6.7% at the end of 2020, finding and hiring the right talent has become highly competitive. For businesses to attract the best possible candidates, they need more than great benefits and an amazing workplace culture. Businesses need recruitment specialists who can stay up-to-date with the latest hiring trends, find the best candidates, and continually help improve the hiring process.
As a recruitment specialist, you could work for a large corporation or join a staffing agency. In either scenario, your job may entail visits to college campuses, trips to job fairs, and using social networking to connect with people who would be a perfect fit for your employer or client. This job is a role that requires sales skills, human resources knowledge, and top-notch communication skills.
Compensation and Benefits Specialists
Compensation and benefits specialists play a critical role in employee retention. These specialists are responsible for the implementation and administration of programs related to wages (salaries and bonuses), pensions, retirement plans, and various insurance plans (health, disability, and sometimes life insurance). Sometimes an organization will have a separate role for each specialty—in other words, a benefits specialist and a compensation specialist.
A benefits specialist administers your company's benefits program. Your duties will involve managing leave policies, insurance policies (health, disability, or life), wellness programs, and retirement plans. You may also be tasked with ensuring your company's programs comply with state and federal laws.
A compensation specialist focuses on the issues surrounding his or her organization's pay structure. As this type of HR specialist, you will review compensation trends and analyze your company's pay structure versus others in your industry or region. You will also have a responsibility to ensure your business complies with federal and state regulations and laws when it comes to things like worker's compensation, overtime, minimum wage, and equal pay.
Take the Next Step Toward a Career in HR With a Business Administration Degree
As the workplace continues to change, the opportunities for HR professionals continue to grow. With some specialties growing at a faster than average rate, it's a good time to put your career plan into action.
The first step is to earn a bachelor's degree. The Bachelor of Science in Business Administration Degree with a human resources career focus area from Purdue Global fully aligns with the Society for Human Resource Management's (SHRM) HR Curriculum Guidebook and Templates.
Learn more about Purdue Global's online business degree with a concentration in human resources today.