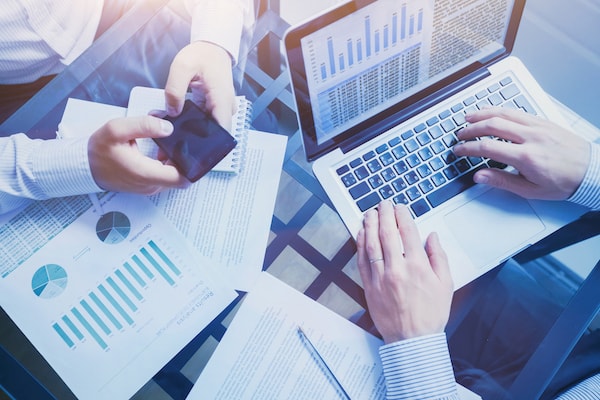 July 19, 2023 | Purdue Global
When you think of technology, you may not immediately think of accounting, but accountants are serious about using tech to drive growth. In fact, 86% of accountants surveyed by Intuit plan on using technology to grow their firms in 2023.
But exactly how will tech change the accounting landscape? What are the top accounting industry trends that accounting professionals should be on the lookout for?
Veronica Paz, DBA, adjunct faculty member at Purdue Global, talks about everything from big data and cloud-based accounting to AI and blockchain.
1. Artificial Intelligence and Automation
Artificial intelligence (AI) has quickly gone from an interesting topic to a disruptive technology in widespread adoption. According to the Intuit survey, 48% of respondents plan on investing and adopting AI, and 48% have similar plans with automation tools.
Together, AI and automation are transforming the field of accounting largely by streamlining processes and increasing efficiency. The key ways these technologies achieve this is by:
Handling everyday repetitive tasks
Reducing human errors
Improving the accuracy of transactions and financial statements
With AI-powered software, tasks such as data entry, reconciliations, and report generation can be easily automated.
Paz agrees, stating that AI can be used to perform both mundane and complex tasks.
"As a CFO, I would not necessarily want to do cash reconciliations or cash transactions," she says. "This is where AI, Robotic Process Automation (RPA), and Machine Learning (ML) come into the picture."
Of course, AI and automation can do far more than handle tasks humans would prefer not to do. AI algorithms can analyze vast amounts of data known as big data and identify patterns, enabling accountants to make valuable insights and offer data-driven recommendations. It can also help identify patterns or anomalies that may suggest accounting fraud or problematic practices.
While some people fear the use of AI and automation, Paz considers herself a proponent. She does, however, make a clear distinction in her support of the technology.
"It's an enhancement; it is not a substitute for fundamental knowledge," she says. "You still have to understand GAAP (Generally Accepted Accounting Principles), the standards set by the Financial Accounting Standards Board (FASB) and the International Financial Reporting Standards, to conduct any type of business or data analytics. If you don't know what you're looking at, this technology is not going to help you."
2. Big Data, Analytics, and Business Intelligence
The integration of big data, analytics, and business intelligence (BI) has revolutionized how financial information is both processed and used, and not a moment too soon. Paz says, "There's volume, there's variety, there's veracity, and velocity—these are known as the 4 Vs of big data. We're overloaded with data. That's great, but how are you going to use it?"
This is where tech comes into the equation. Accounting professionals can use analytics to uncover meaningful insights and patterns. By leveraging advanced data analytics tools, accountants can:
Extract valuable information from large datasets so they can more effectively identify trends
Detect anomalies
Make data-driven business decisions
Accounting firms are finding ways to use big data to grow their business. Paz says that firms are using tools like Power BI and Tableau for data visualization to provide added value. She also says that the big auditing firms are hiring more data scientists.
"You still need accounting fundamentals and business acumen, but these accounting skills combined with data science, big data, powerful tech tools, and software create a more lucrative skill set for employers," Paz says.
>> Read more: Why Is Data Literacy Important for Businesses?
3. Blockchain Technology and Cryptocurrency
Much like AI and automation, blockchain and cryptocurrency have quickly gone from fringe conversations to the spotlight. From 2021 to 2022, the number of crypto assets grew from a little under 11,000 to more than 20,600, according to a report from the fifth annual American Institute of Certified Public Accountants (AICPA) and CPA.com Blockchain Accounting Symposium.
The report also shows that at the time of the symposium, the total market capitalization of all crypto assets was $1.492 trillion. Even though this number is lower than it was the previous year, it demonstrates the high level of interest in the technology itself. It also shows why. According to the same Intuit survey, 47% of accounting firms are planning to invest in blockchain technology.
Paz suggests that the unchangeable, integrated ledgers are the largest attraction from an accounting perspective. And while it is exciting technology, it's not free of problems. Security and regulation are two areas that need to be addressed for the technology to be fully used. "But we're getting there," she adds.
4. Cloud-Based Accounting
Overall software as a service (SaaS) spending is projected to grow 17.9% to total $197 billion in 2023, according to projections by Gartner. This sets the stage for the growth of cloud-based applications across many industries, accounting included.
Accounting businesses are increasingly adopting cloud-based accounting software, recognizing the advantages of flexible access, scalability, and the savings offered by cloud solutions. There are, however, other reasons for more firms to embrace the technology. Paz says that the pandemic helped to make cloud-based accounting more popular, but the preference for remote work remains a driving factor in adaptation.
"Cloud-based solutions enable collaboration and real-time reporting, allowing professionals to seamlessly and collaboratively work on financial data," Paz says. "This leads to improved decision-making and more accurate financial reporting. The downside to all that real-time, actionable data is security. As more and more firms lean on cloud solutions for accounting, security, and cybersecurity, threats are going to remain a serious concern."
5. Data Security and Cybersecurity
A focus on data security and cybersecurity is crucial. The 2022 IBM Cost of a Data Breach Report found that 83% of organizations within the study had more than one data breach. Forty-five percent of the breaches were cloud-based, and the cost per breach continues to rise.
"Accounting still has an issue with cybersecurity and data security," Paz says. "Your firm's data can be taken hostage, leaving you to pay ransom to reclaim it. We used to say cash is king, but data is right alongside it now. It is the conduit to get the cash, so people want it."
The report also shows that each breach in the financial industry now costs an average of $5.97 million, highlighting the seriousness of the problem. With the vast amounts of sensitive data within the financial industry and the increased use of cloud-based software, the scope of the problem is significant and likely to be a large part of the conversation for years to come.
Earn an Accounting Degree With Purdue Global
The field of accounting is growing and changing. Between technology developments and industry changes, it's important to stay on top of accounting trends.
If earning an accounting degree could help you grow your career, learn more about our accounting degree programs:
Or, request more information today.
---
---
Your Path to Success Begins Here
Learn more about online programs at Purdue Global and download our program guide.
Request Information