International Tuition and Benefits
Affordably priced: Because nothing should stand in the way of your success.
U.S.-based and accredited Purdue Global offers a 25% tuition reduction for eligible international students.* We do our best to provide an education at a competitive price, with books and course materials included in the price of tuition for all undergraduate degree programs.†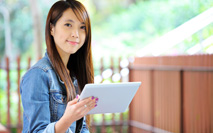 Tuition and Savings Tools
Employer Reimbursement
Your employer may reimburse, in full or in part, working students who acquire advanced knowledge and training. For more information on employer reimbursement, check with your human resources department.
Corporate Alliance Program
If you are employed with one of our corporate partners, you and your family members may be eligible for special tuition benefits. Previous courses, corporate training, and work experience may translate into college credits, giving you a head start towards your degree.
Benefits
25% OFF TUITION: This tuition reduction applies only to international students living outside of the United States. This discount does not apply to military students. Please check with your advisor to see if you are eligible.
NO ADMISSIONS TESTS: That means you don't have to take the SAT, GMAT, LSAT or GRE to be considered for admission at Purdue Global.
NO APPLICATION FEE: International students are exempt from the $45 application fee.
FREE CREDENTIAL EVALUATION: For students who qualify, Purdue Global evaluates international students' prior higher education to determine if any prior courses may count toward the degree you are pursuing at Purdue Global. Please see the Prior Learning Assessment policy in the Purdue Global Catalog for additional information.
The Purdue Global Commitment
At Purdue Global, we're committed to helping you succeed. That's why we're offering you an opportunity to try our programs. With the Purdue Global Commitment you'll have the opportunity to attend real classes for real credits. Then, after an introductory period, if you decide we're right for you, and you meet our academic standards as well as other enrollment requirements, continue on. If not, your obligation ends there and we will refund your tuition.
Purdue Global Commitment
Financial Options for Students in Canada
NOTES AND CONDITIONS
*Except where prohibited by law. International students are required to pay 15 weeks of tuition and fees in full prior to the start of the first term. Speak to your Advisor for additional information.
†Not all courses require textbooks; some use electronic instructional materials.