Online Degrees and Financial Assistance for Canadian Students
Our U.S-based and –accredited online university for Canadian students provides distance learning programs that are always within your reach. To explore options, contact us at Canada@PurdueGlobal.edu.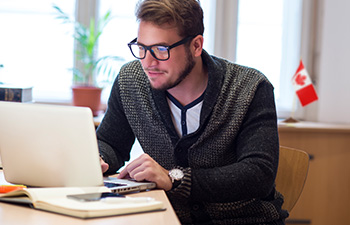 Tuition Reimbursement
If you are employed, your company may reimburse you for pursuing a college degree from a qualified institute of higher education. Check with your human resources department to see if this option is available to you.
Student Federal and Provincial Financial Assistance
Purdue Global is pleased to announce that we are an approved university for qualified online students across Canada to apply for and receive Canada student loans as well as some forms of provincial funding.
Ontario-based students can visit the Ontario Student Assistance Program website to identfy additional funding options. Financial assistance may be available for those who qualify.
Scholarships for Canadian Students and Other Forms of Financing to Consider
www.scholarshipscanada.com
www.studentawards.com
Financial support from community organizations and service clubs
Part-time employment
Family resources
Aboriginal organizations
Governments
Employment Insurance/Labour Market Development
Unions
Churches and religious institutions
Foundations that offer scholarships and/or bursaries


Lifelong Learning Plan
The 'Lifelong Learning Plan' is offered through the federal government and allows individuals to withdraw funds from their Registered Retirement Savings Plan (RRSP) to finance training or education for themselves or their spouse or common-law partner.