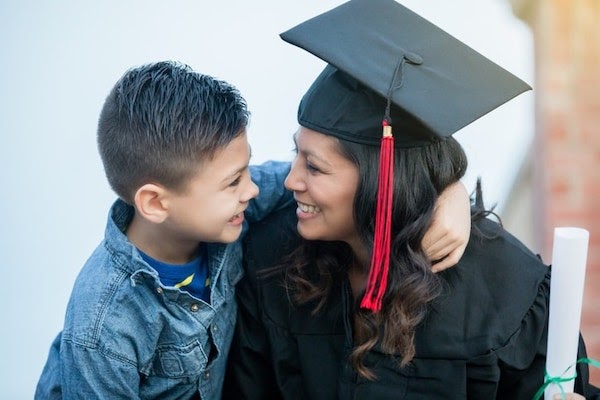 May 11, 2020 | Purdue Global
If you, like many college and university students, were excited for your graduation ceremony, uncertainty around physical gatherings in 2020 may be changing how you plan to attend your commencement ceremony. Purdue Global is committed to celebrating our students' success. Instead of walking across the stage in 2020, Purdue Global students will be celebrating with a virtual graduation.
What Is a Virtual Graduation?
Purdue Global's virtual graduation ceremony uses a 360-degree camera to allow students to experience the ceremony as they would in person. Students can view the ceremony on a streaming platform, like YouTube, and have the option to watch through a special virtual reality headset provided by Purdue Global. The cardboard headset allows students to look around the commencement ceremony as if they were physically attending.
Patti Pelletier, director of the Learning and Leadership Community for Purdue Global, says a virtual graduation ceremony is intended to be an engaging and immersive experience. "We don't want to have a flat screen where it feels like graduates are just looking at a computer or television set."
What to Expect at Purdue Global's Virtual Graduation
Watch What It's Like to Attend a Virtual Commencement Ceremony:

Purdue Global offered its first virtual graduation in February 2020, which was paired with an in-person ceremony in Los Angeles.
"We are able to give our graduates an experience where they can see and hear the ceremony. From the beginning, they feel like they are walking in a procession in the auditorium and sitting in the audience watching everything that's happening around them," Pelletier said. "They're able to walk onto the stage (with a little help from us, of course), hear their name announced, and see their picture displayed before returning back to their seats."
Though the 2020 graduation ceremony will be missing in-person students, Purdue Global faculty and leadership will speak to the students through the livestream, and each student will have their name read as they virtually walk the stage.
More Than Speeches and Stages at Purdue Global
While Purdue Global is still finalizing details for commencements in 2020, Pelletier said they are working on hosting interactive portions online, with opportunities to connect with faculty and alumni before and after the main event.
Purdue Global is excited to celebrate all its 2020 graduates, whether near or far. Our students study in more than 175 online programs at the certificate, associate's, bachelor's, master's, and doctoral levels, with courses taught by faculty who are practicing professionals in their fields. Areas of study include some of today's most in-demand fields, including business, criminal justice, information technology, legal studies, nursing, public administration, and psychology.
If you're interested in walking across Purdue Global's stage one day, virtually or otherwise, request more information about our programs.
---
Your Path to Success Begins Here
Learn more about online programs at Purdue Global and download our program guide.
Request Information