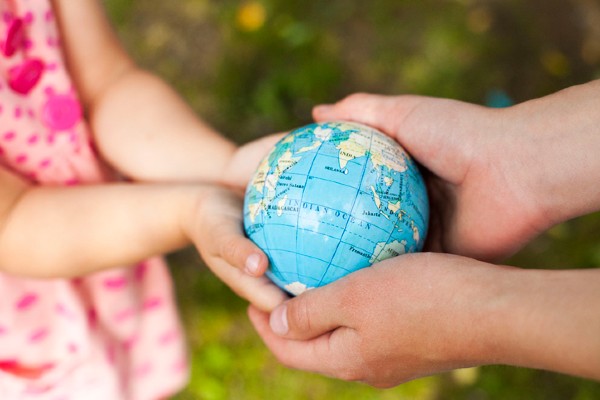 May 19, 2023 | Purdue Global
Climate change is a significant concern. It's reflected in rising temperatures, changing weather patterns, and growth in greenhouse gas pollution.
According to Climate.gov:
The Earth's temperature has warmed by 0.14 degrees per decade since 1880, but the rate has escalated to 0.32 degrees since 1981.
The year 2022 was the sixth warmest on record.
The nine years from 2014 to 2022 are among the 10 warmest recorded.
You can take steps to help combat climate change, whether at home or work. Find out more about what you can do and organizations that can help.
10 Things You Can Do to Save Energy at Home
There are a number of ways you can help fight climate change and reduce your own carbon footprint at home. Here are 10 actions you can take to get started, with tips from GreenAmerica, the United Nations, and other sources.
1. Change Lighting
Light bulbs with light-emitting diodes (LEDs) use less energy and last longer than other bulbs. Residential LEDs, especially ENERGY STAR-rated products, use at least 75% less energy and last up to 25 times longer than incandescent lighting, according to the U.S. Department of Energy (DOE). Not only is this better for the environment, it means long-term savings for you, too.
2. Cut Water Waste
Pumping and treating water takes a lot of energy, so even small changes will impact greenhouse gas emissions, according to the U.S. Environmental Protection Agency (EPA).
Reduce the amount of water waste you create by turning off the faucet while you brush your teeth or shave. Take shorter showers, and use low-flow shower heads and toilets.
3. Eat More Plants
Going vegetarian or vegan, or even just cutting down on meat consumption, can significantly lower your carbon footprint, the United Nations (U.N.) says.
Foods like fruits, legumes, nuts, seeds, vegetables, and whole grains generally create fewer greenhouse gas emissions during production and require less energy, land, and water.
4. Improve Insulation
On average, you can save up to 20% on your home's heating and cooling costs by sealing leaks and adding proper insulation to your house, according to the DOE. These changes can cut down on emissions from homes.
5. Reduce, Reuse, Repair, Recycle
Many of the materials that end up in landfills can be recycled or repurposed elsewhere. Using recycled aluminum cans to make new ones uses 95% less energy than using the raw material aluminum is made from, according to the U.S. Energy Information Administration.
To fight climate change, the United Nations urges people to buy fewer new items, shop second-hand, repair what you can, and recycle. Also reuse and repurpose old clothing, cloth grocery bags, and containers.
6. Rethink Travel
When taking short trips, explore options like walking, biking, carpooling, or taking the bus. See if your employer offers benefits for sharing rides or taking public transportation. When running errands, group trips together instead of making several trips.
If you must travel longer distances, take fewer flights or take a train. If possible, meet virtually instead.
7. Stop Wasting Food
About one-third of food bought in the United States isn't eaten, the EPA says. Unpurchased food spoils on store shelves. That food ends up in landfills.
Instead, buy only what you need, eat leftovers, compost food scraps, and donate unused food to shelters or food banks.
8. Switch to a Fuel-Efficient Vehicle
Look for more efficient vehicles that promise more miles per gallon. The EPA offers a Green Vehicle Guide that can help you choose cleaner, more fuel-efficient vehicles.
If you have the means, consider a hybrid or electric vehicle, which typically produces less greenhouse gas emissions than the average new gasoline-powered car. The Internal Revenue Service offers some tax incentives for owners of some newer electric vehicles.
9. Use Cleaner Energy
Clean solar-powered or wind-powered energy may be available from your utility company, or you may be able to have solar panels installed on your roof to generate your own energy.
The U.N. says switching from energy powered by coal, gas, or oil can reduce your carbon footprint by as much as 1.5 tons of carbon dioxide per year.
10. Vote and Speak Out
Advocacy can also strike a blow against climate change. This can be from neighborhood advisory councils to local government and above. Back climate-friendly candidates and legislation.
Talk to friends, family, neighbors, and colleagues about climate issues and work together with them to start making effective changes. The U.N. has a guide to speaking out about climate issues.
10 Things You Can Do to Save Energy at Work
You can also encourage your workplace to take steps to combat climate change. If you're in a position to do so, take the initiative to make those changes.
1. Choose Sustainable Suppliers
Research your suppliers' environmental practices and ethics, and make purchasing decisions based on sustainability.
Responsibility Reports lets you research a company's sustainability reports, corporate social responsibility reports, environmental reports, and other public rankings.
2. Cut Energy Consumption
Replace incandescent lights with more energy-efficient bulbs, use motion sensors to dim or shut off lights when not in use, turn down thermostats, and unplug equipment when not in use.
The DOE offers a comprehensive list of things you can do to make your office more efficient.
3. Develop a Greenhouse Gas Inventory
Companies are encouraged to monitor output of greenhouse gases to refine their efforts at sustainability.
A greenhouse gas inventory is a list of emission sources and their emissions using standardized methods. This can give you an idea of where you can make improvements. The EPA has resources to help and a guide to conducting a greenhouse gas inventory.
4. Encourage Better Commuting
Companies should encourage employees to save energy and reduce emissions by carpooling, biking, using public transportation, and more.
Offer benefits that help address parking, long commutes, traffic congestion, and other factors that increase pollution.
5. Find Sustainable Office Supplies
Sustainable office supplies can cut down on waste and emissions in their production.
Search out recycled paper, copiers that use refillable ink cartridges, cleaning products, and other items that are sustainably produced. Look for products that have a green certification.
6. Get Efficient Office Equipment
ENERGY STAR-certified office equipment uses less energy.
Look for equipment that is certified: computers, copiers, printers, lighting, heating, and appliances.
7. Make Gifting Eco-Friendly
Offices are fond of giving gifts to clients and workers. Set the tone by making sure those gifts are sustainable, energy efficient, and fair trade.
An alternative idea is to give experiences (sports or movie tickets), contributing in name to environmental programs such as tree planting, or by donating to charity.
8. Properly Dispose of E-waste
Any office produces plenty of electronic waste, such as spent batteries, old laptops, empty ink cartridges, and the like. Some of these can be recycled, but they can cause environmental harm if they're merely thrown in the trash.
Many companies collect e-waste and dispose of them properly, recycling what they can. The EPA offers a guide to certified electronics recyclers.
9. Reduce, Reuse, Recycle
Offices are encouraged to use two-sided printing and copying, printing only what's needed, donating used equipment, etc. Make sure your office is also recycling plastics, glass, paper, and whatever else is allowed in your area.
10. Run Environmental Workshops
Companies can lead the charge in educating employees about the eco-friendly steps that can be taken to combat climate change. Create plans to implement new sustainability initiatives and practices at work, and invite local brands, charities, and entrepreneurs to share their victories and advice.
10 Groups You Can Support
A number of groups are fighting climate change and promoting a more sustainable future. Here are some groups you can get behind by either volunteering or contributing.
1. Citizens' Climate Lobby
The Citizens' Climate Lobby aims to build support for a national bipartisan solution to climate change.
The group operates more than 420 chapters in the United States and more than 150 more chapters globally.
2. Clean Air Task Force
The Clean Air Task Force also focuses on policy and innovation. It advocates for new policy and technology to work toward net-zero emissions by 2050.
This group focuses on carbon emissions in energy, industry, and transportation.
3. ClimateWorks
ClimateWorks teams up experts in climate science, economic development, public policy, and strategic philanthropy to attack climate change.
This group has awarded $1.3 billion in grants to people in more than 50 countries to encourage climate solutions.
4. Environmental Defense Fund
Environmental Defense Fund is a nonprofit that fights for environmental health.
Founded in 1967, the group started with a win against the use of DDT, and has since sought solutions for climate, oceans, ecosystems, and health issues.
5. Evergreen Action
Evergreen Action works with the government to seek solutions for climate change.
This group advocates for green energy and the jobs that will come about with this eco-conscious movement.
6. Good Energy Collective
Good Energy Collective sees cleaner nuclear energy as a solution to the climate crisis.
This group advocates for new technology to make nuclear energy safer and more sustainable, which will cut reliance on fossil fuels.
7. Green America
Green America takes on a variety of causes, including clean energy, fair labor, food security, green living, responsible finance, and social justice.
This company brings together businesses, consumers, investors, and the marketplace to build environmental sustainability.
8. Greenpeace USA
Greenpeace USA is an environmental advocacy group that uses peaceful protest and creative communication to bring focus to global environmental issues.
Greenpeace was established in 1971 to protest nuclear testing.
9. Sierra Club
The Sierra Club is a longtime environmental organization with millions of members.
The group, founded in 1892, has focused on climate solutions, clean air, clean water, and a healthy environment.
10. World Wildlife Fund
The World Wildlife Fund (WWF) was established in 1961 to protect places and wildlife that were threatened by development.
The WWF advocates conservation of natural resources and policies toward sustainability to protect species and their habitats.
Help Combat Climate Change With a Degree from Purdue Global
Protecting the environment is everyone's responsibility. Purdue Global can help you learn more about environmental protection and resilience with an online bachelor's degree in environmental policy and management and an online bachelor's degree in sustainability.
The environmental policy and management degree connects the public and private sectors in addressing economics and the environment. The sustainability degree addresses data analytics, social and environmental justice issues, policy, and sustainable practices in natural resource management, economics, and supply chain logistics.
Request more information or apply today.
---
---
Your Path to Success Begins Here
Learn more about online programs at Purdue Global and download our program guide.
Request Information