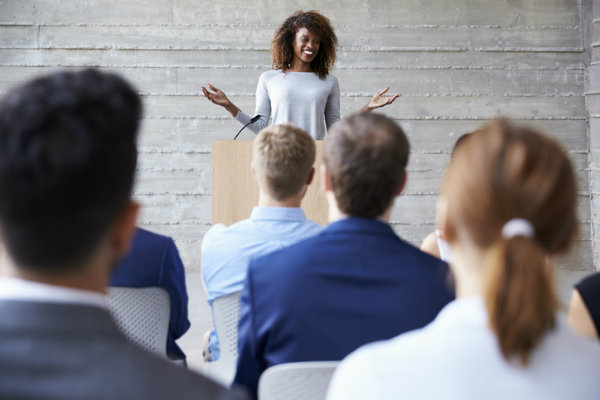 January 10, 2019 | Purdue Global
It could be delivering a presentation at work, giving a heartfelt toast at your friend's wedding, or talking to your child's class at career day. No matter how serious or celebratory the occasion, most people experience some sort of public speaking jitters, and about a quarter of people fear speaking in public, Psychology Today reports. Whatever the event you're speaking at, delivering a speech that is clear, engaging, and gets your point across is key.
Here are 10 public speaking tips to help you excel the next time you have to speak in front of an audience.
1. Write It Out
Create an outline of your speech to organize the content. Even if it's going to be a quick one- or two-minute speech, writing a focus for the beginning, middle, and ending can help you hone in on key ideas you want to convey.
If you can write out the whole speech, do it. You may end up improvising certain parts anyway, but the more you can prepare, the more seamless your speech will be. Susan Cain, author of the book Quiet: The Power of Introverts in a World That Can't Stop Talking, writes that speech preparation is especially helpful for introverts, since you'll gain a better understanding of how you'll come across—which can increase your confidence.
2. Practice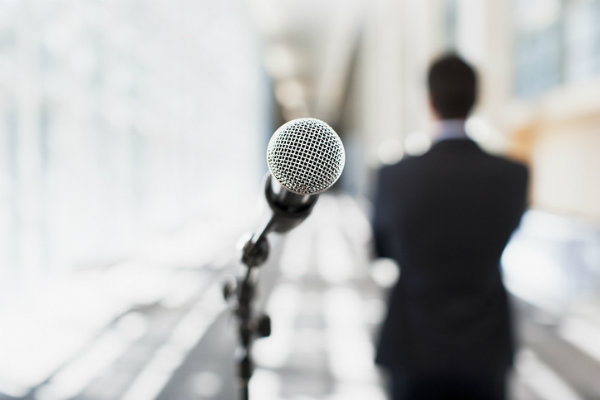 Practice goes hand-in-hand with the first tip. How your speech comes across out loud compared to how it reads in your head can be very different. Practicing a speech enables you to:
Work out pacing and pauses for optimal impact
Make sure you're able to clearly and confidently pronounce your speech
Feel more comfortable with the message you're delivering
Practice in front of a mirror and in front of a friend, if possible. If you need to memorize your speech, break it down into chunks and work on memorizing one part at a time. Chunking is a cognitive principle that states information is more easily stored when it is broken down into pieces. For speeches that are several minutes long, use chunking to tackle one section at a time, then weave them together in your preparation.
3. Record Yourself
You might be amazed at what you discover when watching yourself practice your speech. It's normal to have unique mannerisms when talking, whether it's using hands expressively or looking up at random points.
Set up your video camera on your phone and record yourself as you practice giving your speech. Then review it to make sure your pacing, eye contact, and physical movements match the tone of your speech and display confidence.
4. Present Yourself Confidently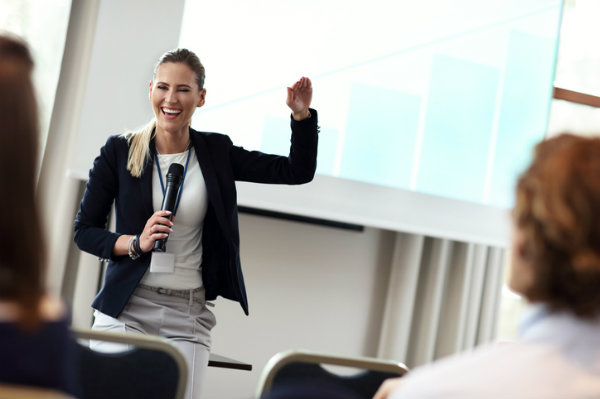 While you can't necessarily control every detail of a speech, you can control how you look. Dress in comfortable clothes that make you feel good about yourself. This helps you feel confident.
A collection of studies covered by The Wall Street Journal confirms that dressing for success affects how you are perceived, how confident you feel, and even how well you can think abstractly. Dress sharply for your next speech and you might get an assurance boost.
5. Prepare for the Worst
It might sound counterintuitive, but imagining the worst-case scenario that could happen during your speech (also known as inoculation training) could help calm you down. Psychology Today reports on a 2017 study that confirmed inoculation training is an effective way to tackle the fear of public speaking.
To try inoculation training, think about the worst that could possibly happen and then think about your best possible response. Doing this has the effect of minimizing fear, which can increase your poise come speech time.
6. Tour the Space Beforehand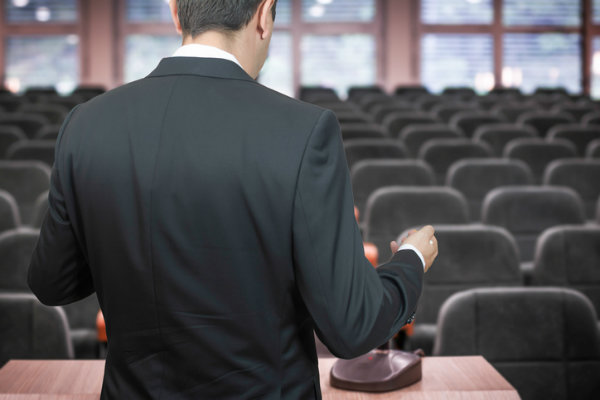 Don't let a surprising venue layout derail your speech. A setup involving a podium (or lack of one), platform, or stage may seem new and jarring if it's drastically different from where you practiced.
Before a speech, walk around the venue if you can. Touch the podium. If you are going to be holding a microphone, hold it and walk around with it before the speech. Look into the first few rows so you have an idea of where to look as you're delivering the speech.
7. Smile
One way to instantly relax is to smile—even if you don't feel like it. Research reported by NBC News shows smiling can boost your mood and lower stress.
Smiling can also make the audience more receptive to you. Psychology Today reports that smiling makes people appear more attractive to others. If your speech isn't completely solemn or serious, try smiling at the beginning and throughout.
8. Get the Audience Invested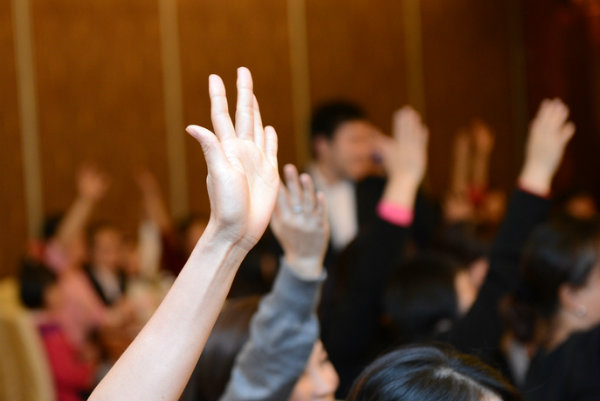 If you want to keep your audience hanging on every word, get them involved from the beginning. The public speaking organization Toastmasters International recommends introducing your speech in a way that makes the audience immediately relate to it. Some ways to do this include:
Posing a question for the audience to think about
Telling a story that captures their attention
Giving a preview of what the audience will learn
You might consider asking for a physical movement, such as a show of hands if people identify with something, to get the audience participating in your speech right from the beginning.
9. Leave a Takeaway
Make your speech more impactful by leaving the audience with something to think about or a possible action to take. This reinforces the content you've presented and creates a connection with audience members as they continue to reflect on your speech.
As communication theorist Nick Morgan writes in Forbes, one of the best ways to make a speech effective is to create it from the perspective of what's in it for the audience. Leave them with a resource (such as a website) to learn more about the subject or with practical tips they can use to put the message of your speech into practice.
10. Ask for Feedback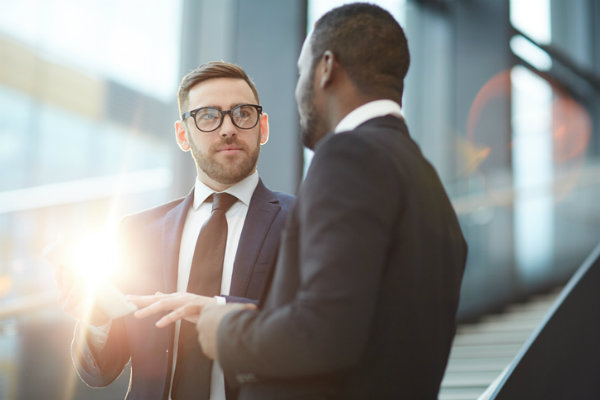 Get better at public speaking by asking your audience for feedback. Depending on the setting, this can be done formally, such as a quick email survey at work, or informally, by asking people you trust what they thought of your speech.
Don't get overwhelmed by feedback. Identify the areas you know you can improve, and make small changes in each speech. If you are serious about perfecting your speaking skills, join a group such as Toastmasters International, which gives you the opportunity to practice public speaking and get feedback in a supportive setting.
Become a Better Public Speaker
At some point in your life, you're going to have to speak in front of a group. It's not always easy, but with preparation, practice, and a realistic view of the task at hand, you can approach your next public speaking engagement with confidence and a meaningful message.
If earning a degree is also part of your life goals, learn more about the online degree programs at Purdue Global. An accredited institution, we offer more than 175 programs at the certificate, bachelor's, master's, and doctorate levels, and our online format is tailored to meet the needs of working adults. Request more information today.