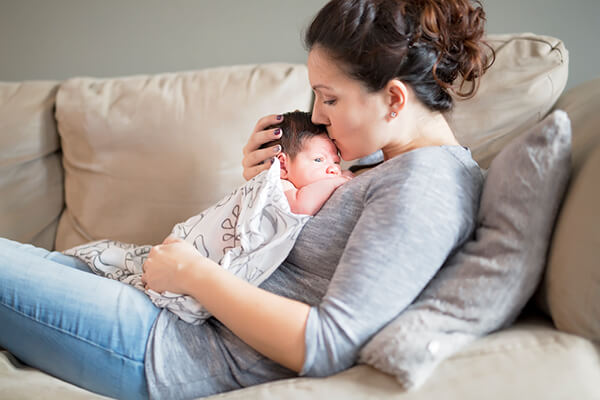 January 29, 2018 | Rachel Byers, PhD, CPA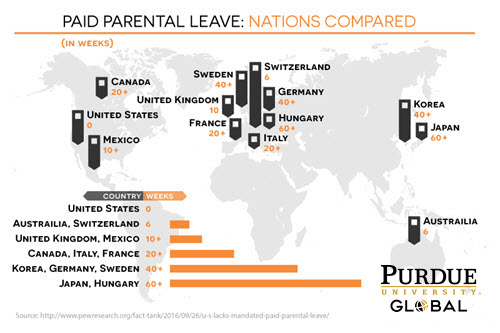 Growing your family? Congratulations—and welcome to the fast-moving world surrounding paid parental leave in the United States.
As a whole, the nation has no federally mandated paid family leave; what we do have is the Family and Medical Leave Act, under which an employer of 50 people or more must allow up to 12 weeks unpaid leave to workers who have been with the company for at least 1 year.
The United States is the only industrialized nation with no federally mandated paid leave, Pew Research reports. Meanwhile:
Australia and Switzerland offer 6 weeks of paid leave
United Kingdom and Mexico offer more than 10
Canada, Italy, and France offer between 20 and 30
Korea, Germany, and Sweden offer more than 40
Japan and Hungary offer more than 60
But, several states and companies are moving ahead and providing paid parental leave on their own.
Growing Expectation of Parental Leave
"This is the right thing to do for our people," Lars Petersson, IKEA's president of U.S. operations, told USA Today about the company's 2016 decision to grant up to 4 months' paid leave to workers having or adopting a baby. In the same month, American Express said its employees would be eligible for 20 weeks of paid parental leave, with another 6 to 8 months available for mothers with medical necessity.
Technology companies like Google, Amazon, Apple, Facebook, Twitter, and Microsoft have been among the earliest to offer paid parental leave and extend the benefit to fathers. As the millennial generation makes up an ever-larger part of the workforce—75% of it by 2025, according to Deloitte—companies are working to retain them. A recent EY (formerly Ernst & Young) study put parental leave among the top of the millennial must-haves.
On the Horizon in Washington
President Trump has included a proposal for paid parental leave in his budget for fiscal year 2018. It would give new parents 6 weeks of paid leave (via unemployment insurance) after the birth or adoption of a child. As proposed, it would benefit about 1.3 million people, White House officials told the Washington Post. But the 2018 budget has not yet been approved by Congress. President Obama proposed a paid parental leave plan in his 2015 budget, which Congress later rejected.
A Few States Out Front With Paid Parental Leave
Four states and the District of Columbia have set out on their own to give residents the benefits of paid family leave:
California
California was the first state to offer paid family leave. Employers do not have to pay their employees during family leave, but most California workers have access to the state's disability insurance benefits, and can receive up to 6 weeks of partial pay (up to 55% of their regular earnings) for parental leave (after a birth, adoption, or foster child placement) or leave taken to care for a seriously ill family member. The plan has been in effect since 2004; it is paid for with mandatory payroll deductions.
New Jersey
Workers in New Jersey fund the state's Paid Family Leave through payroll deductions. As in California, benefits are administered through the state's disability insurance program. Employees can take up to 6 weeks of paid leave and earn two-thirds of their average salary, up to $524 a week. New Jersey was the second state to implement such a plan; its program began in 2009.
Rhode Island
Rhode Island allows workers to receive about 60% of their salary for 4 weeks after the birth or placement of a new child. The plan, which was implemented in 2014, is called Temporary Caregiver Insurance, and is funded with a 1.2% payroll tax on Rhode Island workers, including those who are part-time.
New York
As of Jan. 1, 2018, New York will begin phasing in its paid-leave benefits over 4 years. Most workers will be eligible to take up to 8 weeks of paid leave and receive 50% of their average weekly wage. By 2021, the state will provide up to 12 weeks of paid family leave.
Washington, D.C.
Private-sector businesses in the nation's capital will begin paying an employee payroll tax by July 1, 2019, that will fund the paid parental leave. One year later, workers will begin being eligible to take up to 8 weeks of paid time off in a 52-week period. Federal or state workers in the district would not be eligible.
Do the economics work?
Paid parental leave is a topic that inspires much debate. After President Obama first proposed his paid leave plan, The New York Times looked at some results from the California, New Jersey, and Rhode Island plans. Some of the report's findings:
Paid leave in California allowed poorer, less educated, or unmarried women to take longer leaves, closer to the length of those taken by women who had higher incomes, were more highly educated and/or were married.
Despite the fact that many California employers were originally opposed to the law, 87% later said it did not increase costs and that in some instances they saved money.
Women in New Jersey who took paid leave were less likely, one year later, to be receiving public aid or food stamps. And those who returned to their jobs worked 15 to 20 more hours during the second year of their child's life than did those who did not take paid leave.
Meanwhile, opponents counter that forcing another tax on employees or businesses is too great a financial burden, and that paid family leave programs are inherently unfair to childless people and stay-at-home parents. No doubt the controversy will continue, especially as we wait for Congress to take action on new federal legislation mandating paid leave in 2018.
Are you interested in human resources and matters affecting American workers? Purdue Global offers a Graduate Certificate in Human Resources for people who hold a bachelor's degree and are interested in pursuing career opportunities in this industry.
Rachel Byers, PhD, CPA, is a full-time faculty member at Purdue Global. The views expressed in this article are solely those of the author and do not represent the view of Purdue Global.
Your Path to Success Begins Here
---
Learn more about online programs at Purdue Global and download our program guide.
Request Information
Most Popular Posts
Your Path to Success Begins Here
---
Learn more about online programs at Purdue Global and download our program guide.
Request Information