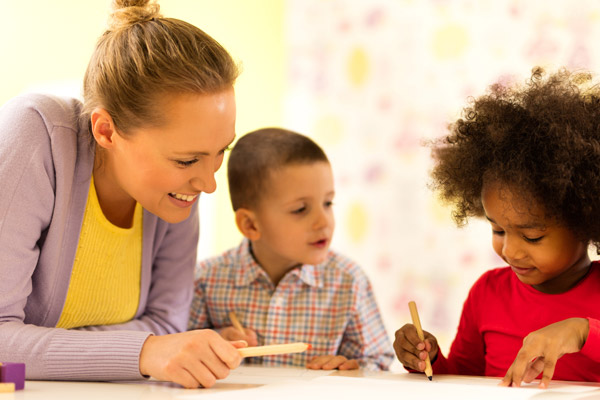 April 14, 2014 | Nicole Hamilton, PhD
Autism, also known as autism spectrum disorder (ASD), is a severely debilitating developmental disorder characterized by deficits in social communication and interaction, restrictive and repetitive behaviors, and other symptoms that can impair daily functioning (American Psychiatric Association [APA], 2013). In most recent reports, this disorder is on the rise, affecting 1 in every 88 children, with an estimated 78 percent increase from only a few years before (Autism and Developmental Disabilities Monitoring Network, 2012). In the past decade, autism has become a national focus, and more recently has even garnered worldwide attention (Autism Speaks, 2014). The Autism Society (2014) has formally declared April to be National Autism Awareness Month (NAMM) in order to bring a growing awareness of autism coupled with the continued need to increase knowledge, support, and resiliency in families with autism. Due to the severity of the disorder, many families have found that having a child with autism can be a struggle to understand the diagnosis and to learn how to cope with the needed changes in the home (Greef & van der Walt, 2010). Therefore, acknowledging factors of resilience in families with autism, recognizing how to build stronger family outcomes, and providing supportive resources are necessary to enable families to adapt successfully.
Resilience-Promoting Factors in Families
It is important to understand why some families faced with the challenge of autism fare well, while others have adverse effects on multiple domains within family life (Bayat, 2007). Resilience, as conceptualized as a positive adaptation in the context of a major change, has gained attention for children with autism due to the growing awareness of the various factors of resilience in a family (Fenning & Baker, 2012). When a child is diagnosed, it can affect relationships in the family (both marital and sibling relationships) and family routines and roles, increase conflict and stress, and necessitate psychological adjustments for everyone (van der Walt, 2006). However, families that are resilient tend to have greater competence to the adversity and change in the family. Resilience is influenced by numerous factors that interact to foster growth and empowerment when adapting to the presence of autism within the family system (Plumb, 2011). The factors of family dynamics, family strengths, and community support are each addressed below.
Resilient families are those whose beliefs and practices allow them to manage experiences that are more difficult and bring about more family coherence (Greef & van der Walt, 2011). One such managing factor is the family routine. Individuals with autism tend to have a strong need to follow a strict routine and any small change in that routine can lead to family disruption. Staying closer to the routine results in fewer negative effects and more time for attention to all members of the family. Another helpful practice is increasing the independence of the child with autism. When the family makes it a priority to support the child in learning skills and functioning independently, adaptation and resilience is increased. Lastly, families who believe strongly in maintaining a hopeful attitude, or who have some form of faith or spirituality, have shown higher levels of resilience.
Focusing on the strengths of the family is also vital to family resilience when it comes to autism (Plumb, 2011). Having daily positive affect and passive appraisal are important components for families (Greef & van der Walt, 2011). When parents have more daily positive experiences with the child, this serves as a buffer or protective factor against stress (Bayat, 2007; Ekas & Whitman, 2011). Also, when a family accepts the diagnosis of autism then adaptation is only further increased. When families are able to make meaning out of the life changes that accompany a child with autism, they view the child more positively and see the changes as positive life lessons. The adaptation of acceptance is further related to the vital factors of strength and compassion. Families that view themselves as strong and compassionate in addition to selfless and more sensitive to others , due to the adaption of a family member with Autism have an overall healthier understanding and affirmation for their family (Bayat, 2007). In addition to this is the strength of commitment in working together. Families that work together are more likely to try and learn new things and have a stronger sense of connectedness. Furthermore, families that are strong in their communication with one another also are more connected in their patterns in working well together. Communication should be flexible and allow for the needs of everyone in the family to be addressed.
Lastly, community support and resources are important in resilience (Plumb, 2011). Support includes social support; vocational, educational, and medical support services; and support from other families with autism (van der Walt, 2006). When seeking support, families with higher levels of resilience will seek out information as a way of coping with the adjustments in the family system (Greef & van der Walt, 2011). This is considered a positive adjustment while also contributing to the knowledge of the disorder and learning how to best help the child.
How to Build Resilience for a Stronger Family Outcome
In recent years an understanding of family resilience has been aimed at being a strength-based model in order to help families build stronger outcomes and healthier functioning (Ekas & Whitman, 2011). The Autism Family Online (2014), Autism Now (2014), and Autism Speaks (2014) have made it a goal to address areas that can build resilience within the family system. These strategies can be used to develop healthy coping skills to enhance the areas of resilience in family dynamics, strengths, and community support.
Family Dynamics
Acknowledge everyone in the family as important. This means both the individual with autism and others, including siblings. Siblings can and do contribute to many caretaking needs and should have this acknowledged as an important contribution.
Marital support in the family is important too. Therefore, communication with the spouse or partner is a priority in addition to spending quality time with that person. This can mean having someone take care of the children in order to allow for more quality time and attention.
Focus on the strengths and compassion in the family. Strengths come in many different forms. This may mean acknowledging that one person in the family is best at calming a situation or teaching certain aspects. Compassion comes in many forms as well and can extend outside the family. For example, a sibling that has been particularly helpful within the family can be more compassionate toward others because of his or her own experience with a sibling with autism.
Work together as a family. Adapt to different roles when needed and communicate the needs of everyone in the family.
Focus on commitment and connectedness. This also means keeping communication flexible, addressing situations with the whole family, and connecting in fun ways with one another as well.
Look for ways to increase coping strategies. One way to do this is through family therapy, which can help parents redirect their focus to the positive experiences with the child in addition to positive reappraisal strategies. Stress-reducing strategies can also be integrated to address the needs of the parents and children. This can include helping parents find more personal time by themselves and with one another, strategies to reduce stress, and relaxation therapies to also help reduce stress.
Seek information! Information on the Internet can be helpful for gaining more knowledge on autism, but also for contacting others in the community. Several autism support resources can be found below. Some of these resources offer ways to connect with other families with autism, local and national support services, and information to help build resilience within the family.
Conclusion
Autism can be both challenging and overwhelming for a family. However, the assumption that a stressor such as autism will not allow for optimal functioning in a family does not hold true. Instead, resilience in families is significant in adapting and coping to the adversity and changes that a family can face. Resilience through family dynamics, family strengths, and community support are evident to this. Families can continue to build resilience and can increase their strength to result in healthy adaptations and successful family functioning.
Family Support Resources for Autism
Autism Family Online: http://autismfamilyonline.com/
Autism Now: http://autismnow.org/
Autism Response Team: http://www.autismspeaks.org/family-services/autism-response-team
Autism Society: http://www.autism-society.org/
Autism Speaks: http://autismspeaks.org
First Signs: http://firstsigns.org/
Talk About Curing Autism: http://www.tacanow.org/
National Autism Association: http://nationalautismassociation.org/
---
---
Your Path to Success Begins Here
Learn more about online programs at Purdue Global and download our program guide.
Request Information