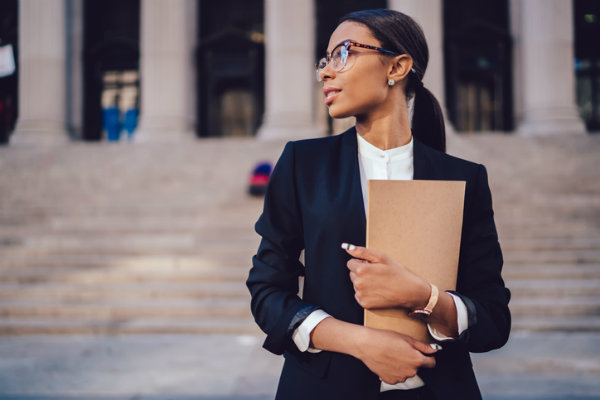 March 27, 2020 | Purdue Global
Paralegals help attorneys prepare for hearings, trials, and meetings. Also known as legal assistants, they research relevant laws and regulations, file briefs and appeals with the courts, draft legal documents, take notes during trial, schedule meetings and depositions, and handle client billing.
If you're considering a career as a paralegal, this could be an excellent time to get into the field. The U.S. Bureau of Labor Statistics projects that employment of paralegals and legal assistants will grow 12% from 2018 to 2028, much faster than the average for all occupations.*
"Paralegals handle various administrative duties such as client billing, case preparation, and managing legal technology, and that drives efficiency in a firm," says Jeffrey Gulley, J.D., legal studies faculty member at Purdue Global. "I've been a licensed attorney for more than 30 years, and paralegals bring immense value to the table."
This article examines the job responsibilities of a paralegal:
Research relevant laws and regulations
File briefs and appeals with the courts
Draft legal documents
Take notes during trial
Schedule meetings and depositions
Handle client billing
1. Research Relevant Laws and Regulations
Paralegals conduct the bulk of a law practice's research. They hunt down relevant laws, statutes, regulations, arguments, analyses, and precedents that form the basis of legal arguments and legal actions for their practice.
"Paralegals assist attorneys by completing legal research and validating sources of law," says Gulley. "This is usually completed using the firm's subscription to Westlaw or LexisNexis."
After finding relevant documents, paralegals must be able to examine them critically and determine how they can be used in a larger legal argument or counterargument. In this way, critical thinking and legal knowledge combine in successful paralegals.
2. File Briefs and Appeals With the Courts
A lot of legal work is done outside of the courtroom, and paperwork is a large part of the process. Briefs and appeal paperwork is extensive and must be filed promptly and correctly with the court.
Lawyers don't usually handle all this work due to their other duties. A paralegal spends much of their time filing proper documents with the courts. An eye for detail is required to make sure the filings are correct and will be accepted by the courts.
This is especially true when filing appeals, as those courts are looking at minute details of cases to make sure they hold up. Documents that paralegals file with appellate courts must be letter-perfect.
3. Draft Legal Documents
Paralegals draft, revise, finalize, and keep organized almost every type of document seen by law firms. There are many types of documents in legal cases, and paralegals must keep up with the workload so the law firm can be successful.
Among other documents, paralegals draft:
Depositions
Discovery
Memoranda
Motions
Notices
Pleadings
Settlements
Trial briefs
Trial motions
4. Take Notes During Trial
Paralegals may attend trials with an attorney. They will generally assist with taking notes and organizing exhibits for use during the trial.
They are often charged with keeping detailed notes on how the trial is proceeding, ensuring that the case is being presented in a way that aligns with the initial strategy laid out by the legal team. They may also help to devise changes in strategy or tactics to adjust the case as arguments are made and evidence is presented in court.
"I had a couple of great paralegals on my trial team that provided top-notch deposition summaries," Gulley says.
5. Schedule Meetings and Depositions
Meetings and depositions are the lifeblood of legal proceedings, and paralegals are depended upon to schedule both types of tasks.
"Paralegals will also have more client contact, and they are often involved in initial client interviews and follow-up meetings with clients," Gulley says. "They can assist with preparing clients for depositions, providing deposition summaries for attorneys.
"I was a litigator in my day as well. As a young lawyer, I was like the king of depositions for a couple of years in a row and I got a little sick of them. But I had some great paralegals who made my life a lot easier and really helped me with organizing trial notebooks and overall trial prep. So especially for litigation attorneys, they can be even more invaluable."
6. Handle Client Billing
Client billing might also fall to paralegals. Keeping track of hours is key to billing, and paralegals might be used to confirm hours and find discrepancies.
"It depends on the law firm," Gulley says. "Solo practices and smaller firms will usually have paralegals perform administrative tasks involving client billing. Paralegals will typically use time and billing software that the firm has installed."
Where Do Paralegals Work?
Paralegals do the majority of their work in offices, with other paralegals, attorneys, and legal support staff. They may occasionally travel to gather information, collect and review documents, accompany attorneys to depositions or trials, and do other tasks.
According to the BLS, paralegals and legal assistants had 325,700 jobs in 2018, the last year for which statistics are available.
The largest employers of paralegals are:
Legal services: 73%
Local government, excluding education and hospitals: 4%
Federal government: 4%
State government, excluding education and hospitals: 3%
Finance and insurance: 3%
"The great majority of attorneys are in private practice," Gulley says. "So that's where most paralegals will be employed."
Who Is a Good Fit for a Career as a Paralegal?
These are the defining characteristics and personality traits of someone who might enjoy working as a paralegal:
Likes working with people
Excellent oral and written communication skills
Strong attention to detail
Good analytical and critical thinking skills
Ability to meet deadlines under pressure
Is technologically savvy
Good teamwork skills
Professionalism
How to Become a Paralegal
Most paralegals have at least an associate's degree or certificate in paralegal studies, the BLS reports. Some firms hire those with a bachelor's degree in legal support and services but no experience and train them on the job.† According to the BLS, "Formally trained paralegals with strong computer and database management skills should have the best job prospects."
Purdue Global offers a number of online certificates and degrees in the legal services industry, including:
If you're interested in learning more about any of these programs, request more information today.
---
Your Path to Success Begins Here
Learn more about online programs at Purdue Global and download our program guide.
Request Information