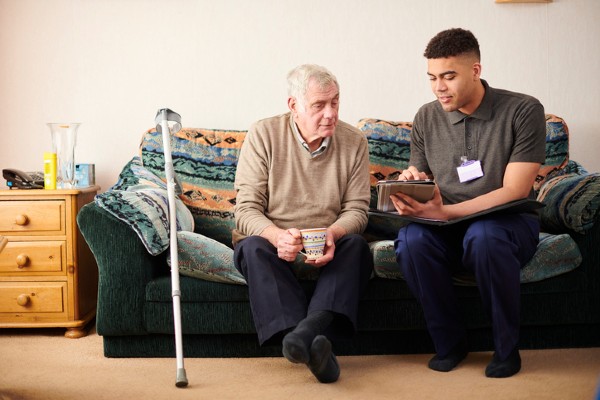 May 27, 2021 | Purdue Global
With an online degree or certificate in human services, you can advocate for the rights of children, families, the elderly, and numerous other populations—and manage the programs that assist them.
We sat down with Jessie Budzinski, full-time adjunct instructor in Human Services at Purdue Global, to talk about what you can do with a human services degree.
What Do Human Services Workers Do?
When people suffer hardship, many times they need help getting back on their feet. Simply put, that's what human services workers do: help people in need.
"Human services has much in common with social work, as both fields focus on helping people solve their problems and improve their quality of life," says Budzinski. "It is important to know that even though the fields are related, there are different educational requirements. Students who ultimately want to be licensed social workers need to earn a master's degree in social work and get licensed according to their state's requirements. Once licensed, an individual could do private practice work or other clinical work. Human service professionals tend to focus more on everyday challenges and solutions, generally looking at the bigger picture, providing case management and administrative support for organizations that provide services."
According to the U.S. Bureau of Labor Statistics, human services workers may work for or with:
Employment agencies
Food and nutrition agencies
Housing and shelter organizations
Legal and victims assistance organizations
Senior citizen centers
Foster care and adoption agencies
Women's shelters
Disaster relief agencies
Youth development organizations
Generally, human services workers take the following steps to help clients, regardless of their specific role:
Identify the client's problems and create a plan for services
Put a plan into action
Provide emotional support
Help clients to meet their needs
Assist clients in developing skills
Help to remove barriers
Human Services Jobs
Social and Human Service Assistants
Social and human service assistants help clients obtain benefits and services and then follow up to make sure those services are meeting their needs. They may work with a variety of populations, such as children and families, the elderly, those with disabilities, those struggling with substance abuse or mental health issues, immigrants, inmates, and the homeless. They work under a human services professional who holds at least a bachelor's degree.
Typical entry-level education: Per the BLS, social and human service assistants typically need a high school diploma or equivalent. However, according to Budzinski, "Employers are increasingly seeking those who hold a certificate or associate's degree in human services for these roles."
Sample job titles: These types of workers may have a variety of job titles, including:
Case work aide
Clinical social work aide
Family service assistant
Social work assistant
Addictions counselor assistant
Eligibility specialist
Gerontology aide
Social and Community Service Managers
Social and community service managers create and manage the programs that help people in need. They may also direct employees who provide related services and/or oversee a department within a human services organization.
"They work with individuals who could be experiencing any number of challenges including homelessness, domestic violence, poverty, mental health issues, substance abuse issues—any type of crisis or trauma," Budzinski says.
While social and community service managers work with the same populations as social and human service assistants, their role is more administrative. This includes collecting data to evaluate the effectiveness of their programs, making improvements to their programs, and writing proposals for funding.
Typical entry-level education: Per the BLS, social and community service managers typically need a bachelor's degree in human services. "Some positions, especially leadership roles, require a master's degree in human services," Budzinski says.
Sample job titles: Job titles under the "social and community service managers" umbrella include:
Foster care specialist
Adoption specialist
Child welfare worker
Adult services worker
Case manager
Grant writer
Program manager
>> Learn More: How Social & Community Service Managers Help Domestic Violence Survivors
Community and Social Service Specialists, All Other
Those who go on to earn a master's degree in human services may be eligible for manager, director, or other leadership positions within human services organizations.
"We encourage postgraduate students to think about administrative positions," Budzinski says. "This would be a program director, the director of a social services agency, or a child welfare services manager.
"We also encourage students to think about services that are lacking in their community. In Purdue Global's master's program, students develop the skills they need to become community developers and organizers and to advocate for needed services. They may even find themselves creating a nonprofit organization based on an unmet need they've identified in their community."
Typical entry-level education: Directors and administrators in the human services field almost always have a master's degree.
Sample job titles: Leadership positions may have job titles such as:
Social or community service manager
Agency manager
Development director
Program director
Executive director
Nonprofit manager
Director of social services
What Is the Outlook for Human Services Jobs?
Job opportunities in the human services field are expected to be good.
The BLS projects employment of both social and human service assistants and social and community service managers to grow much faster than the average for all occupations from 2019 to 2029.
"These positions are always in demand," Budzinski says. "We're seeing a huge demand for individuals who are interested in working with the elderly. Also, we're already seeing the impact of COVID and how that's affecting families, whether that's reduced income, homelessness, or domestic violence.
"We're also seeing an increase in the number of police and fire departments that are including human service professionals as a part of their team," Budzinski says. "Many students are interested in human services from that perspective."
Who Would Be a Good Fit for the Human Services Field?
The work in human services is both challenging and rewarding. It can be tough to watch people struggle, but it's also immensely rewarding to know that your work is helping to make a real difference in someone's life.
"A lot of our students just want their communities to be stronger," Budzinski says. "They're invested in their communities, children, and families."
Those who wish to work in human services need the following skills, according to Budzinski:
Well-developed written and verbal skills
The ability to connect with people and build relationships regardless of race, religion, culture, sexual orientation, etc.
Collaboration and teamwork skills
Empathy
Earn an Online Human Services Certificate or Degree With Purdue Global
Purdue Global offers several online certificates and degrees for those just starting out in human services and those who need a degree to advance in the field.
Ready to Take the Next Step?
Learn more about any of these human services programs at Purdue Global by requesting more information today. You'll connect with an Advisor who can tell you more about a specific program.
---
Your Path to Success Begins Here
Learn more about online programs at Purdue Global and download our program guide.
Request Information