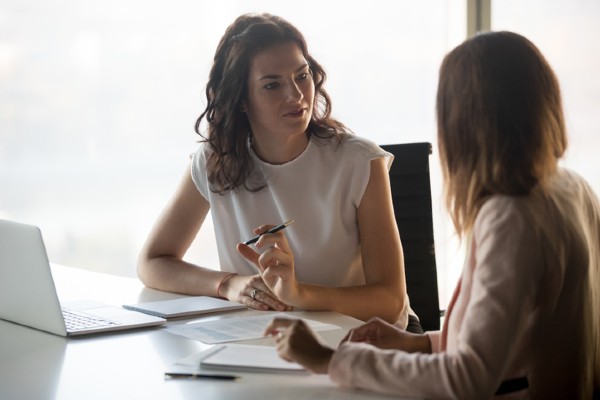 November 20, 2020 | Purdue Global
Domestic violence, or intimate partner violence, can affect 1 in 4 women and 1 in 9 men, according to the National Coalition Against Domestic Violence (NCADV). There are a wide range of professionals—from counselors, social workers, and psychologists to social and community service managers—aimed at helping survivors cope with the effects of violence, stalking, and intimidation.
Social and community service managers, or other professionals who studied human services, can focus on domestic violence issues at nonprofit, government, or private organizations. If you're interested in helping survivors of domestic violence, learn more about this career.*
Domestic Violence in America
Every minute, nearly 20 people are physically abused by an intimate partner in the United States, NCADV reports. Over the span of one year, this amounts to more than 10 million women and men. On a typical day, there are more than 20,000 phone calls placed to domestic violence hotlines nationwide. Even more, intimate partner violence accounts for 15% of all violent crime.
"Domestic abuse and domestic violence have been a problem in America for several decades," says Patrick Brady, PsyD, counseling psychologist and faculty member in Purdue Global's College of Social and Behavioral Sciences. "There's an intergenerational pattern, in which the behavior is passed down from one generation to the next. It can be a difficult cycle to interrupt."
While millions of Americans are in need of domestic violence aid during any given year, Brady says not everyone is ready for counseling and/or social services immediately. But when they do choose to seek out such services, they need real support.
"In addition to emotional support, domestic violence victims may need advocates to help them face daily tasks, as well as services to help pay bills and escape violent environments," Brady says.
How Do Social and Community Service Managers Support Domestic Violence Survivors?
According to the U.S. Bureau of Labor Statistics, social and community services managers work at private, public, or nonprofit organizations to support community programs. These organizations may focus on working with particular demographics such as children or domestic violence survivors.
These workers may work directly with victims, may oversee staff who work more directly with victims, or may oversee programs that help victims in a more administrative role.
Why Become a Social and Community Service Manager?
The biggest reason to become a community and social service manager is to help others. By committing to working with organizations devoted to helping victims of domestic violence, you can help survivors.
The growing job market is another good reason. According to the BLS, employment of social and community service managers is expected to increase 17% between 2019 and 2029. About 17,100 openings for social and community service managers are projected each year, on average, over the decade.†
What Skills Do Social and Community Service Managers Need?
There are a number of important skills one learns when pursuing a human services degree in hopes of helping domestic violence victims. Brady said studying human services can prepare students to help victims of domestic violence by training them in critical skills, such as listening actively, working with multicultural families, and understanding what issues directly affect them.
Three important skills needed to work in the field of domestic violence are:
1. Active Listening
A major part of helping victims of domestic violence is listening to their experiences. While social and community service managers are not counselors or social workers, they may still serve as an outlet for victims to communicate with. Active listening, even in a non-counseling role, will be helpful for human services workers, Brady says.
2. Multicultural Understanding
Learning about multiculturalism is vital when working with domestic violence victims, because it helps you look at the problem from a perspective other than your own lived experiences. "On one hand, having a multicultural view lets a community manager understand how a client's experiences are impacting a situation," Brady says. "In addition, exploring multiculturalism is learning about your own beliefs and culture and how that affects the way you interact with your client."
3. Self-Care
Working with victims is a rewarding but emotionally taxing job. Without the proper tools for self-care, working with domestic violence survivors can lead to burnout and frustration. In a human services degree program, students learn skills to cope with the inherent sadness of the situation and any secondhand trauma one may experience while working with survivors.
"Students learn strategies to help them recharge their batteries," Brady says. "They're taught how to take a break, so they can come back with a fresher mind and the same energy they first started off with when working with this population."
Brady said tools like stress management, journaling, and meditation can help when students need to practice self-care.
Help Survivors of Domestic Violence With a Degree in Human Services
If you are interested in becoming a social and community service manager and helping survivors of domestic violence, consider pursuing a degree in human services. Purdue Global offers programs at the associate's, master's, and bachelor's levels, teaching you how to assess client needs and identify, develop, or manage interventions and services that can vastly improve the quality of people's lives.
To learn more about human services degrees at Purdue Global, request more information.
---
Your Path to Success Begins Here
Learn more about online programs at Purdue Global and download our program guide.
Request Information