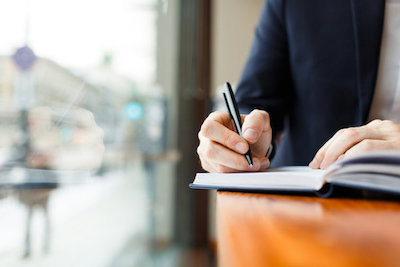 December 2, 2019 | Michael Keathley, PhD
|
Updated July 27, 2022
When planning their education and future careers, many students think only of the hard skills needed to get the job, such as:
How to create and manage a budget
How to insert an IV
How to file a court motion
Although these necessary skills show how someone can function within a specific job, employers increasingly seek soft skills among job applicants to bump them from job interview to job offer. Soft skills are often defined as those that humanize us, and one of the top soft skills employers look for is writing.
Communication Is Changing
With the rapid advancement of technology, organizations are communicating increasingly via electronic methods, such as:
Email
Meeting chat pods/virtual discussions
Instant messaging
Shared documents in the cloud
Employees' writing skills need to keep pace with such innovations and digital options. Employers' written communication needs and the relationships established with internal and external stakeholders are critical to organizations' success locally and perhaps even with locations or business partners around the world.
The rapid advance of technology has also made organizations more aware of the benefits of domestic and international diversity. For an organization to foster an inclusive culture that welcomes such diverse perspectives within a mindset of open idea sharing, written communication skills are needed even more now than ever. An employee cannot assume that everyone collaborating on a project shares the same experiences, perspectives, or points of view. Therefore, employers value those who can communicate in such a way that all views are welcomed and combined in new ways. Often this integration of ideas is done in writing.
Why Writing Is Still Important
Some of the staples of writing remain even more important in today's world if the organization is going to thrive. Employees need to demonstrate in their writing an understanding of their audience. Things to consider are:
For whom is an email being sent or a report being written? What expectations does that CFO have for a budget explanation or a judge have for a court motion that has been filed?
Are the documents written with clear context and purpose? Can an employee explain the needs reflected in the budget to a potential funder, for example? Can an employee write the court motion in such a way that the judge is inspired to act in favor of the client?
Is the format what the audience will expect within that context?
Has the document been carefully edited with accurate word choices to avoid potential misunderstandings?
One final point that must be understood is that technology and other forces continually and rapidly change the employment landscape. As pointed out by recruiters and hiring managers, some of the soft skills that employers currently seek in potential candidates include:
The ability to work in a team
Communication skills
Time management
Problem solving
Creativity
This list is typical of many surveys and reports on what employers are seeking in applicants and even in those they promote.
Learn to Improve Your Writing
As a prospective or current Purdue Global student, you might feel a bit overwhelmed by the need to build writing proficiency into your education; however, the planning has been done for you in the following ways:
During your time at Purdue Global, you will be assessed in the soft skills, and you can download a Skills Report that indicates the skill level you have attained in each, including communication.
Although the hard skills are important, be sure to take advantage of these opportunities to develop the soft skills, such as writing, and to share your level of development with employers to increase your chances of employment after graduation. To learn more about how Purdue Global prepares you to write for your future employers, request more information.
---
Your Path to Success Begins Here
Learn more about online programs at Purdue Global and download our program guide.
Request Information