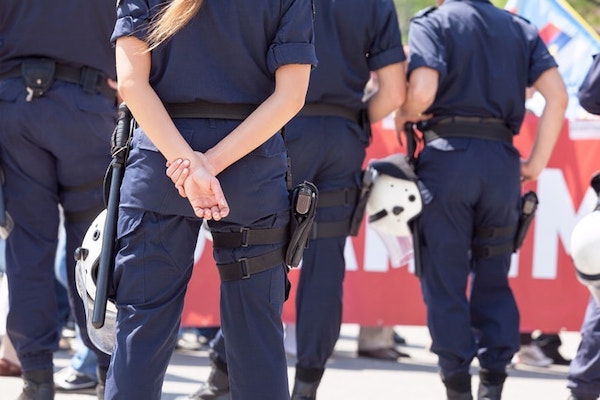 May 6, 2020 | Purdue Global
Additional academy training and education not provided by Purdue Global may be required for law enforcement positions.
While women made up 46.9% of the U.S. labor force in 2018, according to the U.S. Bureau of Labor Statistics, many professions do not employ men and women equally. Protective services careers including law enforcement, corrections officers, and firefighters could benefit from increasing gender diversity. Consider:
According to the Federal Bureau of Investigation, women made up 26.7% of all law enforcement employees and only 12.6% of officers in 2018.
In fire protection, the gap is even wider. According to the National Fire Protection Association, 8% (93,700) of firefighters were female in 2018. Of the career firefighters, 4% (15,200) were female firefighters and 11% of volunteer firefighters were female.
In 2017, 28.7% of bailiffs, correctional officers, and jailers were women, according to U.S. Census Bureau data cited by Data USA.
According to the BLS, protective service occupations are expected to grow 3% from 2018 to 2028, adding 95,200 new jobs.* These new jobs provide an opportunity for more women to enter the field. Director of Investigative Intelligence and Analysis, New Jersey Licensed Private Detective, and Certified Fraud Examiner Kim Miller, PhD, an adjunct professor with Purdue Global, said more women need to join public safety occupations.
"Having a diverse workforce creates a balance, in which a woman sees something one way and a man sees it another. Together they form a good solution, as opposed to just a male- or female-driven decision," Miller said.
Challenges Facing Women in Law Enforcement, Firefighting, and Corrections
Being a woman in law enforcement, firefighting, or corrections has challenges.
A 2018 article by The Washington Post cited years of sexual harassment lawsuits levied by female correctional officers.
A U.S. Department of Justice study concluded that women in law enforcement face sexual harassment and are often dissuaded from applying for leadership positions.
According to a 2019 U.S. Fire Administration (USFA) report, when looking at mental health, almost 1 in 4 career women firefighters and 4 in 10 volunteer women firefighters scored in the range of concern on the Center for Epidemiological Studies Short Depression Scale used to assess depression.
According to the same USFA study, the injury rate among women firefighters is 33% higher than their male counterparts.
Miller said there is still a lot of work to do in terms of reaching gender parity in public safety jobs. Despite these gaps, Miller said that it's important for women to join these fields in part to inspire girls.
"Women have a vital role to play in public safety," Miller said. "Not only do we bring a wealth of experiences to these roles that benefits the community, but young girls who want to be in these careers need role models to look up to. It helps them think, 'If she can do it, I can do it, too.'"
Higher Education Can Help Build a Generation of Women in Protective Services
Recruiting more women has been identified as a priority by many law enforcement, correctional, and fire protection agencies. While the USFA report focuses on ensuring women are evaluated fairly when it comes to physical fitness, Miller said it's also important that candidates prepare for these roles by earning a college degree and developing the needed soft skills.
According to the BLS, many law enforcement employers require applicants to have obtained some college education, if not a bachelor's degree. The BLS also reports that some federal agencies may require some college for corrections jobs.†
While higher education may not be a requirement, Miller said it can help you become a more attractive prospect. She described a degree as a way of getting a foot in the door.
"Of course, earning a degree gives you important information about the field," Miller said. "But it also shows your employers your desire to keep learning and your ability to see a worthy endeavor to completion."
Further, college internships for women in the field can provide an excellent opportunity for networking and gaining life experience. You can also enhance your knowledge through professional development and mentoring opportunities provided by organizations such as the International Association of Women Police and other professional groups for women.
Soft Skills for Women in Protective Services
In addition to earning a degree in your field of choice, Miller recommends women cultivate the following soft skills when going into protective services:
Critical thinking skills
Emotional intelligence
A team-player mentality
Research skills
"Women in law enforcement and the other protective services fields must think, reason, and act appropriately at all times," Miller said. "If you say the wrong thing or act inappropriately, or if you don't reason correctly while working in the public safety field, there could be dangerous ramifications."
Learn More About Online College Degrees in the Protective Services
Purdue Global offers online college degree programs in criminal justice and fire science for women and men interested in joining protective services professions. Purdue Global supports women, with 66% of students being female. To learn more about how we can help you reach your career goals, request more information today.