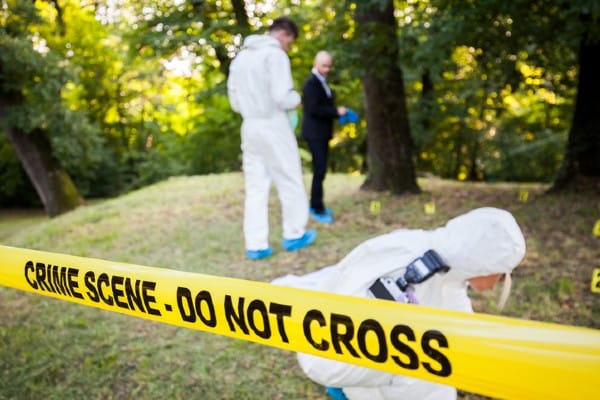 July 8, 2021 | Purdue Global
Additional academy training and education not provided by Purdue Global may be required for law enforcement positions.
Crime scene technicians, also called crime scene investigators (CSI) and forensic science technicians, do critical work: They collect and analyze evidence at crime scenes, working at all hours and anywhere they're needed. They may also work in a laboratory, performing scientific and technical analysis on the evidence that's been collected. This work can be difficult, but it's immensely rewarding.
Purdue Global's Robert Warnock, adjunct faculty member, shared his insights on forensic science technology and how to become a crime scene investigator or technician.
What Crime Scene Technicians Do
Many crime scene technicians pick a specialization in either crime scene investigation or in laboratory analysis.
At crime scenes, techs can be tasked with:
Recording observations and findings about evidence
Analyzing crime scenes to determine next steps
Taking photographs of the crime scene and evidence
Making sketches of the crime scene to ensure that all evidence remains in the appropriate location
Collecting evidence, including bodily fluids, fingerprints, and weapons
Reconstructing crime scenes
Cataloging and preserving evidence for transfer to crime labs
Away from a crime scene, these techs may perform tests on weapons or other evidence to determine its significance to the investigation. They may also testify as expert witnesses on evidence or crime laboratory techniques. Many are specialists in such areas as ballistics, biochemistry, fingerprinting, or handwriting.
As a 26-year veteran of the police force in River Forest, Illinois, Warnock has spent his share of time at crime scenes. He says the portrayal of crime scene technicians on TV doesn't reflect reality.
"As you see in the shows, it takes 40 minutes to complete the scene, process all the evidence, talk to all the witnesses, etc.," he says. "It's actually time-consuming. The minimum amount of time we spend at the scene is 10 hours."
Job Outlook for Crime Scene Technicians
The future looks bright for crime scene technicians, according to the U.S. Bureau of Labor Statistics. The BLS projects employment to grow 14% from 2019 to 2029, much faster than the average for all occupations.*
These jobs are likely to be with state and local governments as they process evidence from growing caseloads. Also, advances in scientific and technological knowledge is likely to increase the availability, reliability, and usefulness of objective forensic information used as evidence in trials.
Becoming a Crime Scene Technician
Here are some of the skills and education you'll need to be a crime scene technician.†
Education Requirements
The BLS reports that crime scene technicians usually need a bachelor's degree in criminal justice or natural science. Additional on-the-job training is necessary, and while certifications and licenses are not usually required for entry into the occupation, they may be helpful. Purdue Global offers an online crime scene technician certificate and a bachelor's degree in criminal justice with a concentration in crime scene investigation that could help you qualify for this role.
"The majority of the crime scene technicians usually start out as a police officer," Warnock says. "Some departments will take a civilian, but only if you have the proper credentials."
Credentials can vary widely, because regulations and standards vary considerably from one jurisdiction to another.
Required Skills
Analytical skills. Technicians must be detail-oriented to be good at collecting and analyzing evidence.
Communication skills. Techs often write reports and testify about those reports in court. They work with other law enforcement officials and specialists.
Critical-thinking skills. Techs collect physical evidence, such as DNA and fingerprints, so that the crime lab can match this evidence to an offender . This takes good judgment and logic.
Math and science skills. Techs must have a solid understanding of natural sciences and statistics to be able to analyze evidence.
Problem-solving skills. Techs use scientific methods and tests to help law enforcement officials solve crimes.
To this list, Warnock adds the quality of curiosity.
"It's about thinking outside the box; thinking as though you're the bad guy. That's what I always did," he said. "What is the bad guy going to touch? Where is the bad guy going to walk? That's where you start."
Earn a Crime Scene Technician Certificate Online
Purdue Global, part of the respected Purdue University system, offers an online crime scene technician certificate and a bachelor's degree in criminal justice with a concentration in crime scene investigation. Contact us today for more information.