April 9, 2018 | Purdue Global
As technology is used to commit more sophisticated crimes, law enforcement officers and those in the legal system are increasingly using tech tools to combat crime. To keep the public safe and protect human life, it's important that the criminal justice industry use cutting-edge software, tracking systems, and more.
Those who study criminal justice today are at the forefront of life-saving technology. Here's a look at some of the exciting technologies that are playing an important role in the criminal justice field today.
Big Data
Big data is an important part of every industry, as the world generates 2.5 quintillion bytes of data a day, according to IBM. Data collection in criminal justice helps legal experts in several ways. For example, DNA and fingerprints can be stored in databases and used to identify suspects more quickly. Data can also help law enforcement recognize crime trends and take appropriate action.
Commenting on the "Crime in the United States, 2016" report by the Uniform Crime Reporting Program, FBI director Christopher Wray implored law enforcement agencies to transition to the National Incident-Based Reporting System (NIBRS). The system aims to increase transparency and allow a clearer view of crime in the United States through comprehensive data reporting. In addition, the United States Department of Justice lists several crime information systems that are available to both the criminal justice community and non-criminal justice agencies:
National Crime Information Center (NCIC)
Law Enforcement Enterprise Portal (LEEP)
National Data Exchange (N-DEx)
Next Generation Identification (NGI)
National Instant Criminal Background Check System (NICS)
International Justice and Public Safety Network (Nlets)
The N-DEx system bills itself as a service enabling criminal justice pros to connect the dots among data to make better conclusions and predictions. Often, law enforcement professionals will consult multiple databases to increase the accuracy of their investigations.
Rapid Identification Systems
The rise of big data has also led to rapid identification systems, which allow police officers to quickly see the criminal history of individuals through a basic search. People pulled over while driving without a license can still be identified instantly through an in-car computer search.
The FBI's Next Generation Identification (NGI) system uses biometrics—including fingerprints, palm prints, iris recognition, and facial recognition—to match up individuals with their criminal history information. Current technologies in the NGI are constantly being updated, and new ones are being added to make the NGI the most comprehensive way to glean up-to-date information on the person being examined.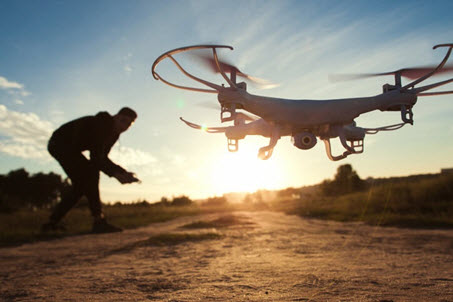 Detection, Monitoring, and Positioning Systems
Today, law enforcement can use technology to detect and solve criminal activity happening in the moment. Instead of reacting, these technologies allow law enforcement to be more proactive.
Some detection, monitoring, and positioning systems technology aiding law enforcement include:
Drones: When police need an aerial view of a scene, drones can help law enforcement safely observe an area.
Global Positioning Systems (GPS): GPS not only helps police officers get to crime scenes or locate criminals more easily. It also helps departments better manage police forces, since maps of police officer dissemination can ensure more areas are covered. The integration of GPS with other police systems helps make data more robust, as location services are seamlessly included in reporting.
Gunshot technology: Gunshot technology detects gunfire and gives police officers instant access to shooting location maps, as well as information on how many shooters are present and how many shots were fired. The Chicago Police Department has seen success with gunshot technology, as both shooting incidents and homicides decreased at least 20% in several districts from 2016 to 2017.
License plate scanning: Automatic license plate scanning technology enables police officers to instantly see if a car in their area has been stolen or if there is a warrant out for the arrest of the driver. The police department in Camden, New Jersey uses license plate readers to flag vehicles that have been a part of a drug transaction, according to the Future Trends in Policing Report by the Police Executive Research Forum and U.S. Department of Justice.
Surveillance cameras: Surveillance cameras can capture the events in a particular area and provide law enforcement with valuable insight.
In general, monitoring tools can help law enforcement ensure more thorough and accurate reporting during investigations.
In-car Computers
The use of paperless report writing can help improve data collection accuracy and save money for police forces. In-car computers, as well as mobile devices with apps that enable report writing on tablets, smartphones, and other handheld computers, provide benefits including:
Decreased errors in grammar and spelling due to manual input, including misspelling of people's names or missing key information
Ability to instantly upload reports to online police systems to make processing more efficient
Automatic backup of reports, which eliminates burden of loss, damage, or theft of manual reports
Instant note-taking to improve accuracy of scene recording
Ability to work immediately anywhere, without having to return to the office for reporting
In-car computers enable accurate data gathering on the scene, so law enforcement officers can spend more time in the field and away from an office. This technology also enables officers to contact dispatch for backup or get other assistance on the scene.
Law Enforcement Robotics
The use of robots to aid law enforcement is expected to grow at a rapid pace in the next 5 years. In a report titled Law Enforcement Robots: Market Shares, Market Strategies and Market Forecasts, 2016 to 2022, WinterGreen Research predicts law enforcement robot markets will expand from $1 billion in 2015 to $5.7 billion in 2022.
In 2016, police forces acquired a record number of robots from the U.S. military, according to the Center for the Study of the Drone at Bard College's Law Enforcement Robots Datasheet. This is allowed by the Justice Technology Information Center's 1033 Program, which enables law enforcement agencies to acquire excess property from the United States Department of Defense.
Today, robots are typically used for reconnaissance in dangerous situations and for bomb disposal. In the future, security robots that look for suspicious activity and patrol intersections may be introduced, according to American police experts. In Dubai in the United Arab Emirates, Dubai Police Robots enable citizens to ask questions, pay fines, and access police information. Robots with police capabilities are also currently being used in China.
Are You Interested in a Career in Criminal Justice?
If these technologies sound interesting to you and you have an interest in protecting the public, a career in criminal justice may be a good fit. Purdue Global offers criminal justice degree and certificate programs for those who want to pursue a role in law enforcement or further their criminology careers. Learn more about the criminal justice programs at Purdue Global.
---
Your Path to Success Begins Here
Learn more about online programs at Purdue Global and download our program guide.
Request Information