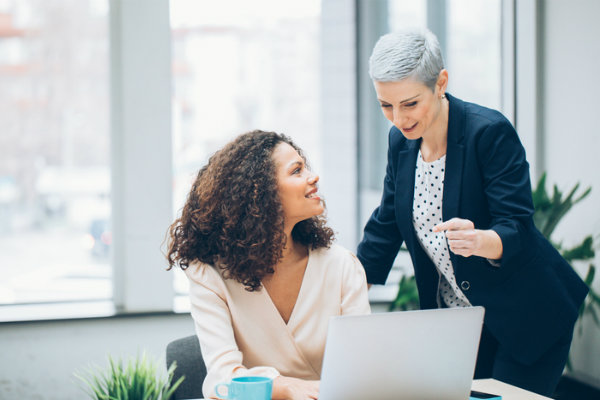 June 12, 2019 | Purdue Global
The benefits of a career mentor have long been touted. For example:
According to a study published in the Journal of Applied Psychology, people with mentors were promoted more often those without mentors. They also had higher levels of job satisfaction and were happier with their choice of career.
A survey by CNBC found that more than 90% of employees with mentors were satisfied with their jobs. In addition, the survey found that 71% of employees with mentors feel that their company offers them opportunities to advance in their careers, compared to 47% of employees who did not have a mentor.
The advantages are clear, but what does career mentoring look like when you're an online student? This article explains what a career mentor is, why online students need one, and how to find one.
What Is a Career Mentor?
"A career mentor is a partner and an advisor in your career development," says Jennifer Katz, Director of Career Services at Purdue Global. "Usually, it's someone who's in a role or industry similar to what you, as a mentee, aspire to. They offer advice and support based on their experience."
Being a mentor is an unpaid role—the mentor usually does it to give back, to help shape the leaders of tomorrow, and to help influence someone's life for the better, among other reasons. They usually have a desire to pass on the lessons they've already learned.
"Mentors can also be great at expanding your network and giving honest feedback regarding areas of opportunity, development, and strengths," Katz adds. "It's very helpful to gain knowledge and experience from someone who's been there firsthand. You get to learn from your mentor's experience."
Why Are Mentors Especially Beneficial for Online Students?
"It can be easy for online students to get caught up in the online world," says Katz. "Having a professional mentor helps you branch out and broaden your experiences and your network."
Additional benefits of having a mentor include connecting with someone who can:
Help you stay focused on your career goals
Assist with solving career quandaries and providing perspective
Share potential new job openings with you
Help with networking and personal and career development matters
Where Can Online Students Find a Mentor?
First, determine if you want your mentor to be someone local, so you can meet face to face, or if you want to work with someone through video chats and email. Then follow these steps:
Start With Your Existing Network
"Look at people you already know from school and alumni associations, and consider those who ended up in careers that you're interested in," Katz says. "Also, look at people you know from current or past employment and even your personal life. You might not even realize that people you bump into on a regular basis have experience in the field you're looking for advice on."
Look Into Mentorship Programs
See if the company where you presently work has a mentorship program. "This can be a good way to get in front of the leadership of that organization and learn from them," Katz says, "which is helpful if you want to progress within your current employment situation."
Check Professional Organizations
Professional organizations for your chosen industry are another good place to start because members are already engaged in the field you want to be in—and they may be more willing to participate in a mentor relationship.
Try LinkedIn
LinkedIn is the world's largest professional network, and it can be a great place to find a professional mentor. "Look through your existing network, join some groups, and expand your network," Katz suggests. "You could even reach out to people who might not be part of your network right now, but who look like they could be a good fit for what you're looking to learn."
What Questions Should Online College Students Ask Their Career Mentors?
First, you need to be able to articulate what you're looking for. Ask yourself:
Are you looking for something short-term, such as advice on a project or a big decision you have to make? Or are you looking for assistance with career advancement over the next several years?
What type of commitment are you seeking from your mentor? How often are you hoping to meet?
Do you want these meetings be in-person, or are virtual meetings okay?
Next, you'll have to you find out whether a desired mentor is open to that type of relationship and whether he or she is a good fit for your career goals. Ask:
Can you tell me a little bit about your professional background?
How did you end up where you are today?
Then, express what you'd like to learn from your mentor. Perhaps you want to:
Hone your career skills, develop leadership skills, or get advice about moving ahead in your career or regarding specific challenges you have coming up
Ask for help identifying your weaknesses and suggestions on how to improve
Receive feedback on your verbal or written communication skills
Be Proactive About Your Future
"Mentoring is a two-way street," Katz says. "Take ownership of implementing the suggestions from your mentor and continue to cultivate that relationship. Reach out to make sure you're scheduling meetings. Don't put the ball entirely in their court."
Remember, too, that it's okay to move on if you're not getting what you hoped for out of the relationship. "It's okay to look for someone who might be a better fit, and it's okay to have more than one mentor," Katz says. "You might find people who are good at supporting you in different aspects of your career."
If you're a Purdue Global student or alumni, our Center for Career Advancement can provide you with comprehensive career planning assistance including resume and cover letter help, interview preparation, networking tips, and more.
If a college degree would help you further your career, look into attending college online at Purdue Global.* Our flexible programs are tailored to the unique needs of working adults, and we are a regionally accredited online university. Request more information today.†