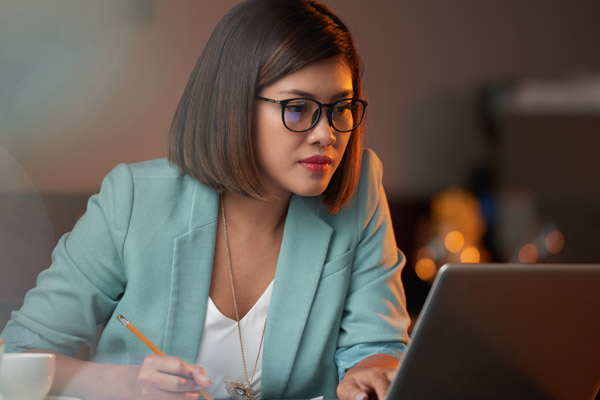 January 23, 2015 | Purdue Global
|
Updated May 13, 2020
The saying "You never get a second chance to make a first impression" couldn't be more true—especially when it comes to developing a resume that captures the attention of hiring managers.
Whether you're seeking your first job after earning a college degree or going through a career change, you need to present the best professional version of yourself through your resume. This means highlighting your relevant experience and understanding what not to put on a resume. In fact, many people miss out on job interviews because they included inaccurate or unnecessary information on their resumes.
If you want to have the best chance of getting an interview and landing a job, make sure these 10 things never appear on your resume.*
1. Pictures
Don't include a picture of yourself alongside your resume. A resume is meant to be a depiction of your professional skills, and employers don't want to be accused of making hiring decisions based on the physical appearance of applicants.
2. Differences and Disabilities
There's no need to mention race, ethnicity, or disabilities on your resume. The only thing your employer should be concerned about is the value you could bring to the company. Bringing up differences and disabilities could potentially distract from your professional value.
3. Age and Relationship Status
Avoid including any indication of your age on your resume. In addition, employers don't need to know whether you're married, single, or have children. These details don't speak to your qualifications for the job and should therefore not be included. Focus on your professional skills and experience rather than personal details.
4. Unprofessional Tidbits and Outside Activities
This includes inappropriate or cutesy email addresses, nicknames, or anything else that will demean your professionalism. If you have an unprofessional email address, create a new one with your first and last name or initials. Creating a new email account is quick and cost-free. Gmail is a popular and professional choice.
In addition, anything extraneous—hobbies, favorite music, fun facts, outside interests, etc.—should be left out. You can share appropriate interests at another time.
5. Politics and Religion
These topics should always be left off your resume. Even if you feel your political or religious beliefs are an important part of who you are, know that your job qualifications are more important in this scenario. Employers don't need to know this information when deciding whether to interview you.
6. Explanation of Unemployment
There's no need to explain periods of unemployment on your resume. Simply list your jobs with start and end dates, but don't highlight the fact that you were out of work. Trust that your cover letter and interview are better places to address periods of unemployment.
7. Spelling and Grammatical Errors
Maybe this one is obvious, but we all make mistakes. Unfortunately, even the slightest error can make it appear that you lack an attention to detail. Use spell-check, read over your draft several times to spot common writing errors, and ask a friend to check for grammatical mistakes. The editorial quality of your resume is an important indication of your attention to detail and level of interest in the job.
8. Irrelevant Jobs and Jobs 10+ Years Ago
Your potential employer wants to see what you can add to their company. Don't include jobs you had a long time ago or positions that lack relevance to the job you're applying for. Tailor your resume to highlight skills and experience relevant to the job description of the position you're seeking.
9. Grade and High School Achievements
Don't include grade school or high school honors on a resume. You might be able to get away with referencing high school achievements during the first few years after high school, but avoid including high school information after you've completed a higher level of education or training.
10. References
Keep your list of references updated and handy in case an employer asks to see them. However, don't include them as an addition to your resume or waste resume space with a "References available upon request" note.
Achieve Your Career Goals With Purdue Global
Crafting a strong resume that highlights your professional accomplishments while accurately representing your experience is the first step to getting an interview. Purdue Global students can contact our Career Services team for resume and career advice throughout the job-search journey.
If earning a college degree could help you achieve your career goals, learn more about the online college degree programs we offer. Or, request more information today.
---
Your Path to Success Begins Here
Learn more about online programs at Purdue Global and download our program guide.
Request Information