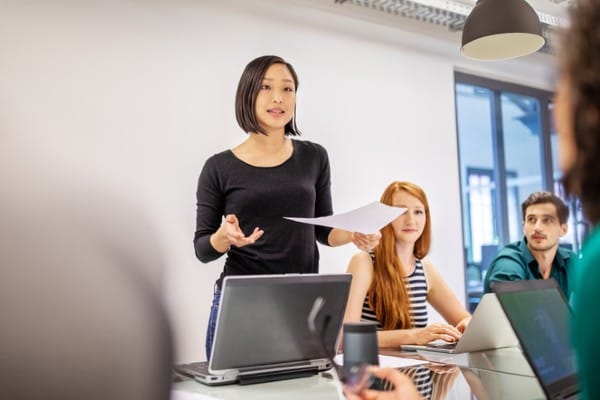 November 16, 2021 | Purdue Global
The impact of COVID-19 on business is unprecedented. It disrupted hiring trends, accelerated the adoption of remote work, and spurred a recession.
But things are looking up. According to a September 2021 report from the U.S. Bureau of Labor Statistics, unemployment is consistently dropping and monthly job growth for 2021 has averaged 561,000.* This is good news for those looking for a job, of course—but what does this post-pandemic job market look like? What business skills are employers looking for in this brave new world?
Jordan DiLeonardi, Career Specialist with the Center for Career Advancement at Purdue Global, walks us through the skills employers want in the current job market.
1. Adaptability
Being adaptable is more than adjusting to the changes in work locations because of the pandemic. Now, being adaptable means being amenable to new situations, filling gaps, having an open mind, prioritizing tasks, taking on additional responsibilities, and working well under pressure.
"It is important to be mentally prepared for what your work environment could look like, whether that's hybrid, traditional, in person, or strictly remote," DiLeonardi says.
But more is changing in the new world of work.
"Schedules and deadlines are changing quickly," he says. "Several industries are trying to recover from some major curveballs. It's important to have adaptability. Recognize that these times could be an area of opportunity at your own company. Leaders want employees who can adapt easily under changing circumstances."
2. Communication Skills
Skillful communication indicates good emotional intelligence and awareness of other people. As many people continue to be somewhat disconnected from work either by distance or technology, good communication continues to be crucial to creating connection, cementing trust, and encouraging productivity.
This is a challenge now, DiLeonardi says, because of the move to virtual environments.
"Now, you have to be strategic about how you're communicating," DiLeonardi says. "People who don't know how to appropriately communicate in a remote environment will be at a disadvantage."
Keep the following in mind when engaging coworkers and clients:
Know management's expectations from the start.
Ask those you work with for their communication preferences.
Watch your tone of voice on calls where cameras are off.
Watch your body language on video calls.
Remember that in chat platforms, people can't read your tone of voice; be cognizant of how something could come across.
Participate in team-building activities.
3. Empathy
Somewhat hand in hand with proper communication is empathy, which is understanding and sharing other people's feelings and needs.
"Listening actively and respecting somebody else's opinion are standards that aren't going to change," DiLeonardi says. "But there are certain nuances that you need to pick up on in the new workplace."
He says this calls on workers to be empathetic as part of a larger team of individuals with different needs and working under what may be difficult circumstances.
"It's important to be respectful and aware of the people on your teams, of those around you, and their circumstances," he says. "Recognize and be empathetic toward your colleagues who may be struggling right now."
4. Strategic Vision
Having a vision is about recognizing and communicating the needs of the future.
"Having your eyes on the future is certainly easier said than done these days," DiLeonardi says. "Business plans aren't moving in a very linear way due to all the changes, but each project or deadline should have a goal in mind. The ability to pivot while keeping your vision toward that finish line is very important."
He says being strategic also means being aware of priorities and resources, shifting needs, and lining up goals.
"Being able to point your vision elsewhere that still lines up with moving everything forward is incredibly important."
5. Technological Competence
According to the World Economic Forum, 90% of jobs will require digital skills by 2030.† This means workers need a certain level of savvy with communication tools both new and old.
"There's Zoom, Skype, Google Meet, Microsoft Teams, Slack," DiLeonardi says. "The list goes on. Employers want workers with technological familiarity, so they don't have to spend as much time training," he says. "That frees them to spend most of their time training on the nuances of how to be successful in a role."
"You must be adept at these technologies."
How to Prepare for This New Business World
DiLeonardi says it's understandable if you're nervous about entering this evolving job world. He says preparing begins with understanding your own skill set.
"Reflect on what skills you have and how in-demand they are," he says. "There's always an opportunity to develop your current skills or develop new ones," he says. "Be transparent with your goals, how you want to develop or how you want to be developed, and how you can best contribute to the entire ecosystem that is your employer."
If earning a college degree online would help you achieve your career goals, Purdue Global may be able to help. Reach out today for more information.
>> Purdue Global Is Offering a Free Course on How to Succeed at Remote Work