Portfolio Development and Assessment
The Purdue Global Alternative Credit Center provides students an opportunity to earn credit from prior learning experiences. The portfolio serves as the basis for you to recognize your learning and understand how it aligns with college credit.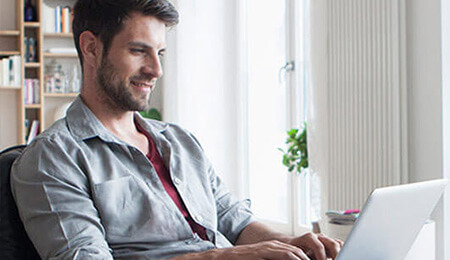 Document Your Prior Experience for Credit
In our credit for work experience courses (EL206 and LRC100), you'll document your prior experiences and explain what you gained from these experiences in formal learning statements.
Next, you'll use a course-match model to map your learning statements to the learning outcomes of college-level courses offered by regionally or nationally accredited institutions.
To have your prior learning considered for credit, you must complete all requirements for the college course aligned with your prior learning and provide evidence of your learning and competency.
Academic Quality and Student Expectations
The portfolio development and assessment process is designed with the high level of academic rigor found at accredited higher learning institutions. There's a strong emphasis on quality in the assessment process, which adheres to the Ten Standards for Quality Assurance in Assessing Learning, as set forth by the Council for Adult and Experiential Learning (CAEL).
Portfolio Evaluation Criteria
Portfolio evaluators conduct an unbiased review of your student portfolio and assess it against the following criteria:
Sample Portfolios and FAQs
EL206 Portfolio Development Timeline
Weeks 1 to 5
Week 1: Experiential Learning and the Portfolio Process
Topic: Create your Portfolio and Assessment System (PDAS) account.

Week 2: Educational Goal Statement
Topic: Create your educational goal statement, which highlights goals for the course, your educational pursuits, and your career.

Week 3: Expanded Resume
Topic: Develop an expanded resume that includes experiential learning from your work, hobbies, volunteering, and interests.

Week 4: Course Explorer
Topic: Select courses that you can petition for college-level credit.

Week 5: Course Petitions
Topic: Create learning statements to specify how you met course outcomes through college-level learning.
Weeks 6 to 10
Week 6: Course Petitions
Topic: Build the persuasive case to help demonstrate your learning for evaluators of course petitions.

Week 7: Learning Autobiography
Topic: Begin a draft of your personal narrative that showcases your skills, opportunities, and experiences related to the course petitions.

Weeks 8: Learning Autobiography
Topic: Finalize your learning autobiography.

Week 9: Supporting Documentation
Topic: Compile the documentation that offers evidence and credibility to support your learning claims.

Week 10: Plan to Submit Your Portfolio
Topic: Look ahead to submission of the portfolio, addendum requests from reviewers seeking further information, and how to appeal an evaluation.
EL206 and LRC100 Course Expectations
Academic Expectations

Demonstrate college-level writing skills in the portfolio.
Write an educational goal statement that describes your educational and career goals (approximately 200 to 400 words).
Create an expanded résumé that highlights experiences that resulted in experiential learning.
Write a learning autobiography that explains your experiential learning, how it was acquired, and how it has been applied (minimum of 1,000 words).
Select courses that would fulfill degree requirements to petition for experiential credit.
Develop at least two course petitions for courses that match their experiential learning.
Include the course outcomes for each course petition.
Include at least one source of learning for each course petition.
Develop 10 to 20 learning statements for each course petition.
Obtain course outcomes for each course for which a petition is developed.
Request course outcomes needed from other institutions.
Provide at least two pieces of supporting documentation for each course petition that proves you have acquired the college-level learning you claim.

If you are enrolled in EL206, you have these additional expectations:

Develop the majority of your portfolio during the course.
Continue to work on your portfolio during the 30-day submission window that occurs after EL206 ends; this may overlap with your courses in the next term.
Submit your portfolio within the 30-day submission window.

Student Expectations

Communicate with your course instructor or Assessment Advisor about all course content, assignments, and projects.
Contact your Assessment Advisor for assistance with your portfolio and the Portfolio Development and Assessment System (PDAS). Note: Assessment Advisors will respond to telephone and email messages within 24 to 48 business hours.
Communicate regularly with your instructor and Assessment Advisor about any concerns they may have.
Communicate with the Office of Student Support for regular degree-planning questions such as next-term registration and/or major and elective requirements.
Work with your Assessment Advisor and the Office of Student Support to understand your degree plan, degree requirements.
Frequently Asked Questions for the Academic Prior Learning Portfolio Course
NOTES AND CONDITIONS
*In 2019, incoming Purdue Global students who passed EL206 and submitted a portfolio for evaluation earned an average of 37 quarter credit hours toward their Purdue Global undergraduate degrees. Based on these experiential learning credits, tuition savings for nonmilitary students were on average $12,227.00. Tuition savings calculated as 37 quarter credit hours x standard tuition rate of $371.00 = $13,727.00 - $1,500.00 course fee = $12,227.00. Savings for students vary depending on the student's individual prior learning experience. Savings for 2019 incoming Indiana students who passed EL206 and submitted a portfolio for review were $8,300.00. Savings for 2019 incoming military students who passed EL206 and submitted a portfolio for review ranged from $4,770.00 to $7,240.00. Eligible college credits articulate into Purdue Global undergraduate degree plans. Savings dependent on credit awards, which are dependent on individual circumstances. See www.purdueglobal.edu/tuition-financial-aid/undergraduate-graduate-tuition-and-fees/ for course fee refund policy.