Student Advisory Board
Purdue Global Student Advisory Board
For more information about the Student Advisory Board, email agc@purdueglobal.edu.
The purpose of the Student Advisory Board is to provide a forum for student representatives to discuss academic related issues and to provide recommendations concerning such issues to the Chief Academic Officer.
Benefits of Membership
Provides Purdue Global students a method for student body advocacy
Great resume item
Social interaction
Improve student experience
Educational development opportunity
Professional development opportunity
Positive student recognition
Increased student investment
Leadership opportunity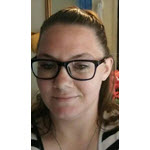 Samantha Spradlin, Student Advisory Board President
Samantha Spradlin lives in Springdale, Arkansas, but was born and raised in Missouri. She is pursuing her Bachelor of Science in Legal Studies at Purdue Global and is expecting to graduate in November 2019. Samantha is married with four children and has many hobbies including a love of sports.
Jennifer DeGraw, Student Advisory Board Vice President
Jennifer DeGraw is a full-time student attending Purdue University Global pursuing her Bachelor of Science in Health Information Management. She currently resides in the coastal area of the panhandle region of Florida and enjoys being minutes away from white sandy beaches. Jennifer is actively involved in her community, serving on the Executive Board of the PTO, assisting as a co-chair on the Hospitality Committee, and volunteering as a Guardian ad Litem, an advocate for Florida's abused and neglected children. Jennifer has also been closely involved with the Feeding America Backpack Program, a program to help feed hungry children, and the St. Baldrick's Foundation, a childhood cancer research charity organization. Her passion for children stems from being a mother herself and she considers herself very blessed for having the opportunity to serve others, especially children. When she is not studying or volunteering, she enjoys spending time with her family, traveling, and trying new foods. Her goal as a member of the Student Advisory Board is to support her fellow classmates by focusing on strengthening student communications at Purdue University Global.
Governance Manual
The Academic Governance Manual is the guiding document for the academic governance of the University. The following content is reflected in the up-to-date manual.
Scope of Responsibility:
Review issues, policies, and/or procedures related to the academic quality of the University.
Provide recommendations regarding academic issues, policies, and procedures to the chief academic officer.
Membership:
Students currently serving on other Purdue Global governance committees.
Additional students are appointed by the Dean of each school for a 1-year term. Students are given the option to self-nominate for Dean consideration.
One student representative from each campus and learning center appointed by the senior vice president of campuses/learning centers for a 1-year term.