Coast Guardsmen, You're Already on Course With Our PME2DegreeTM Program.
An Accelerated Degree Path for Coast Guard Occupations at Every Skill Level
Purdue Global recognizes the remarkable skills and dedication that enable the Coast Guard to serve our country so admirably. To recognize and reward the experience achieved by this group, we are proud to announce that we have evaluated every Coast Guard occupation to determine its respective contribution toward earning a Purdue Global degree. These credits are determined prior to review of military transcripts. On average, petty officers first class are awarded 33% of the credits needed to earn a Bachelor of Science in Liberal Studies.
The appearance of U.S. Department of Defense (DoD) visual information does not imply or constitute DoD endorsement.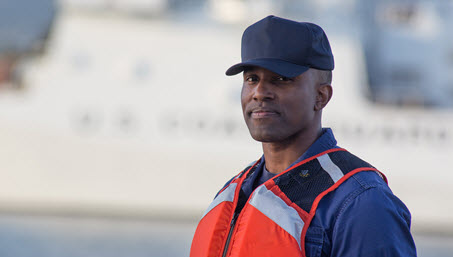 About the PME2Degree™ Program
The PME2Degree™ Program is a holistic approach to providing the best education option based on individual goals and the most efficient path to achieve these goals.
An Option for Everyone: Every enlisted occupation in the Coast Guard has been evaluated at each level of service and mapped into various degree options. This evaluation also allows you to pursue a degree program that may not specifically be related to your occupation but is relevant to your ultimate career goals.*
Uncompromised Quality: The comprehensive nature of our Coast Guard occupational reviews ensures that the required outcomes needed to earn a degree are either achieved in military service or through the degree plan.
Built for Lifelong Learning: Purdue Global provides a continuous learning path, offering associate's, bachelor's, master's, and doctoral degrees. Credits earned in any of our associate's degree programs can be transferred into a Purdue Global bachelor's degree program, and we will re-review your training to apply it toward the next degree level.†
Associate of Applied Science in Public Safety and Security
Total Program Credits: 90
| | | |
| --- | --- | --- |
| Skill Level (or Rank) | Average Credits Awarded | Average % of Degree Completed |
| First Class | 36 | 40% |
| Chief | 37 | 41% |
| Senior Chief | 37 | 42% |
| Master Chief | 37 | 42% |
Bachelor of Science in Liberal Studies
Total Program Credits: 180
| | | |
| --- | --- | --- |
| Skill Level (or Rank) | Average Credits Awarded | Average % of Degree Completed |
| First Class | 60 | 33% |
| Chief | 85 | 47% |
| Senior Chief | 88 | 49% |
| Master Chief | 90 | 50% |
Coursework reduction reflects an educational mapping based on the completion of the standard courses required for rank advancement as well as credit for occupation duties. Credit awards have service-level requirements. Exact transfer amount may vary depending on completed military courses and occupations as listed on your official Joint Service Transcript(s). State-specific requirements, as listed in the University Catalog, may apply. All credits must be validated on official transcript(s) to be eligible to transfer.
NOTES AND CONDITIONS
*Purdue Global cannot guarantee employment or career advancement.
†Purdue Global does not guarantee the transferability of credit from any of these sources. See the University Catalog for the Prior Learning Assessment policy. Speak to an Admissions Advisor to find out how many credits may be eligible to transfer.