Nurses Week 2020
To celebrate the professional impact and influence of nurses, and to advance the nursing profession around the world, 2020 has been declared the "Year of the Nurse."
Nurses Week 2020 is an extension of this yearlong celebration, focusing on compassion, expertise, and trust. The School of Nursing at Purdue University Global is proud to continue our support for this American Nurses Association (ANA) event.
Throughout the year, we encourage all nursing students and alumni to seek out opportunities to promote nursing excellence, leadership, and innovation.
Happy Birthday, Florence
The "Year of the Nurse" also coincides with the 200th anniversary of the birth of Florence Nightingale, the mother of modern nursing. Her ability to organize frontline care for the wounded during the Crimean War of the 1850s brought well-deserved respect to the nursing profession and introduced new training standards for nurses.
Share Your Appreciation of Nurses
As a nurse, you play a critical role in the health of all Americans. Why not take the time to personally thank a special fellow nurse by sending an eCard or certificate of appreciation? As part of the nursing community, you deserve to take a bow. You've earned our respect and appreciation. Thank you for all you do.

To celebrate the first day of Nurses Week 2020, attend an interactive workshop where you will practice resilience and self-care. Join certified coaches Ann Farrell and Alice Siehoff on May 6 at 11:30 am CT for this special Nurses Week live presentation.

To send an eCard to a nurse, download it as a PDF and attach it to your email.
Certificate of Appreciation
Download a Certificate of Appreciation to recognize a nurse for going above and beyond.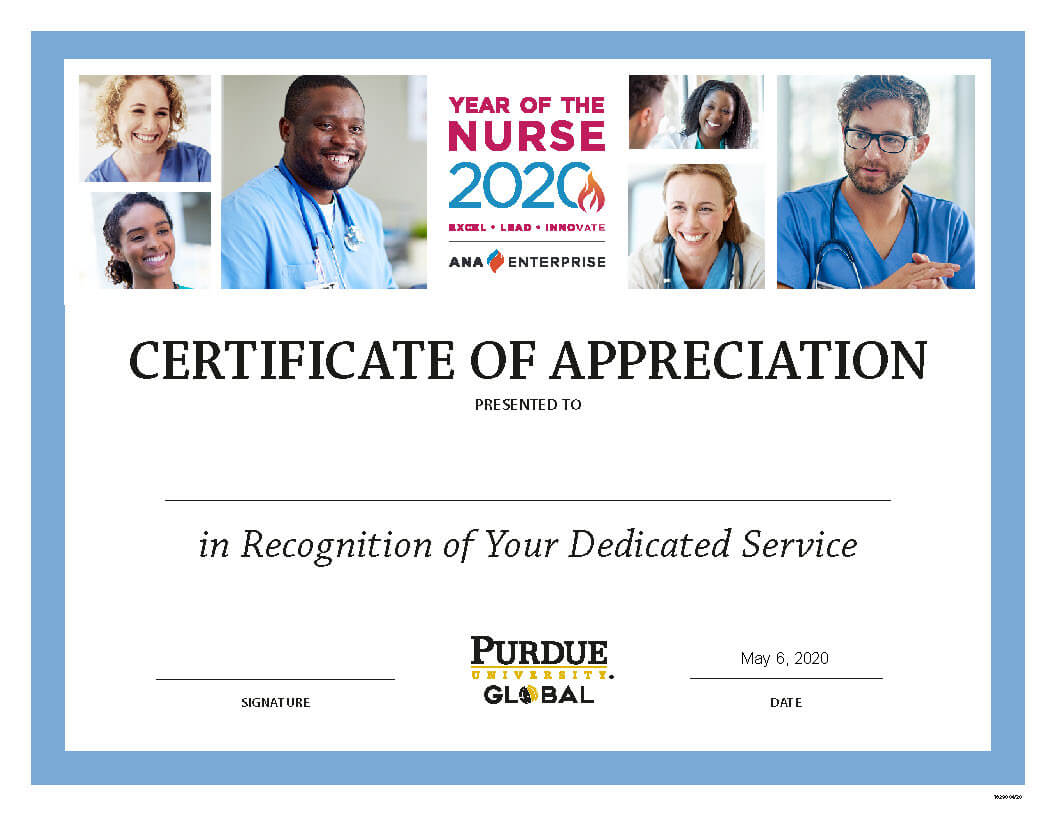 Thank You eCard
Download a Thank You eCard to show that special nurse you appreciate their dedication and care.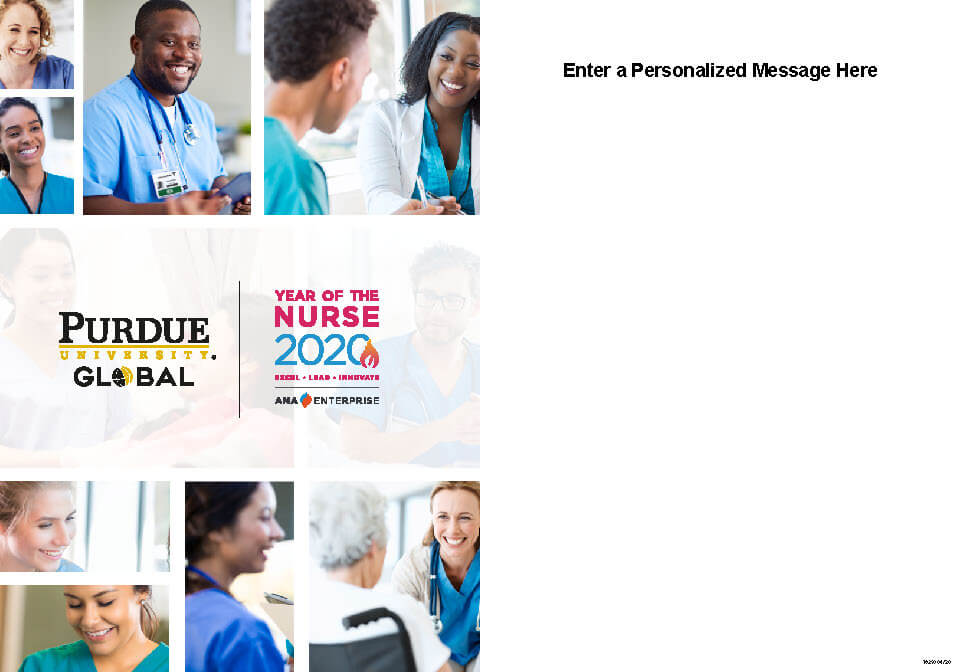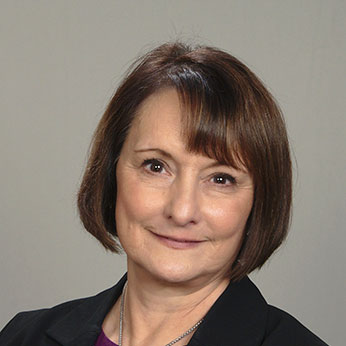 In a world where unforeseen challenges test the limits of modern health care, America's nurses continue to serve on the front lines with great courage and compassion.
You save, change, and improve lives. As a direct-care provider, researcher, educator, executive leader, nurse practitioner, and more—each and every one of you is making a difference.
During Nurses Week 2020, it is my pleasure to recognize the contributions of our School of Nursing's nearly 1,200 alumni, 314 faculty members, and 2,779 current Purdue Global students.
You continue to inspire, innovate, and influence us all. We celebrate you.
Marilyn Wideman, DNP, RN, FAAN
Dean and Vice President, Purdue University Global School of Nursing

We will be celebrating the founder of modern nursing Florence Nightingale's 200th birthday on May 12 this year and as we build on her legacy, the theme for this year's celebration of National Nurses Week is compassion, expertise, and trust. These qualities are demonstrated daily by the nurses, nursing students, and faculty of Purdue University Global. It is an honor to be a member of the School of Nursing, whose purpose is to prepare nurses to meet the ever-changing needs of their communities now and in the future.

University Faculty, Graduate Nursing Programs