Fire Academy and Fire Service Association Articulation Agreements
We work closely with fire academies and fire service associations to set up articulation agreements to help you receive credit toward a Purdue Global fire science degree. This allows you to earn your degree faster and save on tuition.
Additional academy training and education not provided by Purdue Global may be required for firefighting or emergency management jobs.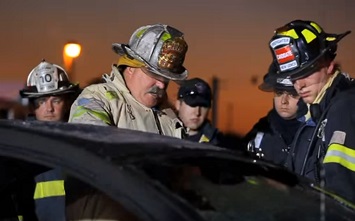 Articulation Agreements
Articulation agreements help streamline the process for awarding credit for fire service-related certifications you may have already earned to be considered fit for duty. If you earned your certifications though an organization that is accredited by IFSAC or the Pro Board, including the U.S. Department of Defense Firefighter Certification System, you may be eligible to receive credit toward this Purdue Global degree program.*
Purdue Global also awards credit for professional coursework that has been reviewed by the American Council on Education (ACE). Refer to the ACE website to see if your training organization is eligible for ACE-recommended credit.
Select International Association of Fire Fighters (IAFF) training programs are also eligible for credit. Please contact an Admissions Advisor for details.
Earn Credit for Certifications
Eligible certifications include:
• Fire Fighter II
• Fire Service Instructor I, II, and III
• Fire Officer I, II, and III
• Hazardous Materials-Technician
Other certifications may qualify. Contact an Admissions Advisor for more information.