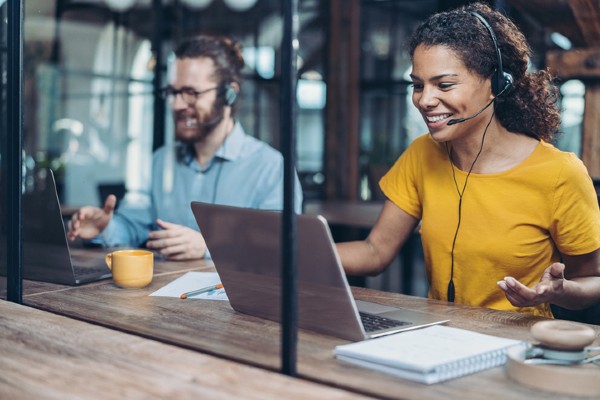 June 25, 2021 | Purdue Global
While you might expect a communication degree to lead to a career in journalism, broadcasting, public relations, or marketing, the skills developed during the program can lead to a wide range of career options. A communication bachelor's degree will teach you how to research, analyze information, communicate clearly, and understand persuasive techniques used in writing and speaking.
To find out what you can do with a communication degree, we sat down with Kristy Callihan, Purdue Global adjunct faculty member for undergraduate education and teaching.
What Is a Communication Degree?
A communication degree is the study of how to effectively communicate different types of information in various fields such as journalism, media, business, politics, and law.
Callihan emphasizes that Purdue Global's Bachelor of Science in Communication degree teaches more than just theory. You'll learn how to use soft skills that are sought-after by employers and applicable to many professions.
Some of the desirable soft skills you'll be taught in Purdue Global's communication degree program include:
Conflict management
Critical thinking
Diversity, equity, and inclusion awareness
Group communication
Perception skills
Public speaking
"Many of our communication courses pair nicely with other fields," Callihan says. "We are a 'glue' discipline, in that way. You could use the knowledge you gain to become a marketing or business major, go to law school, or pursue other professions, and what you learn in communication courses will glue it all together."
At Purdue Global, undergraduate degree programs include, at a minimum, two communication courses: College Composition I and II. If you're a student in a degree program other than communication, you may be able to take additional communication courses as electives.
Is a Communication Degree Right for You?
A communication degree helps you understand the world and how to work well with others.
You might be a good fit for a communication degree if you:
Have a caring and helpful attitude
Have a desire to inform, lead, or teach
Have an ongoing curiosity about the world around you
Have a strong desire to understand and integrate what you hear into usable information
Have excellent verbal and writing skills
"If you want to be more self-aware and look toward effective communication, this degree can be a good fit," Callihan says.
What Will You Learn in a Communication Degree Program?
The list of communication courses will vary by university, but the basic courses will prepare you for entry-level employment in a variety of communication fields, such as marketing, advertising, public relations, organizational communications, or management.
At Purdue Global, the online Bachelor of Science in Communication program emphasizes:
Outlining and developing interactive multimedia presentations
Understanding how government and industry regulation, legal and ethical issues, and technology affects communication
Using software applications and new media that are commonly used in business and institutional environments
Working with and directing teams, including understanding group dynamics, resolving workplace issues, and enhancing speaking and writing skills
Courses include the basics of communication, including mass media, broadcasting, public speaking, digital media, and organizational communication. At Purdue Global, many of the required courses in the communication program focus on interpersonal communication and effectively working in teams.
Callihan says the emphasis on group dynamics and conflict management is intentional.
"Leadership is a key part of how we use our communication skills, from conflict management, to training, to innovation, to guiding teams," she says. "The courses are very specific in developing your skills.
"In each course along the path to graduation, you'll develop key skills and continue to fine-tune them."
What Can You Do With a Communication Degree?
A communication degree can open a variety of career opportunities for you. Callihan says the principles learned in communication courses aren't limited to use only in communication fields.
"Being able to make a public presentation, to handle conflict and manage it in an effective way, to effectively communicate with a team, to be aware of diversity and equality—these skills are highly sought after," she says.
Among the career outcomes for a communication degree are the following*:
General and Operations Manager
These managers coordinate, direct, or plan the operations of public or private sector organizations, according to the Bureau of Labor Statistics. Duties and responsibilities include assigning work, ensuring that projects are completed, formulating policies, making staff schedules, managing daily operations, and planning the use of materials and human resources.
According to the BLS, general and operations managers can expect a higher than average job growth from 2019 to 2029. General and operations managers held 2.5 million jobs in 2019, the BLS states.†
Manager
Managers are expected to have skills in communication, decision-making, leadership, problem-solving, and time management.
"A manager of any kind would need to be adept at training or development," Callihan says. "You have to develop your staff and your team, depending on the organizational structure you're working in."
According to the BLS, other managers can expect a job growth of 4% from 2019 to 2029. Managers of all kinds and other executives held more than 2.7 million jobs in 2019, the BLS states.
Marketing Manager
Marketing managers coordinate, direct, or plan marketing policies and programs and identify potential customers, according to the BLS. They also help oversee product development and monitor trends to identify opportunities for new products and services.
According to BLS, growth in marketing manager positions is expected to be faster than the national average through 2029. BLS stated employment was over 300,000 in 2019.
Market Research Analyst and Marketing Specialist
Market research analysts and marketing specialists work on potential sales of a product or service and plan a marketing or advertising campaign, according to the BLS. Among other marketing duties, they may gather information on competitors, methods of marketing and distribution, prices, and sales.
The future for market research analysts and marketing specialists is bright, with growth expected to be much faster than the average for all occupations through 2029, according to BLS. More than 738,000 people were employed as market research analysts and marketing specialists in 2019, BLS states.
Media and Communication Worker
According to the BLS, media and communication workers can find employment in a variety of places:
Colleges, universities, and professional schools
Independent artists, writers, and performers
Insurance carriers
Motion picture and video industries
Promoters of performing arts, sports, and similar events
Radio and television broadcasting
Software publishing
Other Career Options
A wide variety of career areas are available to communication degree graduates, according to the BLS and other sources. These may include*:
Broadcasting
Corporate communications
Customer service
Event planning
Human resources
Journalism
Personal service management
Public relations
Radio/podcasting
Retail sales
Social media management
Speechwriting
Technical writing
Video/audio producing
"You'll learn the theory and the concept of communication, and then apply lessons to your workplace and home life," Callihan says.
Earn a Communication Degree Online With Purdue Global
An online Bachelor of Science in Communication could prepare you for employment in a variety of fields including sales, entrepreneurship, public relations, human resources, advertising, marketing, public relations, or management. Contact us today to learn more.
---
Your Path to Success Begins Here
Learn more about online programs at Purdue Global and download our program guide.
Request Information