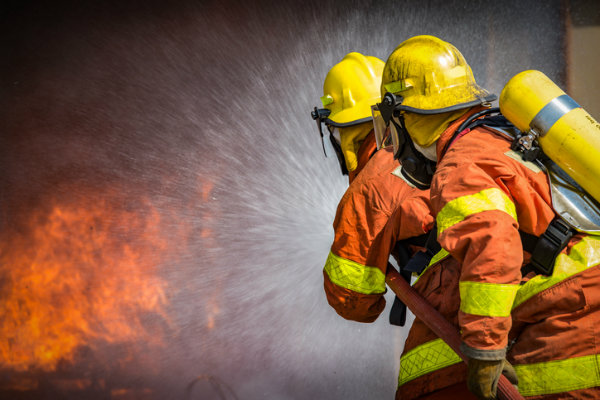 December 20, 2019 | Purdue Global
Additional academy training and education not provided by Purdue Global may be required for firefighting or emergency management jobs.
Firefighters, fire inspectors, and fire investigators are all at the front lines of disaster. Combined with emergency medical services, many of these first responders confront everything from wildfires to terrorist attacks.
Firefighting and emergency management go beyond fighting fires. Disaster preparedness, land stewardship, and emergency response training all require thought and attention. Many organizations are devoted to training and response for these disasters across the world.
Whether you're just exploring pursuing a job in fire safety or you're a seasoned veteran, plenty of organizations can help you advance your career in fire science and emergency management.
Government Agencies
1. National Park Service
https://www.nps.gov/subjects/fire/index.htm
The National Park Service offers education about fires on federal land, such as wildfires and structural fires. The Park Service's website has a section devoted to fires that includes fire safety training, tips, and education.
2. California Department of Forestry and Fire Protection
Whether you're looking for careers or just education, the California Department of Forestry and Fire Protection is a great resource for emergency management and fire professionals. California faces the largest wildfires in the nation and as such provides plenty of resources, statistics, training, and safety tips.
3. United States Geological Survey (USGS)
https://www.usgs.gov/special-topic/fire
The USGS website has an entire section devoted to fire science. USGS scientists track and manage wildland fires across the nation and provide studies, data, and news about fires in the U.S. Studies include how wind and other elements impact wildland fires.
4. U.S. Fire Administration (USFA)
The U.S. Fire Administration is an entity of the U.S. Department of Homeland Security's Federal Emergency Management Agency (FEMA). The USFA advocates for fire and emergency medical services personnel across the country and offers training, professional development, grants, and funding, as well as studies and other data and publications.
5. U.S. Forestry Service
The U.S. Forestry Service provides information and training in how to fight wildland fires. The website offers detailed accounts of different types of fire personnel from smokejumpers to hotshots, as well as land management and fire prevention tips.
6. National Interagency Fire Center (NIFC)
This Boise, Idaho-based center is a collaboration between eight federal agencies aimed at managing wildland fires. The group works to establish policy, exchange information, and train firefighting personnel.
Professional Organizations
7. International Association of Fire Fighters (IAFF)
The IAFF is a labor union representing full-time paid firefighters and emergency medical personnel in the United States and Canada. Their website offers useful training, job resources, and education. Some sections of the website are only available to members.
8. International Association of Fire Chiefs (IAFC)
The IAFC represents leaders of firefighters and emergency personnel around the globe. The group offers information, education, services, and representation for leadership in EMS. The IAFC also offers networking and conference events.
9. International Association of Arson Investigators (IAAI)
The IAAI is an organization of more than 9,000 fire investigation professionals. The group offers training, education, and studies related to arson investigation, as well as an annual conference for education and networking.
10. National Fire Protection Association (NFPA)
The National Fire Protection Association is a group working to limit fire hazards nationally. The NFPA is widely known as a codes and standards organization. The group has more than 300 codes designed to minimize the risk and effects of fire by establishing criteria for building, processing, design, service, and installation around the world.
11. International Association of Wildland Fire (IAWF)
The IAWF is a group of experts in all aspects of wildland fire management. The independent organization facilitates conversations and research around wildland fires. The group also publishes Wildfire magazine and the International Journal of Wildland Fire.
12. International Association for Fire Safety Science (IAFSS)
The IAFSS is a group committed to encouraging research into the science of preventing and mitigating the adverse effects of fires. The group includes more than 400 members from 28 different countries, and has a number of publications and studies on related topics.
Real-Time Incident Maps
13. InciWeb
InciWeb is a national incident information system for wildfires and all-hazard incidents. It offers a map of current U.S. fires (prescribed and wild) as well as a table view of this data.
14. National Fire Situational Awareness – National Wildfire Coordinating Group
The National Wildfire Coordinating Group aims to enable interoperable wildland fire operations among federal, state, local, tribal, and territorial partners. It runs the National Fire Situational Awareness map, where users can find active incidents in real time.
15. Hazard Mapping System Fire and Smoke Product Current Analysis
https://www.ospo.noaa.gov/Products/land/hms.html
The Office of Satellite and Product Operations of the National Environmental Satellite, Data, and Information Service runs this real-time fire position map. Satellite imagery is also available on the site.
16. Active Fire Mapping Program
When the National Preparedness Level (NPL) is Level 2 or higher, the USDA Forest Service updates this large incident map daily. Otherwise, when the NPL is Level 1, the map is updated on Fridays. Users will also find fire data in Google Earth here.
Minority Groups
17. International Association of Black Professional Fire Fighters (IABPFF)
The IABPFF is a group that works for black professional firefighters. Members can network with other firefighting professionals in the United States and Canada and attend conferences for training about the unique challenges faced by firefighters of color.
18. International Associate of Women in Fire & Emergency Service
This association, called Women in Fire, provides resources on women fire services leaders. Members come from 11 countries and range from not-yet-hired women who dream of work in fire and emergency services to senior officers with more than two decades of service.
19. National Association of Hispanic Firefighters (NAHFF)
The NAHFF focuses on advocating for Hispanic firefighters. The group organizes education and networking opportunities for members across the United States. NAHFF grants are also available for different organizations.
Disaster Management Organizations
20. Federal Emergency Management Agency (FEMA)
An agency of the United States Department of Homeland Security, FEMA is responsible for coordinating the federal government's response to natural and manmade disasters.
21. National Emergency Management Association (NEMA)
NEMA is a disaster preparedness group that aims to reduce the effects of all types of disasters nationwide. It serves as an emergency management information and assistance resource and advocates for better research into emergency preparedness and response.
22. National Emergency Planning and Training Association (NEPTA)
NEPTA advocates for better training so as to reduce the harm of major disasters. The group works for preparedness, response, and recovery to disasters both man-made and natural.
23. International Association of Emergency Managers (IAEM)
IAEM is a nonprofit educational organization that provides emergency management professionals with information, networking, and development opportunities.
Fire Science Research Groups
24. Journal of Fire Sciences
https://journals.sagepub.com/home/jfs
The Journal of Fire Sciences is a peer-reviewed international journal for the reporting of fire safety science research. Overall, it publishes information about mitigating the adverse effects of fires.
25. Tall Timbers
Tall Timbers calls itself a steward in wildlife and wildlands and does significant research into wildland fires. The group encourages research, education, and conservation for wildlands and wildlife.
26. National Institute of Standards and Technology
https://www.nist.gov/el/fire-research-division-73300/national-fire-research-laboratory-73306/videos
The Fire Research Division of the National Institute of Standards and Technology produced a number of videos that examine procedures, findings, and issues raised by fire investigations.
Volunteer Opportunities
27. Fire Corps
For those who are too young to volunteer at a fire station or pursue a fire science degree, Fire Corps is a way to get involved in firefighting. The group encourages community volunteers for non-emergency roles in firefighting and EMS.
28. National Volunteer Fire Council (NVFC)
The NVFC is the leading organization representing volunteer firefighters across the country. While many other organizations represent full-time, paid firefighters, very few groups represent volunteers. The group provides resources, programs, education, and advocacy for first responders across the nation.
Resources for Firefighters Injured on the Job
29. National Fallen Firefighter Foundation (NFFF)
The NFFF works to support the families of firefighters injured or killed on the job. It also advocates for greater safety in the firefighting and EMS community to reduce the number of injuries that occur.
30. Wildland Firefighter Foundation
Like the NFFF, the Wildland Firefighter Foundation provides resources to the families of firefighters killed or injured in the line of duty. The foundation also provides education about wildland fires.
Social Media and Blogs
31. Firehouse
This comprehensive site provides fire and rescue professionals with information, breaking news, training resources, online forums, and more to help them do their jobs safer and more efficiently.
32. My Firefighter Nation
https://my.firefighternation.com
My Firefighter Nation is a forum for current, aspiring, and past firefighters to discuss the realities of the job across the country. Discuss current events, struggles, and other topics with real firefighters.
33. Fire Engineering
https://www.fireengineering.com/
This publication started as the National Fireman's Journal in 1877. Now called Fire Engineering, the magazine provides training, education, and management information regarding fire and emergency services worldwide.
34. National Fire Academy (NFA)
https://www.usfa.fema.gov/training/nfa/index.html
Part of FEMA, the NFA provides training courses and programs in prevention, preparedness, and response to fire and emergency services professionals.
35. Fire and Emergency Services Higher Education [FESHE] Recognition Program
https://www.usfa.fema.gov/training/prodev/feshe_recognition.html
Part of FEMA, the FESHE Recognition certificate acknowledges that a collegiate emergency services degree program meets the minimum standards of excellence established by FESHE professional development committees and the National Fire Academy.
36. FireRescue1
This site provides news, information, resources, and community to fire service professionals, so they can better protect their communities and themselves.
Earn an Online Fire Science Degree
If you are interested in pursuing or advancing a career in fire or emergency services, learn more about the online fire science degree programs at Purdue Global. Request more information today.
---
Your Path to Success Begins Here
Learn more about online programs at Purdue Global and download our program guide.
Request Information