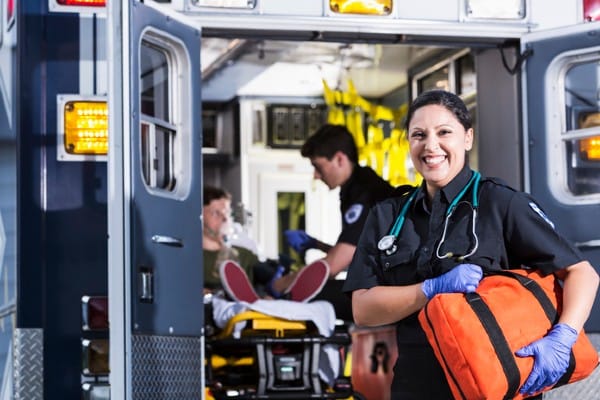 August 19, 2015 | Derrick Clouston
|
Updated June 29, 2021
Additional academy training and education not provided by Purdue Global may be required for firefighting or emergency management jobs.
"How do I get hired?" is one of the most frequently asked questions by volunteers who want to pursue a career in fire and emergency management. There are a number of intricacies involved when it comes to being hired in emergency services.*
Competition in the field is stiff, as well. According to the U.S. Bureau of Labor Statistics†:
What can you do to stand out in the fire and emergency management field? Education is important, but so is experience, networking, and a track record of consistency.
The Value of Volunteering
One way to help prepare for a career in emergency management is by volunteering in the local community. The latest U.S. Fire Department Profile report published by the National Fire Protection Association (NFPA) shows that 82% of the country is protected by fire departments that have volunteer firefighters. Of the total number of firefighters, 370,000 (33%) were career, while 745,000 (67%) were volunteers.
Volunteering is a great way to obtain critical job training and give back to the community. Depending on the local and state training system, many volunteer fire departments have the ability to offer their members great opportunities for basic and certification training. This training may be provided at no or reduced cost, depending on the training systems in place. Often, this training is based on the NFPA's Professional Qualification Standards that many jurisdictions use to develop their certification programs.
Although many paid departments may require a new employee to attend a recruit school, the skills that are learned can help to create familiarity with the concepts that are being taught. It is important to remember that a fire department will want their members to learn the specific ways they operate, but the basic principles will be the same. The skills that are taught can help a person as they look to move into emergency management. Many emergency management agencies in communities today are integrated within the fire department, which can provide additional valuable to those seeking to enter the field.
Build Your Network
Developing a network is vital, and as a member of a local volunteer agency, you may find increased opportunities to develop these critical networks. The various emergency and disaster response communities are a tight-knit group within local and regional governments, and many municipal departments use these relationships to recruit emergency services personnel. In this competitive field, an effective network is an absolute necessity.
Volunteering can also help to prepare someone for greater responsibility later in his or her career. As mentioned earlier, recruiting and retaining volunteers is very difficult. The ability to gain valuable insight and experience conducting emergency operations as a volunteer is valuable. As you progress, you can build skills that are relevant to the field and valuable to potential employers. Although education, training, and certification arm people with the credentials to compete, being able to apply knowledge correctly based on the situation at hand is learned through experience.
Explore the Full Spectrum
Although there are many advantages of volunteering in the fire service, also consider other areas of volunteering such as service in a Community Emergency Response Team (CERT), the American Red Cross, and other nonprofit response agencies. Successful emergency managers have developed relationships with resources that play a crucial role in bringing a positive outcome to incidents in the community.
Volunteering in various emergency programs can provide the same network and training opportunities afforded to those volunteering for a fire department.
Advance Your Career With an Online Fire Science Degree
Education is becoming an increasingly important part of pursuing a career in the emergency services field. Purdue Global offers degrees in fire science and fire and emergency management. These degree programs are designed to provide information that will be used in real-world settings.
The decision to obtain an associate's, bachelor's, master's, or doctoral degree should be based on your career aspirations. For example, administrative roles in management and leadership most likely require a bachelor's degree, whereas having a master's degree is advantageous when applying to a department head or senior leadership position. For those interested in conducting research or teaching in a learning institution, a doctoral degree is the path to consider.

If you are considering pursuing higher education, we invite you to request more information about Purdue Global's programs.
---
Your Path to Success Begins Here
Learn more about online programs at Purdue Global and download our program guide.
Request Information