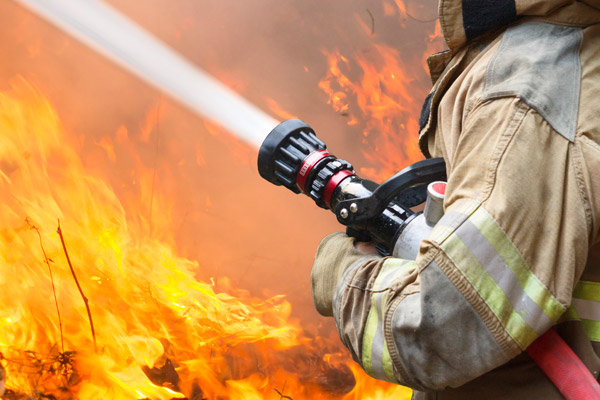 August 5, 2013 | David E. Bridges
Additional academy training and education not provided by Purdue Global may be required for firefighting or emergency management jobs.
Working within the field of fire analysis and investigation requires reliance on scientific principles, sound methodology, logic, passion, training, and one's available tools. As a Special Agent / K-9 Handler with the North Carolina State Bureau of Investigation (NCSBI), I frequently deployed differing implements in my mission to seek the truth in fire and explosion incidents. While my toolbox included flashlights, elaborate measurement devices, sketching software, evidentiary collection, and personal protective equipment, NCSBI K-9 "Phoenix" proved to be one of the most effective tools deployed in my fire investigations throughout the State of North Carolina.
Fire investigators are trained to determine the origin and cause of fire events based on the facts and evidence in a case as applied to the scientific method. While there are no "cookie cutter" or "one size fits all" approaches to discovering where a fire began or the underlying causation issues associated with the event, fire and explosion investigators frequently interpret fire scene patterns and collect items of evidence for later laboratory analysis. These critical laboratory examinations often reveal the presence of ignitable liquids, which supplement a competent origin and cause determination investigation. Rather than the fire investigator identifying fire debris sampling locations solely on physical patterns present, the resourceful investigator often requests a certified accelerant detection canine team to identify or eliminate the presumptive presence of an ignitable liquid within the scene.
Accelerant detection canine teams were first introduced into fire scene origin and cause investigations by the Connecticut State Police and Bureau of Alcohol, Tobacco, Firearms and Explosives (ATF) in the late 1980s. While these law enforcement agencies continue to prepare the largest number of accelerant detection canine teams for work around the United States, many other agencies have followed suit and now train these specialized canines today.
Accelerant detection canines are imprinted on a wide variety of ignitable liquids commonly identified in incendiary fires. Accelerant detection canine teams significantly enhance the ability of fire scene investigators to identify and collect precise fire debris samples in the field without significant case difficulty or delay. While it should be reiterated that the results of the canine teams work is only to be confirmed by a competent trace evidence chemist, it greatly enhances the ability of the fire investigator to perform his/her job in the field.
Intrinsic in any fire scene investigation is the investigator's need to follow the scientific methodology in rendering an opinion as to the fire's origin and cause. The use of the accelerant detection canine allows the fire investigator to more precisely pinpoint items of evidentiary value to be analyzed using this systematic methodology. Undoubtedly, these specialized canine teams will continue to significantly enhance the field of fire investigation and further reduce the impact of incendiarism on our communities for decades to come.
---
Your Path to Success Begins Here
Learn more about online programs at Purdue Global and download our program guide.
Request Information