Course Partners and External Assessments
Whether you're interested in earning a degree or taking courses strictly for the sake of learning, Purdue Global's Alternative Credit Center puts a variety of open-source courses at your fingertips.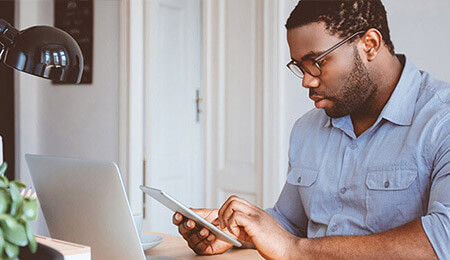 Course Partners
Register for alternative credit courses or use the links below to view options from any of our course partners.
Saylor Academy
Saylor Academy is a nonprofit initiative committed to making education accessible and affordable to all who need it. They offer free online courses created by experienced professors with relevant teaching experience that people can use to learn skills and earn university-level credit. Saylor Academy's credit-recommended courses are recognized by the American Council on Education (ACE) for meeting university-level academic rigor.
Sophia
Sophia offers learners affordable, flexible, competency-based online courses. These self-paced courses cost a fraction of what traditional college courses do, and have been evaluated and recommended for college credit by ACE CREDIT. Courses are listed for one low price with no textbooks to buy, no membership fees, and include unlimited, complimentary support from Sophia Learning Coaches.
StraighterLine
StraighterLine provides first- and second-year general education courses equal in quality to those at many top universities for career-focused adults. This innovative program allows you to complete your required general education courses for a fraction of the cost. ACE CREDIT has evaluated and recommended StraighterLine courses for credit.
Study.com
Study.com is an online education platform that helps learners of all ages excel academically and close skills gaps. From test prep and homework help to earning low-cost college credit and developing workplace skills, Study.com's online courses, short animated video lessons, and study tools have made learning simple for over 30 million students, teachers, and working professionals. ACE CREDIT has evaluated and recommended Study.com courses for credit.
Purdue Global does not guarantee credit from any of these sources. See the University Catalog for the Prior Learning Assessment policy.
Exams outside of Purdue Global offer another opportunity to earn credit for subjects you have mastered without having to take a course. External exams also test skills and knowledge acquired on the job, from life experience, and from military training. As a student, you may qualify for credit through the following:
College Level Examination Program (CLEP)
Advanced Placement Program (AP)
DANTES Subject Standardized Test (DSST)
Defense Language Proficiency Test (DLPT)
International Baccalaureate Diploma Programme
Other eligible standardized exams
Credit may be awarded for each eligible test in which you meet the recommended minimum score as long as it meets your program's guidelines and course outcomes. Official results of standardized tests must be received by the Office of the Registrar prior to your final term.
View additional information about some of the standardized exams most commonly submitted by Purdue Global students.