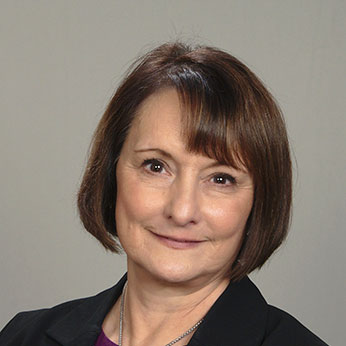 Marilyn Wideman, DNP
Marilyn Wideman is the dean and vice president of the Purdue Global School of Nursing. She began her career at Purdue Global (formerly Kaplan University) as the associate dean of online nursing programs.
Prior to joining Purdue Global, Wideman held roles of professor, associate dean of faculty practice, associate provost of community engagement and interprofessional education, and associate president of community engagement and community practices at Rush University Medical Center. She also served as chair of undergraduate nursing at Capella University.
Wideman is a fellow in the American Academy of Nursing, has served on national boards and committees, is an accreditation reviewer for Commission on Collegiate Nursing Education and American Nurses Credentialing Center, and has served in leadership roles in national nursing organizations. Her grant-funded work has focused on developing academic, community, and service partnerships to establish models of care that blend practice, teaching, and research. This work won an International Care Challenge Award, was selected by the Agency for Health Research and Quality for practice innovation recognition, and has been replicated by others. Other grant-supported work includes the development and delivery of interprofessional education models for teams working with underserved populations.
Wideman holds a Doctor of Nursing Practice with a systems leadership focus from Rush University College of Nursing. She started her nursing career as a RN diploma graduate from St. Luke's School of Nursing in St. Louis, Missouri, and went on to receive a Bachelor of Science in Nursing and a Master of Nursing as a psychiatric clinical nurse specialist from St. Louis University.

Contact Info: Marilyn.Wideman@purdueglobal.edu