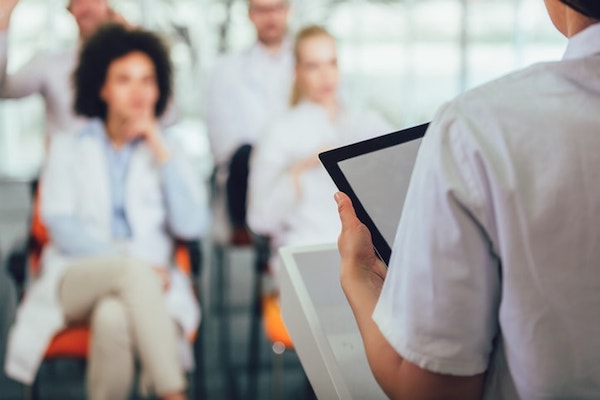 February 26, 2020 | Angela Owens, DNP
Nursing education is continuing to experience a faculty shortage. According to the American Association of Colleges of Nursing (AACN) nursing schools refused admission to over 75,000 qualified applicants in 2018. This occurred in both baccalaureate and graduate programs, and the primary reason cited was the lack of faculty.
Nursing faculty members are needed at all levels of nursing education. Many of the slots vacant at the undergraduate and graduate levels require a minimum of a master's degree, while most at the graduate level require a doctorate.
If nursing education is of interest to you, there are steps to take to prepare to enter a faculty role.
Why Become a Nurse Educator?
First, determine the reason you want to teach. Do you want to supplement your clinical practice with teaching or transition completely into education? Nursing education is not shifting priorities from patient care and outcomes; rather, it is inspiring the future of nursing. Nurse educators are committed to excellence in education that transfers to the bedside and beyond.
How to Become a Nurse Educator
At a minimum, you must earn a master's degree. With a master's degree, you will be able to teach in the clinical setting, either as a clinical nurse educator within a hospital facility or as a clinical instructor supervising nursing students in the clinical site. A master's degree will also give you the minimum requirement to begin didactic teaching in the associate's and bachelor's programs, as well as in some master's programs.*
One of the best places to start is in clinical education as a clinical instructor. Even with a doctoral degree, if you have no experience teaching, it will be difficult to jump directly into teaching at the graduate level. Online education is also a potential path, but most hiring managers in an online environment want you to have some experience teaching in a face-to-face environment first.
The National League for Nursing (NLN) offers certification as a nurse educator with the Certified Nurse EducatorCM designation. To be eligible to sit for the Certified Nurse Educator (CNE®) certification exam, you must meet specific requirements†:
Have an active, unencumbered registered nursing license in the country where you practice
Hold a master's or doctoral degree in nursing from an accredited institution, as well as one of the following:

A major emphasis in nursing education
A post-master's certificate in nursing education
Nine or more credit hours of acceptable graduate-level education courses
If you do not have an education-focused Master of Science in Nursing (MSN) or doctoral nursing degree, then you will need 2 or more years of full-time work experience in a nursing program in an academic institution prior to applying to sit for the CNE.
Most entry-level academic positions do not require the CNE but expect you will obtain it at some point in the future. The Commission on Collegiate Nursing Education (CCNE) recommends that all graduate-level faculty be certified in their field of expertise.
Consider Educating as the Next Step in Your Career
Becoming a nurse educator is a rewarding pursuit that's within reach with the right education. If this your goal for the future, it is important to start planning your path forward. Take the first step by learning more about Purdue Global's online master's degree in nursing or request more information.
---
Your Path to Success Begins Here
Learn more about online programs at Purdue Global and download our program guide.
Request Information