Graduation Contact Info
Answers to Your Questions
Reach out to us about cap and gowns, ceremony information, or inquire about verifications. Whatever information you need, we are here.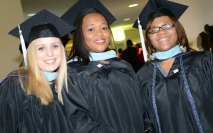 Ceremony Related Questions
Click here for ceremony information and instructions.
Email: graduation@purdueglobal.edu
Tel: 312-777-6456
Non-Ceremony Related Questions
Account Balance and Payment Information
Contact Student Accounts
Email:studentaccounts1@purdueglobal.edu
Tel: 866-522-7741 (Toll Free)
Listen to the menu to determine the appropriate option.
Caps and Gowns
Each ceremony has a unique ordering link. Check the details and instructions for the ceremony you're attending.
Students not attending a ceremony may order a set at any time through Jostens Customer Service at 800-854-7464, informing the representative that they are not attending. Orders take approximately 7-9 weeks.
Degree Completion Date Information
Contact Student Support
Tel: 866-522-7747
Listen to the menu to determine the appropriate option.
Diploma Questions/Proof of Graduation/Enrollment Verifications
Contact the Office of the Registrar
Email: RSupport@purdueglobal.edu
Tel: 866-522-7747 (Toll Free)
Disabilities Assistance

Center for Disabilities Services
Email: cds@purdueglobal.edu
Tel: 954-515-3859
Honor Society Questions
By invitation only. Members should visit the society's website, or refer to communications with the society's chapter representative.