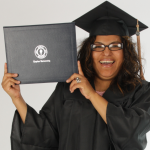 Zureyma Gonzales Amro is a dreamer in more ways than one. She did well in high school and dreamed of joining her many friends by going to college.

"When I was in high school, I had really good grades and all my teachers encouraged me to go and apply for scholarships. But because I couldn't, but they didn't know exactly why I could not do it. So I told them I was going to wait."

She put on a brave face, but it was very hard to deal with and accept.

"High school was hard because I saw all of my friends applying to school, to college. TCNJ is the college in New Jersey, Rutgers University, Riders, the college in New York. And everyone was asking me 'what are you doing?' I told them I was just taking some time off from school. Not all of them understood the situation I was in, except for a few people."

Zureyma couldn't go to college because her parents came to the United States illegally.

According to Zureyma, "We came here as children, but we were not responsible. It was our parents, and we didn't have the luxury like other kids did because we don't qualify for so many things."

That included applying for scholarships and being eligible for financial aid. Ten long years went by and her dream of going to college was deferred.

In 2014, things changed.

"When President Obama signed the law [the Dreamers Act] for us to apply for schools, that was a big step for us because we were able to get everything—driver's license, we are able to travel in the states, and, in my case, go back to school."

Thanks to a full scholarship especially for Dreamers like her, she enrolled at Purdue Global.

Completing her studies was not without its challenges.

"I have a young son who suffers from anxiety, and he has a lot of emotional problems. So all my schoolwork is between 11:00 at night until 3:30 in the morning. And my son wakes up every three hours, every two hours."

Zureyma credits her Advisor for keeping her going when she wanted to give up.

"I had an excellent student advisor. Every question I had for schoolwork, and I didn't understand, I would call her—and it's Carmen—and she would text me, "Oh, well email the teacher and ask her to give you more time."

Zureyma recalls one moment when she hit her breaking point.

"At one point, I wanted to drop out because it was getting overwhelming for me because of my son and then my husband being sick. And then I got sick. So everything got complicated, and then I called my advisor, Carmen."

Carmen was there as always and settled her down "Just breathe and talk to the professors." And that's what I did, and they told me to not to worry just to submit everything I had done so far and then they will work with me, and they gave me an extra week to finish everything."

In 2016, Zureyma's dream came true. She graduated from Purdue Global with an associate's degree in business administration.
This testimonial was obtained by Purdue University Global. Purdue University acquired Kaplan University in March 2018 and created Purdue University Global, which is following the same curriculum format and instructional delivery methods as developed and used by Kaplan University. The views and opinions expressed are those of the individual; student experiences may vary.