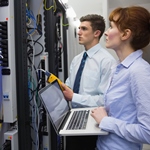 Presidents of companies, industry analysts, university researchers, and job recruiters are all posing the same question: Why aren't there more women in technology fields? Some of the answers are startling. Data from the National Center for Women & Information Technology shows that women earned 57 percent of all undergraduate degrees, 59 percent of the undergraduate degrees in biology, and 42 percent of mathematics degrees. Yet women earned only 18 percent of all computer and information sciences undergraduate degrees and engineering degrees.
One university leader conducted her own research and found three reasons why women may be avoiding tech careers. First, women think it's not interesting. Second, they are unsure whether they would be good at the job. Third, they imagine they would not be comfortable with IT-type coworkers.
These perceptions of IT careers may hold some women back. But not others. Those who understand the benefits of having a technology background are likely to achieve higher incomes and steady employment in the industry of their choice. The U.S. Department of Labor Bureau of Labor Statistics reports that computing has the second highest median annual wage of all occupational categories. During the recent recession, many tech companies remained profitable.
Despite the IT industry having the second highest median annual wage of all occupational careers, the U.S. Bureau Labor Statistics' most recent report on women's earnings showed a significant difference in the number of men vs. women working in computer and mathematical occupations. In 2012 there were 3,416,000 men vs. 872,000 women (BLS, Highlights of Women's Earnings in 2012).
There are other reasons why industry is seeking women in IT. Studies have shown that race and gender diversity are associated with higher sales revenue, more customers, and greater profits. These are bottom line attributes that make a woman's talent and perspective valuable.
To counter the misconceptions, women in IT are speaking up. They are making a difference at their organizations by creating a welcoming environment for women, serving as mentors, and sharing what they know about how to get to the next level.


Did you find this article interesting? If so, share it!


Purdue Global cannot guarantee employment or career advancement.