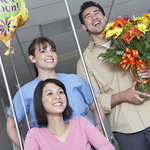 The Family and Medical Leave Act (FMLA) provides eligible associates up to 12 workweeks of unpaid, job-protected leave for certain family and medical reasons over a 12-month period. It also provides up to 26 workweeks of unpaid, job-protected leave in a single 12-month period for military caregiver leave.
The FMLA only applies to employers that meet the following criteria:
Private-sector employer, with 50 or more employees in 20 or more workweeks in the current or preceding calendar year, including a joint employer or successor in interest to a covered employer;
Public agency, including a local, state, or federal government agency, regardless of the number of employees it employs; or
Public or private elementary or secondary school, regardless of the number of employees it employs.
The FMLA guidelines state that employees must meet the following criteria to be eligible:
Works for a covered employer;
Has worked for the employer for at least 12 months;
Has at least 1,250 hours of service for the employer during the 12-month period immediately preceding the leave*; and
Works at a location where the employer has at least 50 employees within 75 miles.
Critical Reflections
The continuous development of the FMLA is designed to help workers to receive benefits that are linked to leave or sickness and ensure that they are treated fairly. Graves states (2013) there are numerous other regulations and provisions that are tailored to the local and state levels that employers could conduct further review and investigations with the U.S. Department of Labor website to understand the FMLA guidelines and regulations. According to Parekh (2009) the FMLA is a federal law, but many states have equivalents that are sub-directives to the federal law that add additional protection for the employee and protects the employer. This would include having the employee exhaust both the state and federal requirements of unpaid leave without additional concerns of possibly losing one's job.
The Family and Medical Leave Act (FMLA) program as it relates to personal reflection is a good program designed to provide employees with unpaid, job-protected leave of absence for specific medical and family reasons, while allowing them to retain their current positions.The FMLA supports intermittent leave. According to Susser (2007) the employee overuse of intermittent leave has and will create opportunities when managing an organizational structure (staffing, performance, and productivity). It is with professional opinion that the FMLA program would need further research in two areas as if looking at a coin with different but equal sides and quality. The first area of interest is the current platform (12 months and/or 1,250 hours). Does this requirement for eligibility seem reasonable as social, demographic, and economic changes have created a different workforce in comparison to past performance (Jorgensen and Appelbaum, 2014)? The second area of interest relates to gender-specific issues and looking at eligibility coverage for small business owners who have fewer than 50 employees, and granting coverage to those individuals who meet the (12 months and/or 1,250 hours) requirements. According to Jorgensen and Appelbaum (2014), there are an estimated 8.3 million employees in the private sector employed by small business owners who are not currently eligible for FMLA benefits. The last item to mention are the costs associated to the FMLA benefits to the employees and the ramified cost effect toward the employers. According to Hayes, Smith, Tyner, and Johnson (2014), an estimated $21 million were granted as coverage for paid leave benefits and employer costs of missed workforce that relate to operational performance.
Alfred C. Greenfield is a full-time faculty member at Purdue Global. The views expressed in this article are solely those of the author and do not represent the view of Purdue Global.


References
Graves, J. A. (2013) 6 Things you need to know about the Family and Medical Leave Act - US News. Retrieved, http://money.usnews.com/money/careers/articles/2013/04/04/6-things-you-need-to-know-about-the-family-and-medical-leave-act
Hayes, S. T., Smith, J. P., Tyner, L. J., & Johnson, J. B. (2014) $21 Billion and Counting: The Burden of FMLA to employers. Retrieved, http://cbr.sagepub.com/content/44/1/18.short
Jorgensen, H. & Appelbaum, E. (2014) Expanding Federal Family and Medical Leave Coverage: Who benefits from changes in eligibility? Retrieved, http://ideas.repec.org/p/epo/papers/2014-02.html
Parekh, N. (2009) FMLA Rules: What Employees Should Know. Retrieved, http://blogs.findlaw.com/law_and_life/2009/09/fmla-rules-what-employees-should-know.html
Susser, P. A. esq (2007) On again, off again: intermittent leave under the FMLA. Retrieved, http://www.thompson.com/images/thompson/reports/hr042007_leave.pdf
U.S. Department of Labor (2014) Family and Medical Leave Act: Compliance and Regulatory. Retrieved, http://www.dol.gov/whd/fmla/