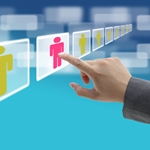 Let's face it, human resources has not been the most innovative field over the years. Its role-handling a company's recruiting, hiring, and internal personnel matters-has remained largely the same, and as a result, HR leaders are often taken for granted by finance, legal, marketing, and IT professionals. Some have questioned whether HR departments are even needed in this era of data-driven decision making. However, it is the advancement of that technology-specifically the implementation of cloud-based systems-that could transform HR management from a behind-the-scenes supporting player to a star that drives company strategy.
There are several factors contributing to this new opportunity for HR professionals to take on broader, more valuable roles. The first is that the economy is improving and hiring is on the rise. According to a 2014 survey by PricewaterhouseCoopers, 62 percent of U.S. CEOs expected to hire more employees this year. This coincides with a period of uncertainty in which companies have collected an immense amount of data about employees and prospects but haven't figured out how to use it. The PWC study found that 93 percent of CEOs recognize the need to change their strategy for talent attraction and retention.
The cloud will play a large role in how these strategic changes develop. A 2014 survey by Tech Pro Research found that 67 percent of company heads reported that they were either using hybrid cloud or evaluating whether it could work for them. With companies in a nonstop race to find and secure the best talent before their competitors do, properly utilizing all the data stored in the cloud will be crucial for success later this decade and beyond. Solutions will only be found once HR executives align closely with CIOs, merging expertise in people matters with technical know-how.
The cloud will help take matters even further. Data will be crunched to figure out exactly which qualities are needed to fit not only the skills of an open position but also the culture of a company-and then to find the best person to fill that position, anywhere in the world. Using everything from internal chat logs to social media posts, there is potential for algorithms to analyze the minute details of human performance and find solutions on a level that has never before been possible.
"When you arm a business partner of the future with analytics, and they can share the facts with their teams to help drive better decision making, it allows you to be much more strategic, much more insightful, and potentially, much more laser-focused on where you should be spending your time," Kate Terrell, a vice president of human resources at Whirlpool Corporation, told KPMG.
This will also factor into the management of an increasingly global and flexible workforce, covering payroll, training protocols and other databases. Companies are looking to cloud-based solutions, and again, the joining of forces between HR heads and CIOs is key. In an Oracle OpenWorld keynote moderated by CEO Mark Hurd in September, Xerox CIO Stephen Little credited a partnership with his company's HR leaders in installing a new cloud-based system. It connects HR and payroll systems for a global workforce consisting of nearly 145,000 employees. Little called the union "Two in a Box," while Intel CIO Kim Stevenson deemed it the "new recipe."
HR has been historically slow to adapt to technology, such as the rise of data analytics, but it has a chance to reinvent itself in an era in which a growing number of companies are shifting to the cloud. Ultimately, success will come down to knowing how to put the cloud to work to best handle individuals, shaping how businesses perform and are perceived, both internally and externally. As Larry Ellison said in his keynote at January's Oracle CloudWorld, "It's all about people. Taking care of your employees is extremely important, and very, very visible."


Did you find this article interesting? If so, share it!

If you are interested in other career insights, we invite you to take a look at some more articles on Purdue Global's Career Moves page.
And if you are considering an Information Technology degree we invite you to find out more about our School of Business and Information Technology and explore Purdue Global's undergraduate and graduate degree offerings.
It is important to note that certain career paths are growing and our degrees are designed to strengthen your knowledge and prepare our students to advance their careers. But Purdue Global cannot guarantee employment or career advancement. Several factors specific to a student's or alumni's backgrounds and actions, as well as economic and job conditions, affect employment. Also, keep in mind that national long-term projections covered in articles may not reflect local and/or short-term economic or job conditions, and do not guarantee actual job growth.
It's equally important to note that the Bureau of Labor Statistics found a direct correlation between unemployment rates and educational attainment. Those in the job market with a degree are less likely to be unemployed and those with a graduate degree have the lowest unemployment rates in the market.