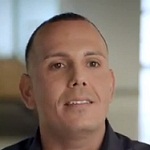 School of Education Graduate, Phillip Collazo: Reducing the Barriers People With Disabilities Face Through Education
Phillip Collazo is one of the many faces of public service graduates featured in Purdue Global's Public Service videos who answered his calling and became part of the social network of good. The social network of good is comprised of people who have taken action to help influence the lives of people or their communities in a positive way.
Phillip is a passionate advocate for helping children with disabilities, and has dedicated his life to creating a better world for them.
For nearly 15 years, he worked as a special education teacher in elementary schools. (His undergraduate degree is in early childhood education.) Phillip turned to Purdue Global to earn his master's degree in higher education. His goal was to teach teachers how to better serve their special needs students.
"I love teaching children, but I felt I could make more of an impact on their lives if I helped educate their teachers. I could reach a much bigger audience than just one classroom," Phillip said. "But I needed to figure out how to challenge adults the same way that I challenge kids."
When he decided to go back to school, Phillip spent many hours thoroughly researching his options. "I was open to a traditional school but the local university would have taken longer, cost more money, and I could not specialize with the focused curriculum Purdue Global offers. Choosing Purdue Global was a no brainer!"
While he was earning his master's degree, Phillip was inspired to cofound Project AWWOL: A World Without Labels. The non-profit's goal is to reduce the barriers people with disabilities face through education. "The labels that describe us don't have to define us," Phillip likes to say. "We should label jars—not people!" At Project AWWOL, Philip coordinates, develops, and facilitates workshops for teachers and children's services providers. He also teaches inclusive art and yoga classes.
In his new position, Phillip continues to be inspired by his Purdue Global professors. Phillip teaches his own teachers online, and he often finds himself recalling—and emulating—the techniques his own instructors used in his online learning.
"I loved that I felt I was really in a physical classroom during my time at Purdue Global," Phillip said. "It was so interactive. I got to know my fellow students and our professors. We were all so engaged and excited, I couldn't wait to log on and learn!"
As a result of earning his master's degree, Project AWWOL was able to compete for a grant from the Department of Defense, which they won. "The grant has really expanded my business," Phillip said. As a result, he now provides technical assistance and training to various schools on national and international armed forces bases. He recently traveled to Japan to work on two military bases to implement the program.
"Purdue Global really taught me how to teach online. They also taught me how to put together a learning program for adults. I was familiar with teaching children, but Purdue Global gave me the tools to successfully reach this different audience."
Phillip is just one of our many faces of public service, and he's a part of the social network of good. You can learn more about him and other Purdue Global public service graduates who took action and got their degree from Purdue Global. Click here to view the video and see how four other Purdue Global graduates are making all the difference in your world and in ours.
This testimonial was obtained by Purdue University Global. Purdue University acquired Kaplan University in March 2018 and created Purdue University Global, which is following the same curriculum format and instructional delivery methods as developed and used by Kaplan University. The views and opinions expressed are those of the individual; student experiences may vary.