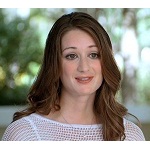 Purdue Global College of Public Service Graduate Catie Behling Knows Firsthand How Her Actions Make a Difference
Catie Behling is one of the many faces of public service graduates featured in Purdue Global's College of Public Service videos who answered her calling and became part of the social network of good. The social network of good is comprised of people who have taken action to help influence the lives of people or their communities in a positive way.
Graduating from Purdue Global's Master of Science in Psychology program helped open the door for Catie to take her board certification exam which helped change her career completely. She was able to sit for her Board Certified Behavior Analyst® (BCBA) exam. After passing the BCBA exam, she was eligible to become a supervisor and now supervises other therapists.*†
Catie feels that Purdue Global prepared her well for working with families. As a behavior analyst, Catie works with families and children, helping them meet their needs and bringing a voice to children unable to speak or communicate. She observes the difference she's making in the lives of children who have trouble with simple tasks such by teaching them how to tie their own shoe or brush their teeth.
Before enrolling in Purdue Global, Catie was not fulfilled with the job she had. She had discovered the world of behavior analysts and decided to enroll at Purdue Global to become one. "I chose Purdue Global because it made sense for my lifestyle," she says. "I worked 50 plus hours per week and was still able to complete my graduate degree because of the flexibility of their program."
Catie also acknowledges the faculty's real world experience. "The faculty was very helpful. Many of them were professionals before becoming professors in the field," she says. "Their expertise and knowledge was very valuable to us as students." If you would like to learn more about Catie Behling and how she expanded her circle of influence by earning her master's degree in psychology, click the above image to view her story.
This testimonial was obtained by Purdue University Global. Purdue University acquired Kaplan University in March 2018 and created Purdue University Global, which is following the same curriculum format and instructional delivery methods as developed and used by Kaplan University. Views and opinions stated herein are the individual's and not necessarily those of Kaplan University. Individual student experiences may vary.