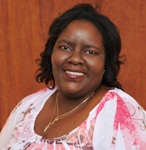 Anetra always wanted to be in social work, helping families in need and teaching them how to thrive in society. Throughout the years, the idea crept in and out of the back of her mind, but she liked her job working with kids as a preschool teacher, so she didn't make any effort to shake things up. One day, one of her student's mothers told Anetra how she attended Purdue Global to obtain her degree and develop a career—and raved about her experience. The words stuck in Anetra's head. She thought, "If she can do it, I can too!"
Anetra did her research and found that Purdue Global would indeed be a good fit for her as well. She chose the University because of its comprehensive psychology and child development program as she knew she wanted to continue working with children in some capacity. The flexible online format was very appealing, because Anetra needed to keep working while she went to school, as she is a single mom with a teenage daughter and also cares for her young goddaughter.
"Initially I had some reservations about going back to school, especially an online university," Anetra said. "But I am a quick learner, so I welcomed the challenge." Her concerns were soon put to rest. Anetra was surprised to find that even though her classes and interactions were online, her professors and classmates all worked together as though they met on a campus every day. "I especially enjoyed the feedback and the close communication we had," Anetra said. "I didn't expect to get that much one one-on-one time!" She also never thought she would like the peer reviews, but she thought they opened up an opportunity to see other classmates' views without being critical. "We motivated each other to do our best!"
Anetra also was pleasantly surprised by her professors. "They have such great experience and a vast knowledge base. They really cared about you and made sure to help you in any way they could. When I got my first job in social services, I felt really prepared. I wasn't really surprised by much. I already had an idea of what to expect, and I felt confident with what I had learned. Now I enjoy gaining more experience, even learning from my mistakes. Just as I advised my students when I was a teacher, I learned not to be too critical of myself, but to learn from any situations that didn't go well. I ask questions when I don't know the answers. And I always know that tomorrow is a new day!"
Anetra works as a children's case manager with Life Management Center, a private social service agency in Panama City, Florida. She helps families with everything from ensuring their financial needs are met, performing home visits, school visits, going to court, and generally advocating for families.
"I am so happy to be in the field I love," Anetra said. "I feel like I'm really making a difference in children's lives!"
This testimonial was obtained by Purdue University Global. Purdue University acquired Kaplan University in March 2018 and created Purdue University Global, which is following the same curriculum format and instructional delivery methods as developed and used by Kaplan University. The views and opinions expressed are those of the individual; student experiences may vary.