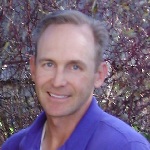 Andres grew up in Southern Idaho; mowing, watering, and taking care of people's lawns with his brothers. "We had a lot of fun, and we had a very good business," he said. After high school, Andres did what was expected of him: he went to college, studied accounting and business, and dabbled in a few other areas before he realized that he needed to pursue a career that really appealed to him—something he was truly passionate about.
"Horticulture was always in the back of my mind because I liked working with plants and being outside. I didn't know that I wanted to do that for a career until I took my first horticulture course in college."
Andres earned his undergraduate degree in the horticulture field, and found work at the Idaho Falls Temple and then at his alma mater, Brigham-Young University in Idaho. He was working in the grounds department at Brigham-Young University for three years, but realized that there wasn't any room for growth. So he took the initiative to change his career path and build a better future for himself and his family.
With the support of his wife, Andres enrolled in Purdue Global's Master of Science in Higher Education.* "Ultimately, I want to become a tenured, full time horticulture professor," he said. Andres worked full time and went to school full time, while helping his wife raise their five children. "I would never have been able to do this with a traditional campus setting," he said. "I had to be very disciplined. I woke up at 5:00 am nearly every morning to get my work done."
However, after he earned his master's degree, Andres found it wasn't easy finding a job in his field. He needed to stay at his current position for a year since the university had contributed funding to his education, so he had some time for his job search.
"It wasn't easy, but I am so glad I stuck with it," he said. "I applied for about 17 jobs, and there was an average of about 125 applicants per position." Shortly after his tenure at Brigham-Young University was up, Andres landed a great opportunity.† He is now a personal landscape manager for a wealthy chief executive officer who owns a lot of land in the Idaho area. Andres is responsible for the house, the estate, and the ranch headquarters.
Then Andres got the phone call he was waiting for.
The call was from one of his horticulture professors at Brigham-Young University. Andres was asked if he would teach a course on landscape management. He was thrilled. In addition to his full time position, Andres has now been an adjunct faculty professor for nearly a year.
And then Andres got the other phone call he was hoping for.
The department chair of applied plant science at Brigham-Young University asked him to submit an application for a full-time position teaching horticulture, and wanted his help designing the curriculum for an online program.
"They called me in large part due to my degree at Purdue Global, and my thesis, which focused on resistance to the issues of placing hands-on science courses online. The department chair wants to offer more online classes, but the faculty has had a difficult time getting an online program off the ground, especially with the hands-on labs that teach tree and shrub pruning—something you really need to do in-person. The department has been struggling with how do develop an online curriculum for quite a while."
While Andres waits to hear from the University about the full-time position, he is focusing on his adjunct role and his full-time job. Andres and his wife, who also has a degree and background in horticulture, have a side business doing occasional landscape design work. They also own their own greenhouse where they sell vegetable starts.
"I feel very fortunate that my hard work is beginning to pay off," Andres said. "I was able to marry my love of nature and my family with a great career in horticulture. I think you really have to stick with what you love, and don't underestimate the importance of networking to keep building and maintaining relationships in your field!"
This testimonial was obtained by Purdue University Global. Purdue University acquired Kaplan University in March 2018 and created Purdue University Global, which is following the same curriculum format and instructional delivery methods as developed and used by Kaplan University. The views and opinions expressed are those of the individual; student experiences may vary.