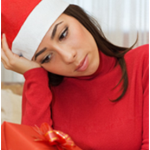 By Nancy Bonnevier, Adjunct Faculty
It is that time of year again; the stores are full of decorations and mountains of toys. Red kettles with ringing bells adorn corners, lights are flashing in windows, carols are streaming through the air, and everyone is happy…or are they? Do you have unrealistic expectations of the holiday season and do you become frustrated when they don't come to fruition? Do you feel the need to go overboard in your holiday preparations? Can the lights on your house be seen via satellite? Is Martha Stewart envious of you as you chop down your own tree, bake your own organic pies, and organize a caroling trip for your local Boy Scout troop? Very often, these extreme holiday activities mask other emotions. In fact, for many people, perhaps this time of year is not as happy as Hallmark would lead us to believe it "should" be.
Maybe you have recently had a loss, e.g., a job, a relationship, the death of someone you love. It could be that you are facing an illness or other life-altering event. You might be wondering how you can possibly provide all of the gifts on your children's letters to Santa. Of course, giving can be fulfilling, but the holiday cheer in children's stories and on television specials and commercials can be "more of an illusion than a reality" (Knaus, 2006), which can contribute to false and irrational expectations.
Causes of Stress
Now, you may be thinking, "Of course I am depressed because I have so many things I must do: get the tree, shop, bake, shop, decorate, shop"…you get the picture. Well, I am here to tell you it is not the tree or the shopping, baking, or decorating that is causing you to stress and depress, but your thoughts about the tree, shopping, etc., that are causing your responses. Maybe you just don't feel like decking those halls, yet you feel the pressure to conform. In fact, you might have an irrational belief that you must pull off Christmas like Clark Griswold from Family Vacation. If this sounds a little or a lot like you, my guess is that you may be experiencing holiday stress that could lead to the blues or actual depression.
According to Albert Ellis, the creator of Rational Emotive Behavioral Therapy (REBT), "whenever we become upset, it is not the events taking place in our lives that upset us; it is the beliefs that we hold that cause us to become depressed, anxious, enraged, etc. The idea that our beliefs upset us was first articulated by Epictetus around 2,000 years ago: 'Men are disturbed not by events, but by the views which they take of them.'" (REBT Network).
Ellis believed that depressed people's irrational beliefs tend to take the form of absolute or dogmatic statements. Ellis described three main irrational beliefs typical of depressive thinking:
"I must be completely competent in everything I do, or I am worthless."
"Others must treat me considerately, or they are absolutely terrible."
"The world should always give me happiness, or I will die." (MentalHealth).
Ellis used the following ABC paradigm to explain the flaw in logic that contributes to how we distress ourselves through irrational beliefs:
A = Activating event (what happens)
B=Belief (our thoughts about the event)
C=Consequence (our reaction/behavior) (StressGroup)
Most people generally believe that "A" causes "C". Example:
A (Activating Event) - My son wants an expensive toy for Christmas and I can't afford it.
C (Consequence) -I feel worthless and get depressed.
However, according to Ellis, "A" causes "B" which causes "C." Example:
A (Activating Event) - My son wants an expensive toy for Christmas and I can't afford it.
B (Beliefs) - I should be able to buy my son that present. I can't stand it when I can't afford nice things for my son.
C (Consequence) - I feel worthless and get depressed.
Can't you just feel your anxiety building when you read those statements? The good news is that we can change our emotions/reactions by changing our thoughts—by replacing our irrational beliefs with rational ones. Example:
A (Activating Event) - My son wants an expensive toy for Christmas and I can't afford it.
B (Belief) - I would like to buy it for him but it isn't a necessity. I don't like it when I can't afford nice things for my son, but of course I can stand it—I won't shrivel up and die.
C (Consequence) - I feel sad/disappointed but I'm okay.
We know that how we think/behave affects how we feel. Rather than indulging or sinking into irrational negative thoughts during the holiday season, try some REBT on yourself. (Yes, I do it all the time.) With a little practice and consistency you can learn to effectively challenge your irrational beliefs, thereby changing your mood. Keeping a log of your thoughts and reactions could help you adjust your beliefs before you start to "should" all over yourself or "must"erbate yourself into distress.
When I have clients mentally stuck on the negatives or lacks in their life, in addition to using REBT to change their beliefs, I prescribe activities, such as exercise, journaling, or meditation, to change up their neurological/ physiological reactions. If you find yourself alone during the holidays, create your own traditions and activities by donating some of your time to helping others; e.g., volunteer at a shelter, a food kitchen, a hospital, etc. Nothing beats the blues like getting out and helping someone else.
More Than the Blues
But what if it is more than the blues? What if you are clinically depressed? If the blues last more than 2 weeks, if you are having problems with sleeping and/or eating, or if you feel hopeless and lose interest in normal activities, you may be experiencing a depressive episode and could benefit from professional help. According to research, the combination of "medications and psychological counseling (psychotherapy) is very effective for treating depression in most people." (Mayo Clinic)
The good news is that, although painful and common, depression is very treatable. Also, try to remember that the holidays only last a few weeks. Good mental health habits, however, can last a lifetime and make a huge difference in the quality of your life. So take a break, challenge those irrational beliefs, and know that this too shall pass.
---
Nancy Bonnevier
Nancy Bonnevier is an adjunct psychology professor at Purdue Global in the College of Social and Behavioral Sciences. She is a Licensed Clinical Professional Counselor, certified in REBT, and a certified Conflict Resolution Professional. After serving as the director of counseling at a university for 8 years, Nancy is now dedicating her time to teaching and starting a private practice. In her spare time, Nancy writes and plays with her grandchildren, dogs, and parrot.