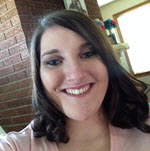 Samantha Lord is a lifelong resident of Dayton, Ohio. She graduated from high school in 2009 and attended a university in eastern Kentucky, which proved not to be a good fit.
Samantha worked for a time as a receptionist and, in January 2012, enrolled at Purdue Global to pursue a Bachelor of Science in Health Care Administration from the School of Health Sciences. Purdue Global accepted 36 transfer credits from her prior college experience.
"Being a single mom and working full time, I chose Kaplan because I needed something that was going to be convenient. I also wanted to be the first in my family to graduate from college, not to mention setting a good example for my daughter, who was 4 months old when I enrolled at Purdue Global."
While attending Purdue Global, Samantha started at working as a call center representative at McKesson in the fall of 2013.
In 2014, Samantha finished her bachelor's degree and was promoted to team lead at McKesson, where she helped manage the call center. She decided to continue her studies.
"When I finished my bachelor's degree I figured, why not finish my master's as well. All of my advisors and teachers were helpful with any questions in helping me succeed. For me, just having someone there to help me every step of the way is what pushed me to finish when I didn't feel like doing it anymore!"
Samantha earned her Master of Science in Health Care Administration in November 2015. She also earned something else?another promotion and a salary increase as Senior Operations Supervisor, where she leads a team of more than a dozen employees.
"Working full time and being a parent while attending school was not easy. It took a lot of discipline at times to study, but in the end it was all to provide my family a better life. Purdue Global prepared me a great deal in leadership and for the role that I am currently in. I can't wait to see what opportunities will arise and further my career."