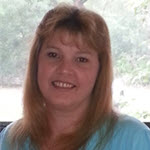 Rebecca Gallion started with one goal in mind, but soon found out that she could achieve much more.
Before attending Purdue Global, Rebecca took classes at another university while working as a cook in a small café. Rebecca was not fond of this educational system, so she stopped attending and settled for her "dead-end, minimum-wage, nowhere job that had no hope for advancement" as she describes it.
In 2013, Rebecca no longer wanted to settle. "I got the urge to go back to school. I wanted more." After talking to more than 15 online universities, Rebecca chose Purdue Global to work on her Associate of Applied Science in Accounting. "It worked with my life schedule, and they offered more educational benefits than other online institutions," Rebecca found.
Through her internship program at Purdue Global, Rebecca realized that she was able to face challenges that she thought she was unable to, and she gained real-life, hands-on education. She credits her success at Purdue Global to two professors—Ms. Laurie Hopkins and Ms. Monica Hubler. "These two instructors, one for a class and one for the internship, gave me the motivation and inspiration to be better than the average!"
Additionally, she had her eyes set on a position she knew she was qualified for with her over 5 years of experience and being close to completing her degree. Rebecca applied but didn't get called to interview. However, after completing her internship, she saw the same position reopen so she reapplied for it and added her internship experience and a letter of recommendation. When Rebecca turned in her updated information, she was interviewed on the spot and questioned specifically about her internship experience.
She was hired the same day and is now working full time as an assistant director of finance.
"I had some experience in my chosen field, but it didn't make a difference until I completed the internship program at Purdue Global," Rebecca admits.
Further, knowing she could achieve what she sets out to do, Rebecca is now also studying to earn her bachelor's degree with Purdue Global.
Purdue Global cannot guarantee employment or career advancement.