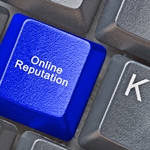 If you are one of the millions of people who use Facebook, Instagram, LinkedIn, Twitter, YouTube or any other site that shares information, s word of caution: be careful how giving you are with social media because social media is the gift that keeps giving, but not necessarily what you were hoping for.
While you may think that's a statement of the obvious and you know better, millions of people use the Internet every day to share personal information about their social life, comment on current events, post views and opinions, or apply for career opportunities. 
All of this activity, sharing, and posting creates a digital footprint of you. And you are not necessarily in control—friends, relatives, and acquaintances are on social media as well, sharing those moment and events with characterizations and posts beyond your control. What's the result?  In some cases what appears of you on these sites may not be an accurate or flattering impression of who you really are, or want to be. 
Three Simple Tips to Keep Your Digital Profile Under Control 
1. Perform a Social Audit Regularly. Search social network sites like Facebook, Twitter, and Instagram to check your current social profile. The wrong posts of you could significantly cause damage to your reputation, and even cost you a career opportunity.
Go through your posts first. What have you posted that, in retrospect, may not have been the best decision? If you are on the fence and not quite sure, that probably means you should remove that post or photograph.
Next take a look of posts where you're tagged.  Who has tagged an image of you and what have they said?  "Untag" yourself on images that can be misinterpreted or found to be offensive, whether at first glance or out of context. Make sure to read what's been said in the accompanying post as well. While an image may seem harmless and even well-natured, it may not be seen equally as positive.
Don't ignore the comments, these are just as important. Go through comments others have made on your posts and remove inappropriate comments. While you may have not made the particular comment, it can still be interpreted that by you not taking action and removing it, you are like-minded and approve of what was said. Make sure to similarly review any comments that you have made on other sites. In retrospect, your comment may not seem as funny or appropriate. Take caution and carefully consider whether you want to comment on or make a polarizing statement. Polarizing posts and comments can be risky without the opportunity to discuss and put them context. 
2. Search Yourself On the Web. Find out what the web knows or says about you. Is the information accurate and is this something you want out there for all to see? Conducting an online reputation audit is easy using sites like Google, Bing, and Yahoo. Simply type in your name and see what comes up. Many people are surprised, even shocked, to learn what turns up about them after an extensive Internet search.
Try to correct erroneous information. If you find information about you that is incorrect, try to locate the source of the content and request a correction or retraction.
Update any outdated images and information. This is especially true when it comes to your professional profile; make sure the information about you is accurate and up-to-date, including your profile image. For instance, a profile image of you right out of college can be a bit misleading if you have been in the workforce for the last 5 or 10 years. Also, invest in a professional head-shot—it's well worth the time, effort and minimal cost.
3. Take Control of the Posts. Go onto your profile settings on your social media profiles and change settings. 
Limit friends and followers. It may be easy enough to join the latest social media platform and set up your profile.  But in an age where competing on "likes" and "followers" has made it more appealing to open up your profile doors to anyone, some tend to forget that an un-gated profile just increases chances of something going wrong. You leave yourself open to be shared, reposted, and retweeted along with other individuals' comments. You are then limiting control in this case. 
Limit who can view posts. You may want to limit your post visibility to just friends and followers as opposed to making posts pubic or letting friends of friends view your activity. On Facebook, for example, you can also customize who views a particular posts.  If you've identified your employer and have a group set up for your coworkers, you can select that particular group to keep them from viewing a friend's post that may be fine within those circles but not appropriate for office viewing. 
Control the tagging. Consider changing your settings to require your approval before being tagged at all.  This puts you in control to filter those images and posts of which you may not want to be associated.
There are and will continue to be more privacy settings and controls to take advantage of and minimize the potential risks to your profile. However, keep in mind that despite all these settings and filters, once it's out on the Internet, and your name or image is associated to it, you leave yourself open for the wrong person to view it and potentially have it snowball into unexpected, negative implications.
Still Doubting the Importance of a Social Profile in the Workplace? Survey Says…
According to a 2014 study conducted by the job site Career Builder, many employers today are relying more on social networking sites to find additional information on potential job candidates and they are not impressed with what they are finding. Career Builder reported that 51% of employers who researched a job candidate via social sites said they found content that caused them to not hire the candidate, which is up from 43% in 2013.
Here are some facts about how employers are reacting to your digital footprint:
46% passed on a potential candidate due to provocative or inappropriate images or content. 
Another 41% were passed over due to an association with drug or alcohol usage 
36% were overlooked for bad-mouthing their previous company or a fellow employee. 
Conversely, 46% of job candidates were hired because would-be employers got a good feel for the job candidate's personality based on their social identity. 
To Recap:  Yes, Your Social Image Matters and You Need to Maintain It
Much like dressing appropriately for a job or an interview is important, maintaining a respectable social appearance online is equally important in today's digital age. Don't let yourself be taken by a spur-of-the-moment post, celebratory emotions, or crowd of friends. Referencing the Internet and social media sites have become  part of everyday life. Wearable tech and mobile devices has just made it easier to access to do this, to the point of making something many consider norm and take it for granted. Don't fall victim yourself and take your profile for granted. 
Maintaining an online reputation that is clean and healthy is increasingly important. It's important to routinely perform a digital audit of yourself on the web including your social activity. Consider performing your social audit during heightened activity such as holidays and celebrations. You can also perform one during phases where the wrong post can matter most—such as a career move you intend to take where you are applying for a job, looking to become promoted, or applying to school. 
Finally, don't discount or forget other life events that require background checks and applications which may also have someone looking into your profile. For instance, home owners association sometimes have to approve residents before they can move into to a neighborhood or condominium. Remember, your digital image can be your best advocate or potential nemesis, it all depends on you. Make sure it clearly defines how you want be viewed.

Did you find this article interesting? If so, share it!
And if you are considering pursuing higher education, we invite you to find out more about Purdue Global's programs and explore our undergraduate and graduate degree offerings.