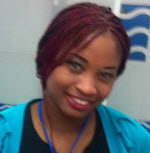 Opal Grey was born and raised in Jamaica. After graduating in 2003 from the University of Technology with a bachelor's degree in medical technology, she worked as a medical technologist intern. She went on to work as a veterinary medical technologist and then as a hematologist at a private lab in Jamaica.
In 2009, Opal left Jamaica and moved to Bermuda to work as a medical technologist in one of the hospitals. There, she conducted laboratory testing to diagnose, treat, and prevent health phenomena in the general population.
After 3 years of working as a medical technologist, Opal felt the need to further her education. She began to research different universities. Opal said she "wanted a university that was accredited and provided a challenging robust curriculum." Purdue Global met Opal's requirements.
Opal enrolled at Purdue Global in 2012 to pursue a master's degree in public health. Just after her first class, she knew the University was a great fit. "I really loved all my classes. I was so impressed by the quality of the material and the knowledge of the professor," said Opal.
She found online education at Purdue Global to be extremely effective, especially for someone who has a full-time job. She said, "By studying online you get to choose your work load suited for your particular situation. Believe me online education is effective! You actually learn more!"
Currently, Opal is working full-time as a medical technologist in Bermuda.
Purdue Global cannot guarantee employment or career advancement.