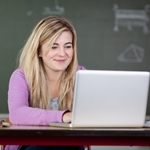 As our society continues to come to terms with our vast connectivity due to the Internet, almost every profession seems to be affected. Even some elementary schools offer "virtual classrooms," with online courses and teachers who interact with students without ever meeting face-to-face. Teaching online could be a great fit for you, and many teachers are choosing this path over the traditional brick and mortar schools.

Generally speaking, if you want to teach online, you are required to meet the same requirements as traditional teachers in terms of credentials. For instance, at the elementary and high school level, most online teachers are required to have a bachelor's degree, usually in education or early childhood education, and a teaching license. At the college level, a master's degree is usually the minimum requirement, and many times a doctorate degree may be required. Therefore, with any teaching position, earning the proper education is a necessary prerequisite.

For qualified professionals, the benefits of online teaching can be quite attractive. For instance, many instructors enjoy the freedom of virtual instruction and the opportunity to interact with students from around the world. Professors can apply for positions at prestigious schools around the country and not have to worry about relocating. Since many e-courses are taught asynchronously, instructors are often able to set their own hours while teaching online. Working professionals may also be able to find an adjunct position teaching online in relation to their chosen field.

Managing students, completing administrative tasks, and grading homework assignments can be challenging for some when there are no set business hours and/or classroom to provide structure to your day. Organization is key, and setting boundaries for work and personal time is critical to productivity.

Still, not every teacher is meant to instruct in the online setting. So, here's where the questions come in. Are you the type of person who can make this transition successfully? Are your personal goals and lifestyle demands in line with working remotely? Do you have the self-discipline and self-motivation to be an effective online instructor?

Did you find this article interesting? If so, share it!
And if you are considering pursuing higher education we invite you to find out more about Purdue Global's programs and explore our undergraduate and graduate degree offerings.

It is important to note that certain career paths are growing and our degrees are designed to strengthen your knowledge and prepare our students to advance their careers. But Purdue Global cannot guarantee employment or career advancement. Several factors specific to a student's or alumni's backgrounds and actions, as well as economic and job conditions, affect employment. Also, keep in mind that national long-term projections covered in articles may not reflect local and/or short-term economic or job conditions, and do not guarantee actual job growth.