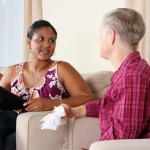 In honor of this month's National Case Management Week, the Center for Public Service is highlighting the field of case management's role in the public service industry and resources, such as the National Association of Case Management (NACM), that advance the field. NACM is a nonprofit organization which provides case managers with the opportunity to grow professionally within the field of case management and to have a voice within the industry.
Case management is an essential role in the human services field and involves several processes, including: assessing, planning, implementing, coordinating, monitoring, and evaluating. Like many fields in the public and human service industries, case management focuses on the needs of individuals. It is not a profession per se, but instead an area of practice within a specific profession. Case management is utilized in several fields of human services such as mental health, substance abuse, disability services, and many others.
NACM focuses on continuing the skill development of case workers to ensure they are meeting human service needs across the country. Members of NACM focus on community-based case management systems where they maintain high ethical standards along with promoting minimal bureaucratic roadblocks to further the case management field. The network of NACM members forms a community where ideas and information are shared to help promote and advance the field.
If you are preparing to enter or currently working in case management, visit NACM for information about the 23rd Annual Case Management Conference, October 24–26, 2017, in Omaha, Nebraska..
This is not only a great honor for Purdue Global, but an excellent representation of how Purdue Global faculty members are making a difference not only in the classroom but in the field they teach. Learn more about NACM or become a member.